Despite legitimate claims to having the finest silk in Southeast Asia, the Kingdom has managed to drive the sector to the point of extinction
By Philip Heijmans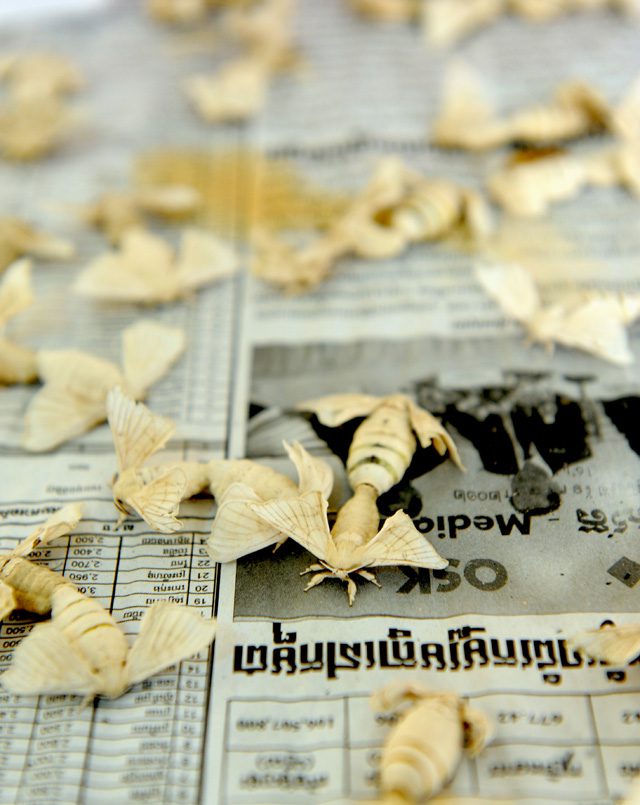 Cambodia's storied tradition of producing silk dates back as far as the 13th century. Long a symbol of the rich, the fine texture and quality of Cambodia's 'golden silk' is something that is not only an integral part of Khmer society, but a potential new prosperous trade culture.
Using weaving and reeling methods that date back hundreds of years, visitors can still see for themselves how locals use the fine cloth to make scarves, tablecloths and traditional garments – but that opportunity is slowly dwindling into extinction.
More than 40 years ago, the Khmer Rouge regime all but eliminated silk farming and the sector has been slow to recover, falling behind other regional producers who can more efficiently produce better quality silk using modern technology. As a result, many silk experts and weavers believe that the age-old tradition may be wearing thin.
"The reality is that the Cambodian silk industry, especially silk thread production, is having trouble right now and that is a shame for a country that used to have a great reputation, with its unique yellow cocoon called golden silk," said clothing designer Eric Raisina, famed for his work with silk and who has shops in Siem Reap and Phnom Penh.
"Golden silk is really what Cambodian silk production is all about," he said. "In fact, it is the best in Southeast Asia because of its bright authentic yellow colour and great texture, which creates a unique thread. Cambodian silk also used to be well known for its patterns."
Raisina is one of only a few local designers able to acquire authentic Cambodian silk to make pieces for his designer clothes – which have graced the catwalks at fashion weeks across the globe – fashioning custom silk scarves and dresses. But because supply is low, he, along with most designers, tends to use silk imported from Thailand and China.
"The quantity is very low, so I have to use what I can get only for exclusive pieces; even then, customers have to be ready to pay the price," he said.
In fact, production of silk yarn in Cambodia has slowly declined in recent years, from 4.5 tonnes in 2009 to about 3.6 tonnes a year today, and because there is still a huge demand for the product, weavers must import silk yarn from other countries. Cambodia imports approximately 360-tonnes worth each year, at a price tag of $27,777 per tonne, or nearly $10m in all.
In Phnom Penh is the weavers' haven known in Khmer as Koh Dach, or Silk Island. But, the generations-old silk weaving families here only use imported silk. The costs of importing the yarn are far lower than the production costs for authentic Cambodian silk, which is now priced higher than ever at about $70 per kilogramme of yarn, compared to just $30 per kilogramme in 2010. With demand for local silk outstripping supply, prices have increased accordingly – presenting both a boon and a bust for the domestic industry.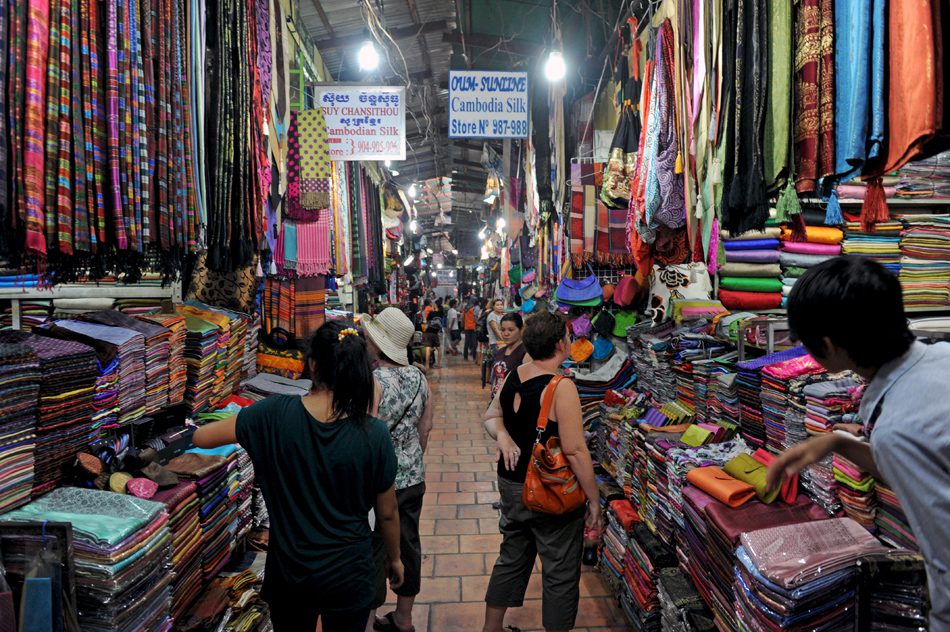 Ven On, a 60-year-old silk weaver in Takeo province's Prey Kabbas district, said that she is currently only able to make about $50 a month on her silk scarves and traditional sarongs, as buyers are mostly unable to afford them. "I make only a little money and I can't support my family," she said, adding that because of the high cost of Cambodian yarn, there is very little money to be made. While Ven On said that she sells one of her hand-woven sarongs for between $120 and $150, depending on its quality, of that price her profit is only 10%.
Furthermore, the quality of Cambodian-made silk is generally poorer than that of other regional producers due to the traditional manual reeling process that produces a courser silk fabric, which is not desired by a luxury market.
In more developed silk-producing markets such as China and India, which together produce more than 90% of the world's supply, the process is automated using reeling machines – while hand reeling is more time consuming and inefficient.
"When you reel by hand, you also have less production and the quality of the silk is comparatively low because the hand is not as refined [as machines]," said Kong Samoeung, a silk expert at Cambodia's Ministry of Agriculture. "Research and development for this sector is very low. Technology is the future of silk."
Nevertheless, experts believe that a more proactive silk industry would give the Cambodian economy – which is heavily dependent on low-grade garment manufacturing – a badly needed boost.
"If we do it right, silk is a high-value product [that is] good for farmers who need to diversify away from rice, which is not a value crop, while Cambodia has a comparative advantage as an export market with a growing tourism sector," said Chan Sophal, president of the Cambodian Economic Association, adding that the industry would require government subsidies to sustain losses during the formation phase of the industry. "The production [of silk] should be a very high priority," he said.
Another issue facing the Cambodian silk industry is that it is becoming less and less profitable for silkworm farmers, as disease is killing off more than half of all production, while outdated farming techniques are slowing the process down, said Mey Kalyan, director of the UN's Food and Agriculture Organisation (FAO)'s Cambodian silk programme.
"In a nutshell, the farmers have stopped doing it. The weavers have stopped weaving and the plantations have stopped growing mulberries needed to feed silkworms," he said, looking over a three-hectare mulberry plantation at the government's primary silk farm in Kandal province's Kien Svay district.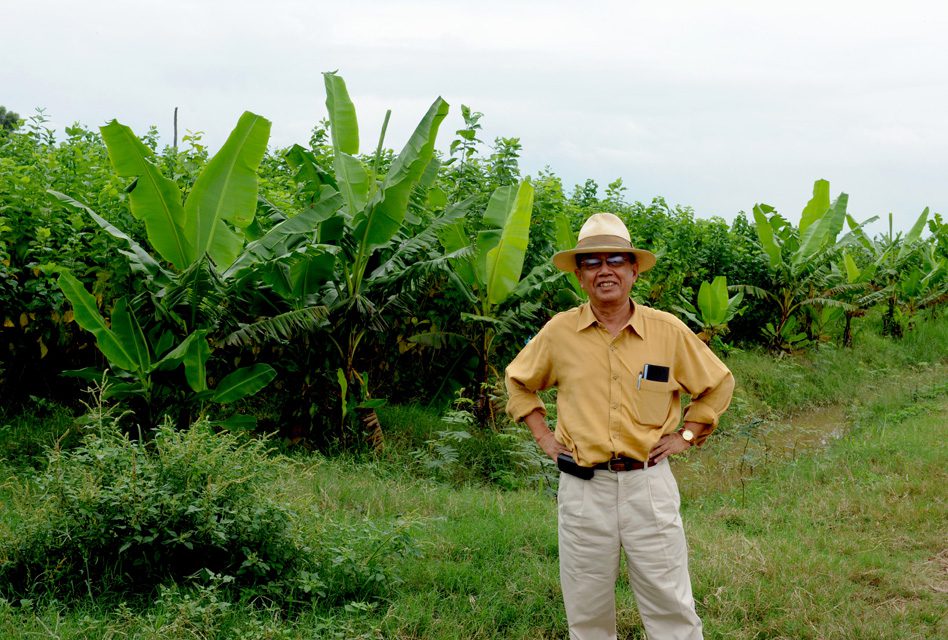 "Disease is killing more than 50% of the silk worms, while those that do survive are a third of the size compared to other regional producers, so inefficiencies are high," Mey Kalyan said. "At the end of the day, these conditions are no longer acceptable to farmers in terms of the labour cost and land used for mulberry."
In the 1940s there were about 6,000 hectares of land under mulberry cultivation nationwide, producing as much as 18 tonnes of silk yarn each year. In the intervening years, however, unrest in the countryside, civil war and the Khmer Rouge years saw the industry decimated.
Today, Cambodia has just 40 hectares of mulberry plantations, and if the domestic demand for silk was to be supplied by domestic productions it would require around 4,000 hectares of land devoted to mulberry, Mey Kalyan said.
Established by the FAO, Cambodia's lone silkworm egg production centre in Phnom Penh is part of a $475,000 silk industry rehabilitation project that was launched in September 2009, which saw the building of seven silk farms across the country and funded silk production training for those interested in the industry.
But funds from the FAO to run the silkworm egg production centre were expected to run out by the end of last year and no one else seems interested in investing in the project.
Yet even with the Cambodian silk sector facing such a bleak outlook, there is a glimmer of hope, according to Mey Kalyan.
After nearly three years of research, researchers at the silkworm egg production centre are now in possession of a new silkworm hybrid called 'Eri', a type of silkworm that feeds exclusively on cassava, and does not need mulberry. Cassava is planted throughout Cambodia and access to the food of silkworms might encourage their breeding, Mey Kalyan said.
"It is still too early since we just got it in last [month], but the benefits of this one can be huge since Cambodia does not have to worry about cassava," said Mey Kalyan. "But we will have to wait and see."