After being disqualified in December, current frontrunner Grace Poe has won a Supreme Court appeal that allows her to run for president

The Philippine Supreme Court ruled yesterday that Senator Grace Poe is eligible to run as a candidate in May's presidential elections.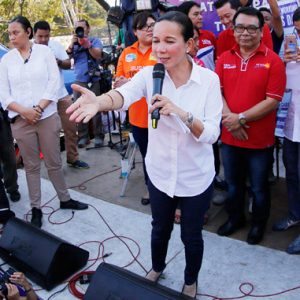 Poe has so far proved popular in opinion polls and is the adopted daughter of famed local actors Fernando Poe, Jr and Susan Rocés.
"This is a victory not only for myself but also for the poor and the downtrodden, for every woman," said Poe at an International Women's Day rally in Manila yesterday. "A woman's role goes beyond looking after homes. We can do a lot of things. Let's make 2016 the year when women triumph in government."
In December, the country's electoral commission disqualified Poe after complaints that she had not lived in the country for long enough and she was not a natural-born citizen because she was a foundling.
Although born in the Philippines, Poe lived in the US while studying in Boston in the late 1980s and took up dual citizenship, returning to the Philippines in 2004 and renouncing her US citizenship the same year. Some believe that Poe, therefore, did not fulfil the ten-year residency requirement for a presidential candidate. They point to her statement in 2012, when running for senator, that she had lived in the country for six-and-a-half years, meaning she was six months short of the requirement.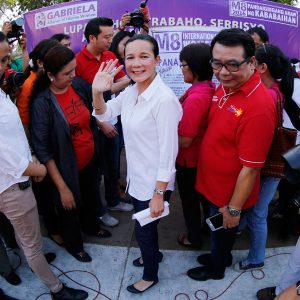 However, the Supreme Court determined in a 9:6 vote that Poe is a natural-born Filipina, even though she was discovered abandoned in a church as an infant. The court also accepted her claim that she returned from the US to the Philippines in 2004 after the death of her father and had lived in the country for the required period.
"[The decision] will help her in the sense that people will no longer doubt whether she can run or not," said Aries Arugay, assistant professor at the department of political science at the University of the Philippines Diliman. "[But] it doesn't mean that people will automatically vote for her."
On Monday, Poe was revealed to be leading in a poll published by Laylo Research Strategies. She registered 26% of votes from those polled, narrowly ahead of her three main rivals, Vice-President Jejomar Binay, mayor of Davao city Rodrigo Duterte and former interior secretary Manuel Roxas II, who all received between 22% and 24% support.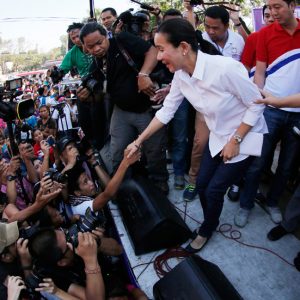 Benigno Aquino III, the current president, has endorsed Roxas and had asked Poe to run as vice-president. In the Philippines, the vice-president is voted for in separate elections. Poe rejected Aquino's invitation.
In her campaign, Poe has promised to deliver a government with "a heart", although it is unclear what, exactly, this would entail.
"She has a mixed narrative. From her father, a populist 'I care about the poor' message, but from her brief time as senator, an image of being a hardworking, conscientious and not-corrupt politician, and thus liked by the elite," said Mark Thompson, professor of politics at City University of Hong Kong.
With no outright leading candidate, the decision over Poe is likely to lead to some jockeying amongst the presidential hopefuls and their supporters.
"I think there will be a lot of repositioning," said Arugay. "I'm guessing that some loyalties might shift with those who think there's a chance that Grace Poe might be a viable winner."