Despite positive economic growth and low unemployment, the region's workers continue to look abroad for jobs
Striving to improve her chances of finding employment overseas to support her husband and three children, Sol Edon, 32, learns how to weld steel as part of her training at the Technical Educational Skills and Development Authority in Manila, the Philippines.
Recent statistics from the Manila-based National Statistics Coordination Board show that more than 25% of the Philippines' population currently live below the poverty line – consistent with previous findings – despite the country's 6.6% economic growth rate in 2012.
Although unemployment in the Philippines was at a two-year low of 6.5% in the last quarter of 2013, several thousand of its citizens migrate abroad every year seeking better salaries.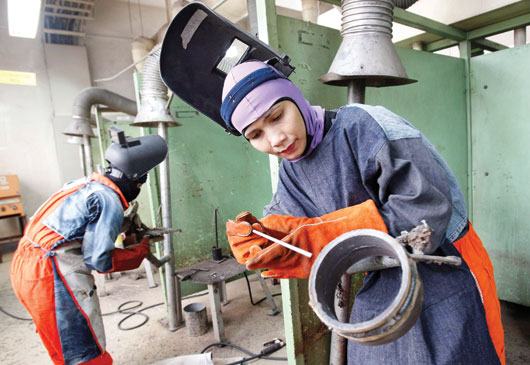 Data from a World Bank survey in 2011 showed that 12.8 million people left Southeast Asia that year to seek work abroad, despite many of them facing abuse in their new roles. Agencies such as UN Women, however, have been working with the region's governments to create laws to support migrant workers. Since 2010, the agency has launched successful projects that protect workers from Cambodia, Laos and Indonesia.
The Philippine government has actively assisted labour migration since the 1970s when the country responded to high demand for workers in the Middle East, from where numerous reports of worker mistreatment come. The Philippines Overseas Employment Administration reported that there were more than two million workers with contracts abroad in 2012, the majority of them in Saudi Arabia.
According to the World Bank, the Philippines was in the top three receiving countries of remittances last year, with migrants sending home $26 billion of revenue.