Internet giant begins work on its popular Street View feature in the Kingdom

By Rebecca Foster
Cambodia's tourism sector is set to receive a significant boost from internet technology giant Google when Google Maps' Street View goes online in the coming months.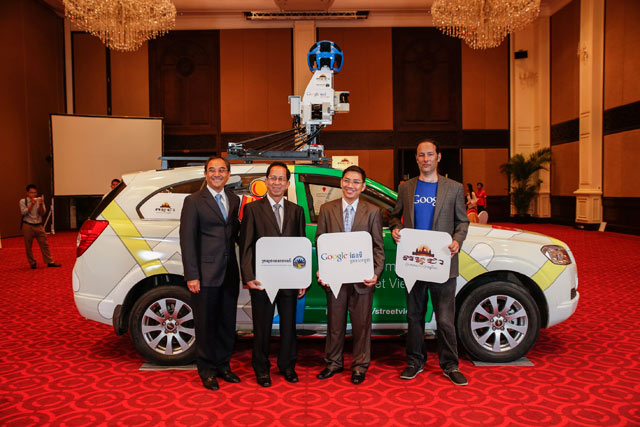 Google's Street View Trekker began capturing images in Phnom Penh and Siem Reap yesterday and will move on to the rest of the country in due course.
"Google's mapping technology will offer various benefits and help us to continue showcasing our beautiful culture and country with the world," said Dr Thong Khon, Cambodia's Minister of Tourism.
"Through this partnership with Google and through our on-going 'Kingdom of Wonders' campaign, we hope to encourage more people, both local and global, in experiencing Cambodia in a new way," he added.
Cambodia hopes to welcome five million tourists to the Kingdom in 2015, and 7.5 million in 2020, according to Pak Sokhom, the undersecretary of state at the Ministry of Tourism.
"We have many development projects underway which will help modernise our country. However, we will not succeed without the use of technological innovations," said Sokhom.
Google's Street View feature will assist local business owners in promoting themselves online, according to Divon Lan, a product manager at Google.
"There are many uses for Google Street View in day-to-day life as well as tourism. The benefit for local businesses will increase the ease with which customers can find shops. Government agencies considering development are also able to see the locations online, which saves time and therefore increases efficiency," said Lan.
Already available in 50 countries across the globe, Street View is a popular feature of Google Maps that allows users to virtually explore local neighbourhoods using a series of 360-degree panoramic street images.