Pravit Rojanaphruk, who has been detained twice for 'attitude adjustment' sessions since the 2014 military coup, stands charged under the Thai Sedition Act for Facebook posts, some of which reportedly date back more than a year.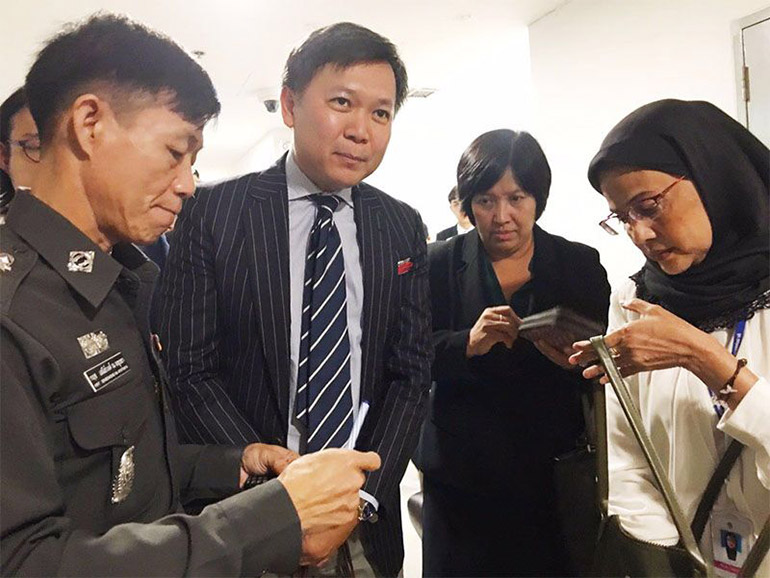 International human rights and journalism groups slammed the Thai junta on Tuesday in response to charges against prominent journalist Pravit Rojanaphruk for Facebook posts critical of the military regime.
"The Thai junta's dictatorial reach has expanded well beyond traditional sources to social media like Facebook," said Brad Adams, Asia director of Human Rights Watch. "These dubious charges for peaceful Facebook commentary should be dropped immediately."
Pravit has continued writing highly critical articles for online outlet Khaosod English as various dissidents and academics have been arrested, harassed and forced to flee the country by the junta, which officially calls itself the National Council for Peace and Order (NCPO).
On Tuesday morning, accompanied by lawyers and diplomats, Pravit presented himself at the Thai police's Technology Crime Suppression Division office in Bangkok.
"I'm not surprised by the charge," Pravit told reporters before meeting with police, according to Khaosod. "As we all know, we are living under the NCPO regime. Anyone who criticizes them must pay the price."
The charges have done little to silence the journalist, who posted an image on Twitter with his hands marked with ink after his meeting with police.
Fingers tainted by sedition & Computer Crimes Act charges. Facing 2 cases. Combined max imprisonment terms 14 yrs. #Thailand #sedition #p pic.twitter.com/sqsFy2l6te

— Pravit Rojanaphruk (@PravitR) August 8, 2017

Among those who responded were Reporters Without Borders.
#Thai authorities are the ones whose fingers are tainted with shame. #RSF reiterates its full support to this great #journalist @PravitR https://t.co/BcVIXHFd61

— RSF_Asia-Pacific (@RSF_AsiaPacific) August 8, 2017

Just last month, Pravit was awarded the International Press Freedom Award from the the Committee to Protect Journalists (CPJ) – an annual award for courageous reporting.
"By trying to silence Pravit, the powers that be only amplified his voice," Todd Ruiz, editor of Khaosod English, said upon the announcement of the award.
"While many in Thailand's media have enabled those dismantling a century of progress, Pravit knows the only way to preserve one's voice is to use it forcefully. I hope his example helps others to find theirs as well."
CPJ also put out a statement decrying the charges, which the group said were unprecedented under the junta.
"The sedition charges filed today against columnist Pravit Rojanaphruk mark a new low in the Thai junta's abuse of overbroad laws to stifle press freedom," said Steven Butler, CPJ's Asia program coordinator.
"We call on authorities to drop these charges before they do any more damage to Thailand's international credibility and reputation under military rule."
Pravit is no stranger to harassment by Thai authorities. Having established a reputation for direct and confrontational opinion pieces, he was detained once in May 2014 and again in September 2015 in apparently unsuccessful attempts to adjust his attitude. He was also banned from travelling to Finland to mark World Press Freedom Day last year.
Days after being released from his 2015 detainment, Pravit was reportedly asked to resign from The Nation newspaper, where he had worked for 23 years, so the paper would avoid further pressure from the military regime.