Gilmour Space Technologies, based in Singapore and Queensland, is developing its Eris-100 vehicle, which would be capable of carrying 100kg of cargo into low Earth orbit (LEO), and has further plans to build vehicles capable of carrying 400kg by 2021.
The company hopes to become involved in human spaceflight in the next few years.
"The small satellite revolution is gaining momentum globally, with thousands of small sats slated to launch into low-Earth orbits (LEO) over the next five years," stated Gilmour Space Technologies founder and CEO Adam Gilmour in a press release.
A recent round of funding saw the company raise $13.8m, with the majority coming from venture capital firms such as 500 Startups, Main Sequence Ventures and Blackbird Ventures.
Vishal Harnal, a partner at 500 Startups, said: "The Gilmour Space team is a prime example of the exciting new generation of entrepreneurs we are seeing emerge from Southeast Asia in the 'deep technology' space."
In February the then- Singaporean Trade and Industry Minister S Iswaran stated that Singapore could tap into the space industry's shift to small satellites for business opportunities while speaking at the Global Space and Technology Convention.
He said: "Flying in formation demands high-precision navigation and high complexity engineering, and we look forward with confidence to Singapore becoming one of the first few nations in the world to accomplish this."
In the same speech, Iswaran lauded the recent collaboration between Gilmour Space Technologies and the Singapore University of Technology and Design to cooperate on 3D printing the components needed for small rockets.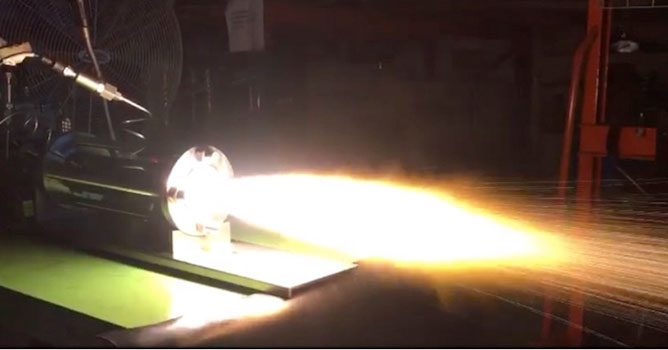 The company was also recognised by Singapore Prime Minister Lee Hsien Loong, during a speech made to then-Australian Prime Minister Malcolm Turnbull, when the company was mentioned as an example of the personal and business ties between the two countries.
Hsien Loong said: "Gilmour launched a rocket in Queensland last year, which was powered by 3D printed fuel. It is the first Singaporean company to do so and the project can dramatically reduce the cost of rocket launches."
Gilmour warned that other satellite companies will be hindered by high launch costs and limited launch opportunities. He also is aware of the challenges of the small-rocket industry in Southeast Asia.
"We're one of the first privately-owned rocket companies in Southeast Asia, so there has been a general lack of knowledge about space and launch among the government entities and investors in the region. Of course, the story is very different in North Asia, where Japan and China are major space nations. But with countries like Indonesia and Thailand now starting to get interested in rockets, that will change."
Gilmour believes he can overcome these challenges. He said: "What customers – in Singapore and elsewhere – want are reliable, timely and affordable launches that get their payloads to where they need it to be."
"This round of investment will give us the safe runway we need to build and launch our first commercial hybrid rocket to orbit in 2020."