Ben Rawson is a primatologist with Conservation International and has worked with gibbons for more than ten years
Interview by Charlie Lancaster
What makes gibbons special?
Once you see them brachiating through the canopy in the wild, you will be able to answer this question yourself. They are simply beautiful, elegant animals. Adult males and females sing in harmony together, and their calls echoing out over the quiet dawn forest is for me an almost spiritual experience.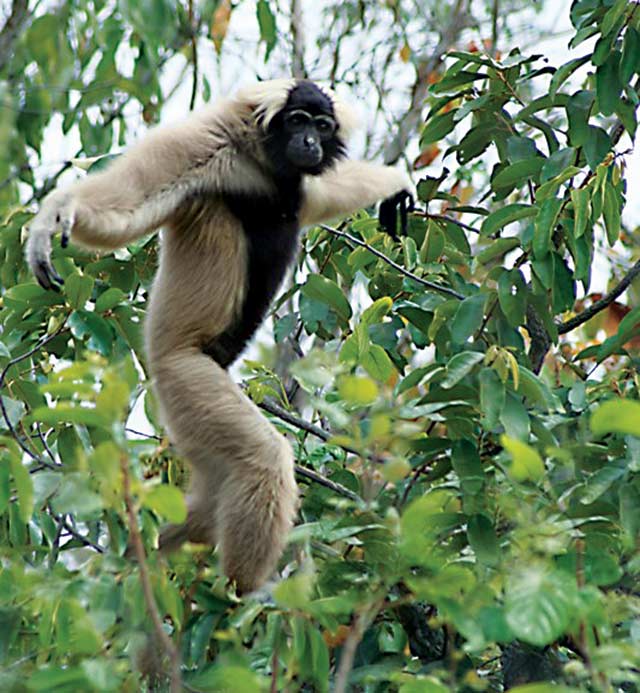 Gibbons pair-bond as humans do. Is this the only similarity to humans?
Gibbons have long been thought to be monogamous and to pair-bond for life, and have been called the romantic ape. However, as researchers collect more data on wild gibbons it is becoming clear that this is not quite as accurate as we would like to imagine. While most gibbon species form groups of a single male and female, some species actually form single-male, multiple female groups while others form groups with one female and several males. It has also been discovered that monogamous relationships may be anything but, with individuals stealing into their neighbours' territories and mating with other individuals outside of the pair-bond. Group transfer (an individual leaving its mate to join another individual in another area) has also been reported. Not as romantic as we once imagined.
What kinds of gibbons can be found in Cambodia?
The pileated gibbon (Hylobates pileatus), which is found largely in the southwest, with the largest populations being in the Cardamom Mountains and surrounding forests. The southern yellow-cheeked crested gibbon (Nomascus gabriellae) found only east of the Mekong River (like all Nomascus genus gibbons) and south of the Srepok River, this species is limited to eastern Cambodia and southern Vietnam. The northern yellow-cheeked crested gibbon (Nomascus annamensis) is found in northeastern Cambodia (including Veun Sai-Siem Pang Conservation Area) south and south-central Vietnam and southern Laos. This species was only discovered and described in 2010.
What threats do gibbons face?
Conservation of gibbons is incredibly difficult. They occur at low densities because each group uses relatively large areas (30-200 hectares), they breed slowly – a female may only have five babies during her lifetime – and they are quite conspicuous to hunters because of their loud morning calls which can be heard up to two kilometres away. Intense hunting along with clearance of their habitat has resulted in gibbons disappearing across large areas of their former range. Hunting may be for traditional medicine, subsistence or the pet trade. For the pet trade, females with infants are shot in order to get the infants, which may or may not survive the fall from the canopy and resulting captivity. This means that for every gibbon seen as a pet, many more died in procuring it.
Why does gibbon conservation traditionally attract less funding than that of the great apes such as gorillas, chimpanzees and orangutans?
This is probably because of humans' closeness to the great apes evolutionarily. We share a common ancestor with chimpanzees only six million years ago, whereas our common ancestor with gibbons dates back some 18 million years. Gibbons have long been in the shadows of the great apes in public perception. They have received far less exposure despite being the most successful ape in terms of their global coverage (excepting humans) and number of species.