Ros Sopheap recalled growing up in a small rural community of Cambodia and meticulously studying her mum's daily activities. She was a housewife, which meant much more than keeping the house tidy and cooking meals for the family. She also bought groceries and household supplies, clothed the family, took care of medical needs, oversaw the kids' education and divvied out pocket cash to her husband and kids to get them through each day.
"If you look at what the wife is doing daily, then you can see the list – the long list. In that long list, one [duty] is financial management," she said of Cambodian households as she sat at a table in her Phnom Penh office, where she directs Gender and Development for Cambodia (GADC), an NGO she founded in 2000 to study and improve gender issues in the country.
Traditionally in Cambodia, men are the breadwinners and head of the family. But when the paycheque comes home, Sopheap said, the long-running tradition is that women are expected to make sure those funds cover all of the family's costs. They also pass their knowledge of financial management down to their daughters, with the unspoken expectation that they too will one day take charge of their family's finances.
"I learned from my mum and I saw the practice of my mum and neighbours," Sopheap said. "When I was mature enough, my mum would ask me to go buy food or something, so she'd say, 'Well, I'll give you 10,000 riel [$2.50]. You go buy pork, half a kilo of fish and vegetables' – three things in one time. And I would come back and she would say, 'How much?' and then she would say, 'Okay, the change is right,' or sometimes, 'The change is wrong.' So, we would practice like that, from a little amount to a bigger amount."
This is still a cultural norm in Cambodia, and it makes women's financial inclusion key to improving the economy, said Chhay Kanha, Wing Cambodia's head of product marketing.
"At the family level, we women are making a lot of financial decisions, like how much we spend on household items and how much is left to be saved for future spending. So, we actually make a lot of small decisions in the family and actually sometimes we don't [realise] that," said Kanha.
On top of sorting family finances, 60% of mortgage applicants are women – and while the remaining applications are officially represented by male signatures, their wives are often the unofficial initiators behind the mortgage loan, explained Chun Sothany, CEO of First Finance, the country's only licensed specialist mortgage provider. The Asian Development Bank also records 65% of Cambodian businesses being run by women, but concedes that many are micro-enterprises in retail and hospitality. National data supports the theory that women are active financial players, with the National Bank of Cambodia's (NBC) 2016 annual report stating that 79.6% of the loans taken out at microfinance institutions across the country were by women, while women also accounted for 69.9% of depositors to the same institutions.
"[At Wing], we are starting now to look at how we can innovate our product or services to help women in their real life," said Kanha, adding that the firm was also on the advisory board for Women's World Banking, a global nonprofit focused on bringing underprivileged women into the financial fold.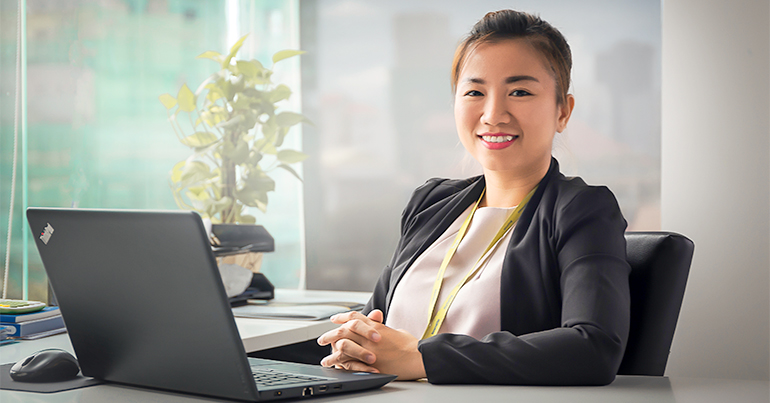 One of Wing's offerings that she believes has made the biggest impact on women's access to the financial system has been their Wing Money Mobile App, which launched in 2016. This allows housewives and women running small and medium enterprises from home – such as online goods sales or home-based shops common throughout the capital and rural Cambodia to supplement family income – to pay bills and employees, transfer money, top up their cell phone credit and even create a virtual MasterCard to boost their retail ads on social media platforms from the comfort of home.
"Sometimes they have to stay at home just to look after the kids and do the household chores, so maybe they have to ask someone else to help her buy phone [credit] or with sending money," she said. "Now, even staying at home, she can do a lot of things with her mobile… The level of convenience is different."
Even within financial institutions, women are a primary handler of money. Of Wing's roughly 5,000 agents, 65% are female, according to Kanha. Walk into any commercial bank in the Kingdom, and the counter will likely be lined with female tellers in matching uniforms.
"Every day, they receive money from the customer, they withdraw some money for customers for processing the money or paying bills or something," she said. "They calculate the money for customers every day, just like eating rice every day."
But Sopheap of GADC said this link between women's leadership in finances at home and in the financial sector often ends at the teller counter.
"In terms of finance, women get more jobs," she said. "But in the higher positions, it's men because society doesn't [recognise] that the women manage money. Even if you are very good at this, the trust is still unseen in the value of women in that manager position."
Sothany of First Finance agreed: "If you go to the commercial bank… and you look at the counter, the tellers who [are] taking the money from the clients generally are women, but if you meet the consultant or you meet the banker who talks to you about all the financial products –the salespeople, for example – it's generally men."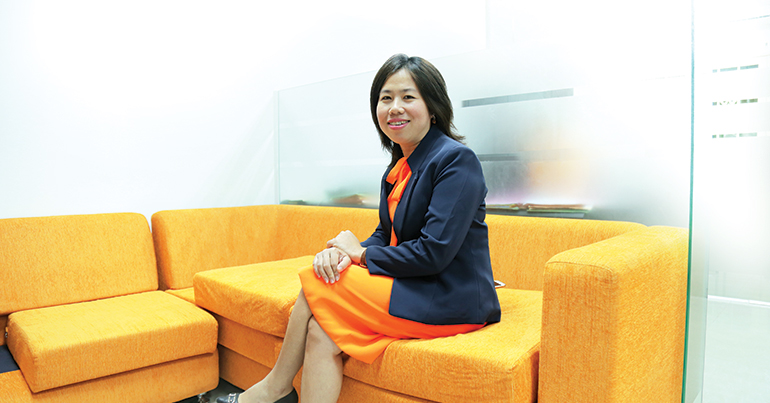 Sothany climbed the financial ladder herself, she said, so she speaks from experience. After studying accounting, she started working in 2002 as an internal auditor for global NGO World Vision, eventually ascending to a position in their credit programme. She went on to become a business development manager for Vision Fund before being recruited as a sales team manager for Wing's launch in 2008, and was promoted to operations manager less than two years later. This experience helped her land the role of chief financial officer at First Finance in 2011 and her current position as CEO.
But it was those first years as an internal auditor that gave her the defining experience that allowed her to rise as a financial leader, she said.
"As an internal auditor, you have to travel a lot because… a lot of the projects are in the provinces. The question I got asked was, 'As a female, as a young girl, would you be able to travel from your home to the provinces?'" she recalled. "That was a serious question, and that was also the question I got the most. I said, 'Look, I have been out of my house for four years already. I studied at university. I studied in the provinces and I stayed on my own…. So, I can travel.'"
Rising in finance requires understanding clients and the various aspects of the field, which makes taking these opportunities to go to the provinces imperative to landing a management or leadership role in finance later on, Sothany said. Often, women entering the financial sector take teller positions with the intent of becoming a manager without making a long-term plan for accomplishing this goal. Without doing so, they might be intimidated by the idea of travelling solo due to cultural norms, and overlook these opportunities for on-the-ground experience, she said.
"Having said that, I notice that we have a lot of good university students as well now," she said. "They have their own mind, they have their own goal and this kind of thing is going to change the way that people are thinking. So, if they have clear goals for them, they might not mind working in the field, they might not mind being exposed to the sunlight, they might not mind being exposed to travel. They would think that they are the same as all other men."
Sopheap of GADC said a common reluctance of parents to allow their daughters to move away for school prevents women from getting an equal shot at education and gaining the confidence and independence they deserve.
"It's still practised like that, but now I see people who challenge their parents… and leave home and get a better education and a better job. I'm surprised [by this], but it serves as a kind of role model to others," she said. High-ranking female financial leaders like Chea Serey, the general director of the NBC, could serve as role models to aspiring young women, Sopheap added.
Kanha agreed, and said the country is moving in a positive direction that is empowering more women in leadership – but that more work needs to be done.
"I would really love to see more women in high levels and executive positions where we not only have equal rights but we also have equal power – real power to the men – so that, let's say, for example, in a boardroom or something, we should have a balance of women and men," she said. Kanha explained this comes back to the same example that often leads women to their skill in finances: mums. "It's expressed by example. It's expressed by mothers of kids who prove… that they have power… to participate, to share their ideas, to really make decisions and challenge something that's maybe not right."
As a woman in leadership herself, Sothany of First Finance said building self-confidence was also key to more women taking high-ranking financial positions in Cambodia.
"Have your own goal and try to get that done. Don't confuse yourself or discourage yourself with what other people are saying," said Sothany. "People will have their own opinion. They will say you cannot do that. They will say, 'Okay, you're just a girl. You're just a woman.' It's okay. Forget about that. You are here. That's it. Just keep doing what you want to do, being good at what you are doing. You are no different than a man. There's no difference at all.
"You can do whatever you want as long as you commit – and you can do it better than a man sometimes."