The quiet transfer of a major casino in Vietnam from the former company of an imprisoned gambling tour kingpin to a billionaire Hong Kong family suggests China's massive gaming industry still sees potential in Southeast Asia.
Driven by Chinese government crackdowns from the casino enclave of Macau, some organisers of VIP gambling tours – known as junkets – appear to be enduring the storm while also transferring business elsewhere in their regional networks. Meanwhile, in Vietnam, locally owned gambling operators are restyling themselves to snap up Chinese whales of their own, potentially cutting deeper into the besieged junkets.
The legal pressure in Macau sought to cut down on money laundering and capital flight, both of which are often suspected of jet-setting Chinese gamblers.
Junket operators in the enclave developed a reputation for helping the affluent ferry their money across the border of the special administrative district to gamble in casinos. There, they could obtain their winnings in U.S. dollars or other foreign currencies that could then be used to invest in property or offshore tax havens.
But with the effects of the pandemic on this clientele still reverberating across the region's casinos, unfavourable foreign currency exchange fees and slippery Macau junkets refusing to die, the prospect of Vietnam or other regional destinations becoming hubs for such exiled gamers is up in the air. Gambling operators both in Macau and across Southeast Asia are left to adapt to secure their piece of the market.
"I think that there's going to be new intermediaries which won't call themselves junkets, but in effect, are going to be providing the sorts of services that junket operators used in the past," said John Langdale, a researcher and expert on money laundering at Australia's Macquarie University.
Vietnam is already a node of the bustling Chinese gambling tour business that re-emerged after the pandemic. As junkets in Macau get pushed further underground, preexisting Vietnamese gaming firms, known as "international tour operators" seem eager to fill a gap.
For now though, their organisations have a more limited reach than the Macau giants that came before them. In general, Southeast Asian junkets "tend to be what we call ad-hoc casual junkets," said gaming industry consultant Ben Lee.
That stands in contrast to what former junket operators in Macau utilised as an almost vertical integration model, where gambling tour operators had junket rooms in various casinos. There, they could staff their own cashiers, food and beverage services, and even drivers due to their enormous market share of affluent Chinese gamblers, Lee explained.
Southeast Asian junket operators – at the moment – simply do not have the ability to target the Chinese as they do not have the network in the country. Their main markets are the various Southeast Asia countries with nowhere near the size or volume of Chinese players, Lee said.
Only a few regional facilities right now may have the clout to break through.
The Hoiana, a multi-billion-dollar integrated resort-casino, could be one of them. It stretches across 1,000 hectares of land in the Chu Lai Open Economic Zone south of Da Nang, Vietnam.
"The Hoiana is probably one of the first proper five-star resorts that has a chance to target [the Chinese market]," Lee said. "But, by the end of day, the volume of mainland patronage in Vietnam is small compared with China."
The casino-resort didn't respond to a request for comment, but Hoiana president and CEO Steve Wolstenholme said in an interview earlier this year that following the pandemic and a return of Chinese tourists, the Hoiana was focused on "diversifying our products and services, especially services for high-class guests".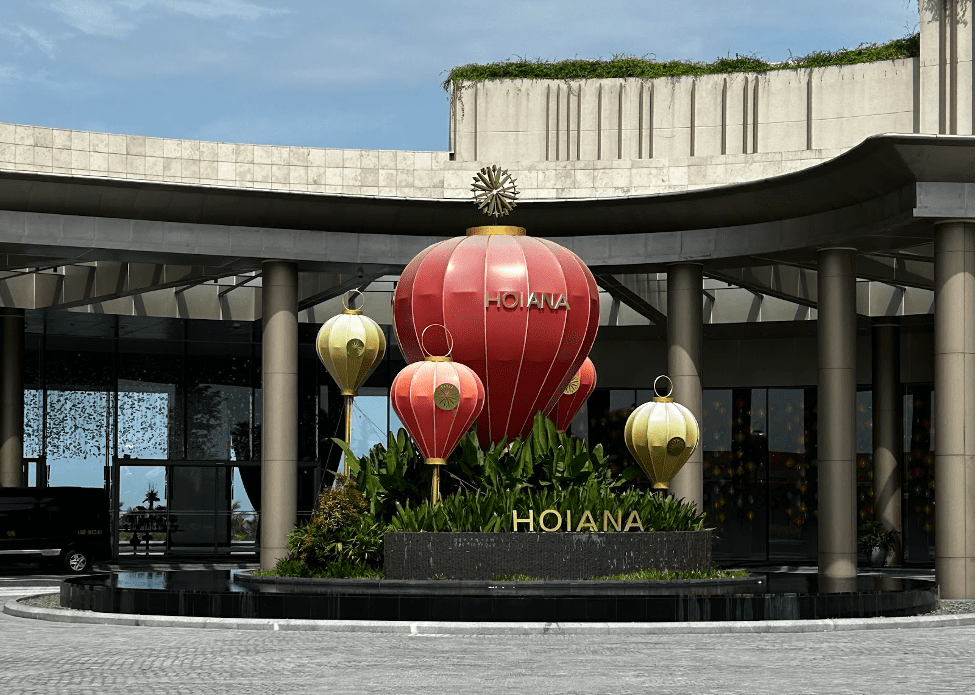 ---
In recent months, control of the Hoiana seems to have passed hands from LET Group Holdings – previously known as the Suncity Group, one of Macau's largest junket organisers pre-crackdown – to the billionaire Cheng family from Hong Kong through its flagship investment firm, Chow Tai Fook Enterprises.
The family and Suncity were already deeply connected before the now-embattled tour operator was all but crushed by law-enforcement agencies in Macau.
As a gambling investor in casino-dense Macau, now-deceased family patriarch Cheng Yu Tung allegedly partnered with triad organisations such as 14K and Sun Yee On as early as the 1980s. Macau prosecutors would later say he was in business with the notorious 14K leader Wan Kuok Koi – better known as "Broken Tooth" Koi – before the gangster met with a dramatic 1998 arrest.
The Cheng family later partnered with a man reportedly seen as Koi's protege – Alvin Chau, founder and CEO of the once-powerful Suncity tour company. After starting his company in 2007, Chau built a fortune with Chinese VIP gamblers and, later, real-estate development. But his success put him under the thumb of the Chinese junket crackdown and he was arrested in 2021, effectively cratering that industry.
Last year, Suncity officially rebranded itself as the LET Group while Chau awaited trial in Macau for 286 criminal charges, including fraud and money laundering. By January, Chau was convicted of heading a criminal organisation and sentenced to 18 years in prison.
Suncity had publicly led development of Hoiana and held a major ownership stake in the project, which reportedly struggled in recent years.
The recently publicised change in management coincides with the shutdown of Suncity's VIP rooms in Macau following Chau's jailing. It also follows upon the regulatory tightening of Macau junket operators documented as having associations with organised crime and money laundering – or simply suspected of such.
Jeremy Douglas, regional representative of the U.N. Office on Drugs and Crime (UNODC) for Southeast Asia and the Pacific, fears that in the months and years ahead, the Hoiana could prove to be a model for still-ambitious junket bosses and Chinese gamblers eager to launder their money.
Vietnam currently has no specific licensing regimes for operators of gambling-related tours. Still, the Hoiana has kept much cleaner operations than the many more notorious casinos littered across the region's special economic zones.
Regional casinos located in these special economic zones (SEZs) are often known to deploy a model whereby casinos become money-laundering fronts for displaced Chinese and regional syndicates. In addition, they may harbour other illicit activities such as cyber scams, human trafficking, drug trafficking and the wildlife trade.
Some zones, such as the notorious "Golden Triangle" SEZ in Laos, become self-policed areas for syndicate bosses migrating from China. The Golden Triangle SEZ is organised under the Kings Romans Group, owned and operated by the U.S.-sanctioned syndicate chief Zhao Wei.
Other SEZs are clustered along Mekong region borders and closely overlap with casinos.
More than 100 casinos in Myanmar are nestled among 13 such zones, according to maps and data provided by the UNODC, while Vietnam has an estimated 41 casinos in or near 44 SEZs.
The diversification into entertainment and conventions and all the rest of it, they provide the cover and the legitimacy for the casinos

John Langdale
The prospect of lawlessness in these zones has caught the attention of authorities, contributing to China's tightened control over outbound visas. With that, Macau has remained the ideal gambling destination due to its proximity and limited autonomous status.
The former Portuguese colony – despite the supposed shutdown of junket operations in the zone – has developed an underground model that is giving just enough space for high-rolling Chinese gamblers on the hunt for capital flight destinations and elaborate gambling tours.
"What most people don't know is that the (junket) agents are still operating in Macau, but they're no longer being identified as junkets because that's no longer politically correct," said Lee. "They are now being recognized by the casinos as players."
As "programme players", junket operators are able to allocate a private VIP room in a casino with a large enough buy-in. The junket agents are then able to organise a private gaming setting for their "friends" in which only the agent deals with the casino directly. The agent will then redistribute the buy-in chips to their friends, who are actually their clientele, Lee explained.
"They don't make any money, but they're doing that to keep the relationship with their players warm, waiting for the day when they and their players can start going to the casinos around the region," he said.
In the meantime, operators in Vietnam appear to be looking to team up with Macau's veteran casino concessionaires.
The tour operator Let's Win Group, which had its soft-opening at the Hoiana in February 2022, held a grand opening ceremony and gala dinner for its VIP club in March of this year – and flaunted an invitation to six of Macau's casino concessionaires.
Still, as Vietnam shows benevolence to foreign investment from the moguls of the gambling-tour industry, the country heavily restricts lending money to foreigners. This results, among other things, in a bureaucratic bump in the road for the junket-diaspora to the country.
According to Langdale, the Hoiana also resembles the trendy "integrated resort" model – such as Singapore's Sentosa Island – that has been established in the gaming industry as a guise to revamp an outdated Macau junket model. In the case of Singapore, where junkets are illegal, it disguises the fact that the real money is coming from high rollers.
"[Instead of] smoky casinos with Chinese gamblers – gambling 24 hours a day – they'll present a nice, healthy family-oriented resort," he said.
The integrated resort model stresses an atmosphere of a holiday destination with family entertainment, and incentivizes hosting conventions. The Hoiana advertises itself only as a resort and golf destination "but you're still getting VIP gamblers," said Langdale.
"The diversification into entertainment and conventions and all the rest of it, they provide the cover and the legitimacy for the casinos," he added. "By going down as the integrated resort, the casino operator can say we're no longer relying on hardcore gamblers."
As Thailand begins to relax visa rules for Chinese tourists, Langdale suspects that Vietnam will follow a similar shift. This could attract affluent Chinese tourists and investors seeking a landing zone for capital flight.
"And the Hoiana is one mechanism for doing that," he said.
---