Just a short stroll from Singapore's Clarke Quay, Fraser Place Robertson Walk encourages guests to truly make themselves at home
Strains of the new breed of inoffensive 'electronic dance music' fill the night air. Jets of water burst forth from the ground in choreographed unison, gushing to their own rhythm. Neon spotlights skitter along the ground like vaguely hallucinogenic stepping stones, picking out a route down the wide laneways of restored shophouses packed with restaurants and bars. Singapore's Clarke Quay is bold, shiny and unapologetically popular, and it has been packing them in since a sleek makeover in 2003.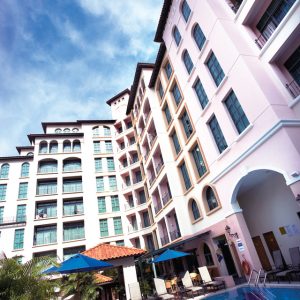 The competing aromas of Persian, Italian, Mexican and Indonesian cuisines battle for hearts and nostrils among the estimated two million tourists who wander between the five blocks of former warehouses every year. A more tranquil atmosphere can be found down by the Singapore River, where couples sit on the steps chatting and taking in the purples, blues and reds of the neon slick drizzled on the water. Read Bridge, which crosses the river from Merchant Road into the heart of Clarke Quay, is a popular spot to grab a cold can of beer and pitch up to watch the people roll by.
For anyone inclined to sample Clarke Quay's heady mixture of upmarket craft beer pubs and reverse bungee slingshots, Fraser Place Robertson Walk sits nearby, its bijou residences fitted out with every amenity required for an extended stay in the area. Fully equipped kitchens, washer-dryers and Bose soundsystems are all found within the apartments' separate living, kitchen, dining and bedroom areas.
Meanwhile, the public areas evoke a certain Mediterranean ambience, with wrought iron banisters, deep-red clay pots and bright terracotta roof tiles lending the pool, sundeck and Hub restaurant terrace an air of permanent summer, where lunches should linger for hours and the day's assignments amount to little more than refilling one's glass of merlot and gazing into the middle distance.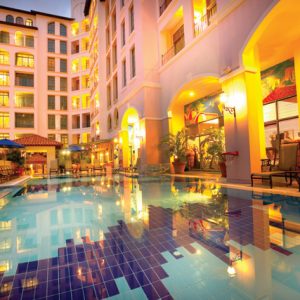 If this all seems a world away from the effervescent clamour of Clarke Quay, and of Singapore in general, it is. And that is entirely the point.
Setting the stage
Just around the corner from the hotel is the DBS Theatre, home of the Singapore Repertory Company (SRT). Founded in 1993, the SRT aims to give a platform to Asian artists and provide Singaporeans with the chance to see top-notch productions. Shakespeare, Broadway hits and specially commissioned shows form the theatrical menu.
Cheese, please
The hotel forms part of the Robertson Walk complex, a destination in itself packed with shops and restaurants. One standout food haunt is the Wine Connection Cheese Bar with its selection of more than 40 fine cheeses flown in from Europe weekly.
Go local
It is no secret that Singaporeans love their food, but it can be hard to find that 'authentic' place to chow down on bee hoon or claypot rice. One such destination is the Golden Mile Food Centre. Mostly patronised by office workers and with food at non-eye-watering prices, you'll find all your food needs catered for here.
Chocs away
Winner of Singapore Tatler's Best Chocolates Award for four consecutive years from 2011 to 2014, and also conveniently located near the hotel, Laurent Bernard Chocolatier is the place to go to sate that cocoa craving. Famous for its chocolate soufflé and hot chocolate, its welcoming sofas are the perfect place to sample the shop's other delights, including sumptuous cakes, thirst-quenching teas and velvety ice creams.
Essentials
Tel: +65 6270 0800. Website: singapore-place.frasershospitality.com. Address: 11 Unity Street, Singapore 237995. Email address: reservations.singapore@frasershospitality.com. Apartments: these range from one-bedroom Deluxe options, with 57 square metres of floorspace all the way up to three-bedroom Terrace accommodations  with 161 square metres of floorspace. Rates: from $355 (SGD 500) per night or $7,090 (SGD 9,975) per month for one-bedroom up to $780 (SGD 1,100) per night or $13,435 (SGD 18,900) per month for a three-bedroom Maisonette.
Keep reading:
"Grand design" – Since 1932, Siem Reap's Raffles Grand Hotel d'Angkor has been a magnet for well-heeled travellers on a sojourn to the nearby ancient temple wonders