Hamizah Hamzah wasn't into film before. The industry, she says, is mostly full of old people.
While at high school, she became inspired by the traditional Bruneian stories that the students studied in literature class. When she asked her teacher if any of the stories had been adapted into films, the teacher said no. That stuck with Hamzah.
After leaving school, Hamzah was searching for a university with a notion of presenting these stories in a new medium. She attended an education fair earlier this year, and that's when she stumbled upon the Mahakarya Institute of the Arts Asia.
The brand-new, top-level facility, opening next month, will be the first film school in Brunei. The school will offer a diploma in screen and media and have two intakes of students per year, with a maximum of 25 per batch. For the 20-year-old Hamzah, one of six students currently signed up, it presents an exciting path to the future.
"Everything in the school is very new to me; I've never seen anything [like] this before," she said, speaking via video chat from her home in Brunei.
"So when I went [to visit the school] I was like 'wow'… I must get into this school."
The institute is the brainchild of director and producer Siti Kamaluddin, who won recognition on the international stage for her debut film Yasmine in 2014. For years, Kamaluddin and Munji Athirah – a member of Brunei's royal family who works with Kamaluddin at her production company Origin – talked about creating a film school to help cultivate a film scene in the country.
It started to finally come together in 2016 after a chance meeting between Kamaluddin and US director Alex Fischer, who has taught film all around the world. Fischer was working in Malaysia at the time, but was intrigued by Kamaluddin's idea and decided to get involved. Through persistence, the concept started to become reality: "[At first] it was me just sending out emails to people saying, 'there is this possibility in Brunei'," Fischer told Southeast Asia Globe.
It paid off. In 2017, Kamaluddin, Fischer and Athirah signed a memorandum of understanding with TAFE Queensland – an Australian vocational training institution – and this partnership kickstarted the creation of the Mahakarya Institute in Brunei.
Six months ago, construction began on the school and then two weeks ago, the final piece was put in place when the school received approval from the Ministry of Education in Brunei.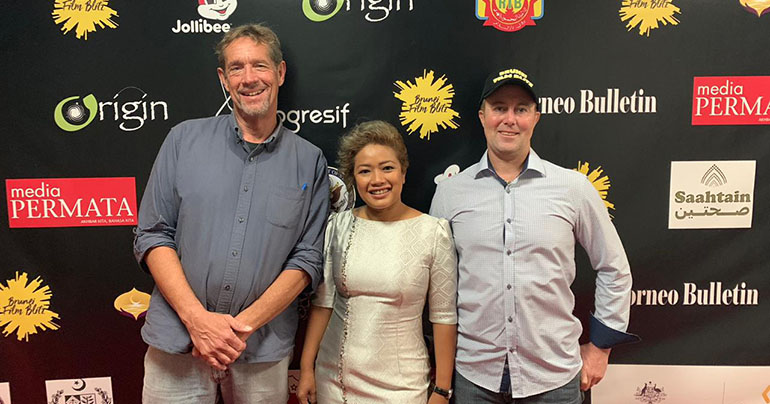 The school's three co-founders have big ambitions for the institute. They see it as a way of organically building a creative arts industry in Brunei – something that they see as currently lacking structure.
"I always refer to myself as a struggling artist because I work in a place where really we have zero infrastructure as far as film is concerned," Kamaluddin said. "We don't have a film commission, nobody is taking care of film actually."
Fischer agreed: "[the film industry in Brunei] is on the verge of something, but also, teetering precariously close to falling into an abyss."
Kamaluddin's debut film Yasmine, a coming-of-age story depicting a teenage girl's dedication to Malay martial arts, is one of the only Bruneian-made feature films to make a splash internationally, winning Best Asian Movie at the Neuchâtel International Fantastic Film Festival in Switzerland.
Hamzah explained that the creative industries are not highly regarded in Brunei. She said that parents and schools do not offer much support to young people who want to go down that career route as the jobs are too low-paid. "I'm very lucky because my mum fully supports me going to this school," she said.
The plan is to offer as much hands-on experience as possible, in line with the TAFE teaching model. Fischer said that around 90% of the course will be practical. After the first few weeks, during which students will learn workplace safety and etiquette, they will get the chance to work on the film set of Kamaluddin's new film – although the director is still keeping the film's subject under wraps:
"I haven't made any announcements yet, but I can tell you…it's a comedy / action drama – [a] fun movie. We have an award-winning actress and some of the biggest actors in Brunei in it. I will be announcing [it soon]," she said.
For a class of burgeoning film students, she said, the chance to walk straight onto a film set and see industry professionals in action was exhilarating.
"What I like about it, is every time we have a film the students will be able to get on-set experience," she said. "This is quite unique as far as film school goes. Not every film school can offer that."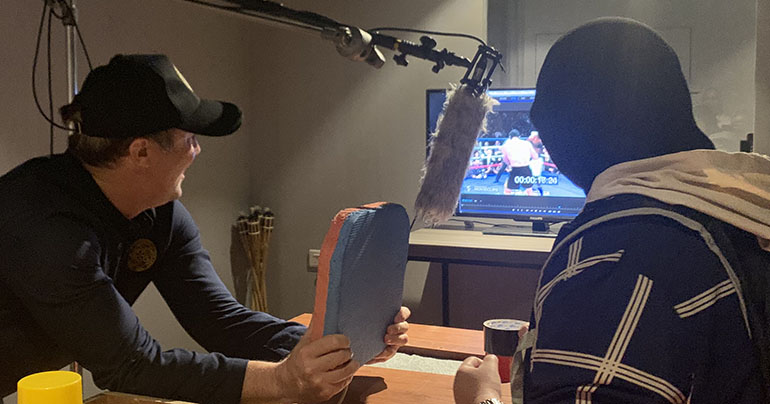 And the plans for the institute extend beyond that. Fischer talked about introducing different courses in the future to cover a wide range of film- and art-related industries. Both Kamaluddin and Fischer hope to create a new generation of talent in the creative industries in Brunei. Not only that, they want to give a new meaning to Bruneian films.
"As much as we're going to be teaching the content creators of the future here, we're also trying to establish, within the audience, what it means to watch a Bruneian film," Fischer said. "Ultimately, we're trying to encourage a creative content economy. Brunei is connected to oil, but there are other ways to make a living here," he added.
While the course is designed to set students up to have the skillset to work overseas in more established film industries, Kamaluddin and Fischer are hopeful that the next generation of filmmakers will stay in Brunei to forge something uniquely Bruneian.
When asked if she hopes the students will stay, Kamaluddin lets out a cheerful laugh. "Yes, to work here and create content for Brunei, because we don't have enough content, and we certainly don't have enough content creators."
For Hamzah, the prospect of playing a leading role in her nation's nascent film industry is exciting. She says that she would like to stay in Brunei, at least initially after the course, and help to bring more attention to the small nation.
"Brunei has so many [beautiful places], but we don't really use them for [film or creative industries]. Maybe after this film school is opened we can use the school to promote Brunei. We can bring more tourists from outside into Brunei with just a movie," she said.
Her enthusiasm for the new school and the course is obvious. Hamzah is confident that Brunei will one day have a thriving film industry, and she wants to be one of the first to be a part of it.
"I can see that the future of movies [in Brunei] is very bright," she said. "I'm sure of that."