Murderous goalkeepers, racist officials, cheating teammates: the beautiful game is often anything but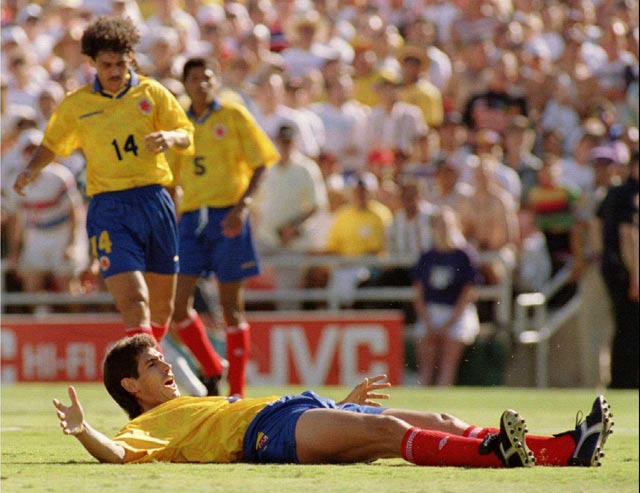 Ultimate own goal
Colombia set off for the 1994 World Cup in the US with high hopes. But when defender Andres Escobar stretched out a leg to clear a cross against the US he succeeded only in rolling the ball past his wrong-footed keeper. It was the own goal that sent the much-fancied Colombians crashing out of the tournament. A football-mad nation was grieving but few could have predicted the price Escobar would pay. Out with friends in the Colombian city of Medellín a few weeks later, the defender was about to get into his car when two gunmen shot him six times, killing him almost instantly. Links to the drug cartels that held such sway over Colombian society, and indeed football, at the time are undeniable but whatever the motivation, it has become the most tragic own goal of all time.
Les bleus language
Just last year French football was hit by a racism storm when national team officials were secretly recorded plotting ways to increase the number of white players on the national team. The footballing legend and France manager, ironically named Laurent Blanc, was among those at the meeting, although he was later cleared of any wrongdoing. The football federation discussed limiting the number of young black and Arab starlets at sports academies to 30%, with Francois Blaquard, responsible for youth coaching policy, saying: "We could organise, on a non-spoken basis, a sort of quota. But it must not be said." Blaquard was quickly suspended but the conversation was a worldwide embarrassment for a country whose 1998 World Cup winning team was hailed by many as an exemplar of multicultural France.
Sky sexists
Andy Gray and Richard Keys had been the face of televised football in England for almost 20 years when they were busted last year for offering sexist remarks about a female referee's assistant when they thought they were off-air. The Sky Television frontmen mocked Sian Massey during a Premier League game between Liverpool and Wolves with remarks such as: "Somebody had better get down there and explain offside to her." And the incredibly charming: "This isn't the first time is it? Didn't we have one before? Wendy Toms?" The boorish pair quickly scrawled grovelling apologies on the walls of their caves but it was too late – Gray was fired and Keys resigned, losing their multi-million-pound contracts within a matter of days.
Killer keeper
Bruno Fernandes was one of the finest goalkeepers in Brazil, as well as captain of Flamengo, the nation's most popular club. But in July 2010 he found himself behind bars for his part in a grotesque murder. The keeper met 25-year-old Eliza Samudio a year before and after she became pregnant during their first tryst he was infuriated when she decided to keep the baby. After a series of sinister threats, Fernandes and a retired policeman, Marcos Santos, lured Samudio from Rio de Janeiro to Belo Horizonte, where she was beaten, bound and then strangled in the former policeman's home. Police claimed that parts of her body were fed to a Rottweiler. The footballer was charged with her murder, as well as kidnapping, forming a criminal gang and hiding a body.
Playing away from home
English defender John Terry has never been the most popular chap. But in the build-up to the 2010 World Cup, it was revealed that the repugnant stopper had cemented his reputation as a scumbag of the highest order by cheating on his wife with the girlfriend of fellow footballer Wayne Bridge. It is probably also worth mentioning that Bridge was a teammate of Terry's at Chelsea and reportedly one of his closest friends. The affair threw England's tournament preparations into disarray, with Bridge withdrawing from the national team and the squad settling firmly into two divided camps. The situation also played a significant part in a recent racism trial in which it was revealed that Terry had called a mixed race opponent a "fucking black cunt" after said opponent had made reference to the affair. Nice guy.