Tomasz Eszua is slumped on a leather sofa in the living room of the Phnom Penh apartment he shares with two other Nigerian footballers. It is 3pm. Usually at this time the 29-year-old and his roommates would be at football practice, training despite the blazing heat. But today is different. Instead, Eszua is watching a football match on a small plasma TV while the Notorious B.I.G.'s "You're Nobody (Til Somebody Kills You)" blasts from a stereo system and rings out across the neighbourhood.
It is difficult to hear with the thump-thump-thump of the tune shaking the room, but just after the chorus Eszua says: "They told me they won't be renewing my contract because I gained too much weight after my knee injury."
Before losing his job as a striker with the National Police Football Club, Eszua was one of 18 Nigerians playing in the Metfone Cambodian League, the country's top division. His is one of many tales of Africans migrating across the globe in pursuit of every footballer's dream – joining the ranks of an elite European football club. Unfortunately, these journeys rarely end on the old continent.
Eszua left Nigeria for South Africa in 2008. He played in the top divisions in Mozambique, India, Thailand and, most recently, Cambodia, where he landed in 2012. Since setting foot in the Kingdom, where he was told by a recruiter that he'd be playing in the Samdech Hun Sen Cup – a competition only open to Cambodian nationals – he has already played for four different teams.
Like many economic migrants, once in Cambodia Eszua was confronted with the harsh realities of the country's developing football industry. According to Nigeria-born Western University FC coach Ken Gadaffi, the lack of employment security and meagre wages are the norm. "The clubs usually issue six-month contracts that they can terminate whenever they want. And they don't need to give players compensation or take care of them when they are injured," he said. As for the salaries, Gadaffi reveals with a sigh that foreign players are paid between $200 and $800 per month.
This situation is due to the fact that the "Cambodian premier league is still at the crossroads of semi-professional meeting professional", said May Tola, deputy general secretary of the Football Federation of Cambodia (FFC). May Tola is adamant that short-term contracts are in line with both FIFA regulations and local labour laws, and said low salaries are due to the absence of a set minimum wage. Therefore, clubs pay players according to mutual agreement, he claimed.
Then come the numbers on the clubs' balance sheets – or rather the lack thereof. Cambodia is playing catch-up with the regional football industry and its teams are currently generating almost no profits. There is virtually no revenue from ticket sales, TV rights or merchandise. Most of the 12 premier league teams operate on budgets of about $10,000 per month, and Gadaffi is not surprised the league fails to satisfy the financial appetites of overseas players. It was for this same reason that he put his own football career on the shelf after arriving in the country ten years ago. "It was not an economically viable option," he said.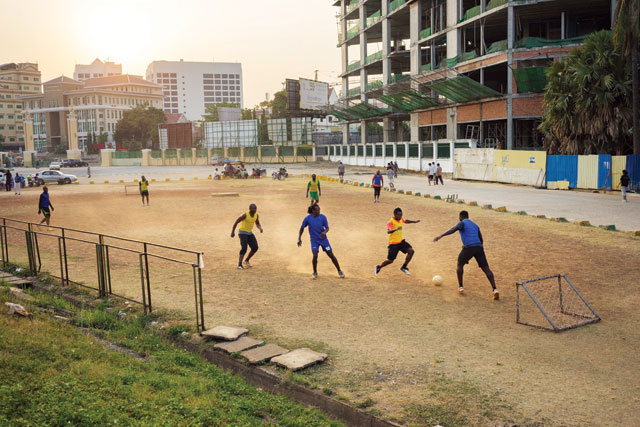 Despite the financial conundrums, footballers alighting in Cambodia are reluctant to put their dreams on hold. For as long as they can, many hold out on joining the nearly 1,000-strong community of Nigerian teachers, NGO workers, businessmen and sports coaches. Coming from a country where football is approaching religious status, and which has produced world-famous players such as Jay-Jay Okocha and Taribo West, many Nigerians view football as 'the only career'. Nelson Olatunde Oladiji, a Nigerian playing in Cambodia, proclaims that his fellow countrymen can be found "anywhere you can be paid to play".
Austin Koyatola, chairman of the Nigerians in Diaspora Organisation (NIDO), is a dedicated football fan but is not entirely comfortable with such attitudes. Due to this mindset, as well as the ignorance of some players, he said, there are currently numerous unemployed footballers roaming around Phnom Penh struggling to score one of the very few jobs available.
"In the age of the internet, how can you not be aware of the state of the industry here?" Koyatola asked. "Besides, we've been in this country for so long and we've been spreading information about this for years."
Blind eagerness has also resulted in many players becoming victims of trafficking, winding up in Cambodia in the hands of dubious Nigerian agents.Talking to 23-year-old Oladiji, whose positive disposition earned him the nickname "Lucky Boy", it is hard to imagine him falling prey to such a scam. Lured by promises of a four-digit salary, he arrived in Cambodia in 2009 at the age of 17, only to be told he'd be paid $200 a month. Having spent almost $4,000 on agent fees, airfares, accommodation and food for a one-month trial period, Oladiji found himself with no way out. The money he'd spent was a loan he had to repay, so he stayed on and agreed to the paltry salary. To make matters worse, he was only issued with a one-month visa, which his club, despite multiple assurances to the contrary, failed to extend. As a result, on top of the money he'd invested to leave Nigeria, he had to pay a $1,000 fine for overstaying on his visa, which he could not afford to extend himself – a problem that is more common than most care to admit, according to local football insiders. It is this, Gadaffi claims, which pushes some players faced with financial ruin to turn to a life of crime.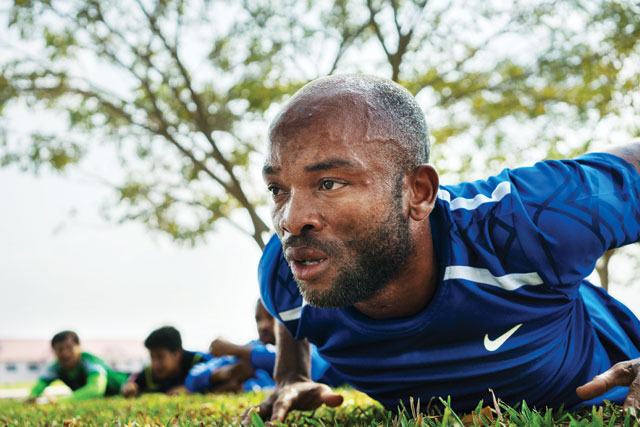 Not all players struggle to make ends meet, however. A veteran footballer, Sam Oseika is not one to complain about his career in Cambodia. With a "football age of 24" and an actual age somewhere between 35 and 40, he has been happily playing in Cambodia's premier league for years. "I don't have any problems with my salary and I never had any problems with the immigration authorities. I just want to play football and support my team," he said.
NIDO's Koyatola is equally assertive. Instead of fixating on immigration problems or drug trafficking, which he says should be treated as isolated cases, he focuses on the "immense contribution" of the Nigerian players – the first foreigners in the league – to the development of Cambodian football. The praise soon turns to brutal honesty. "I understand these people are desperate, but why do they agree to play for $300? Some of them even go behind other players' backs and tell the managers they'd play for free if only the club would extend their visa," he said, adding that he is awaiting the day foreign players demand to be paid a wage that will allow them to lead a dignified existence.
Oladiji is doing just that. He is refusing to play football for less than what he believes will allow him to lead a comfortable life. Having recently returned from Fiji, where he played in the first division during 2013, and having learnt his lesson since being forced to work for a pittance, the dreadlocked athlete has decided he won't "sell himself cheap" any more. And although he wants to get back on the pitch as soon as possible, he has refused recent offers. "During the four years I played here, I was paid so little. When I was in Fiji, I earned between $2,000 and $5,000 per month, so now I have decided I won't play for less than $1,500," he said.
Oladiji spends his days training and catching up with family via Skype. He said his daily regime is essential as his success depends not only on being willing, but being able. He wakes up each morning at 6:30am, dons a blue jersey and his favourite lilac socks – a trademark look that, together with his grass-green motorbike, makes him immediately recognisable – and heads to the south of Phnom Penh. By 7am he is on a slightly dilapidated synthetic pitch where he trains for two hours with more than 20 African athletes united in their readiness to join the ranks of any football club, anywhere in the world.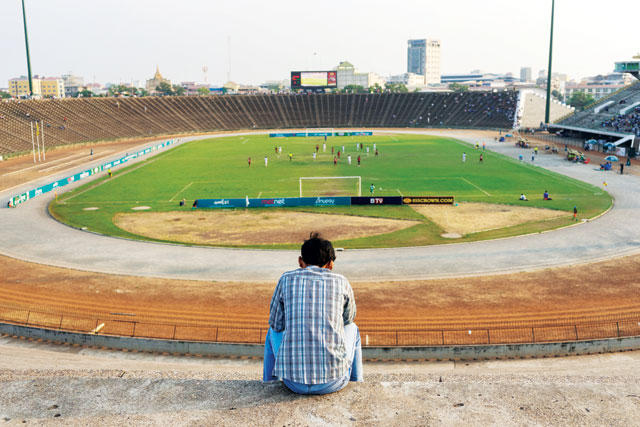 He meets some of these players again at 4:30pm for his second football session, which takes place at the sardonically named San Siro stadium – a triangle of bare land nestled close to the grounds of Phnom Penh's Olympic Stadium. Between two small goals, muscular silhouettes cut through clouds of red dust until the sun burns deep orange and sets on the horizon. It is a place where the games are loud, fast and rough. Football enthusiasts regularly stop by on their way home from work to admire this ad hoc show, played by some of the most talented footballers in the country. Most spectators sit at food carts on brightly coloured plastic chairs, chatting and eating, and occasionally letting out the deep drone of an impressed football fan.
San Siro is just one snippet of a much larger community that has been steadily growing since Nigerians first arrived in the Kingdom in 1992 with the mission of the United Nations Transitional Authority in Cambodia. Just like at Nigerian churches, restaurants and clubs scattered across Phnom Penh, here the players can share their experiences as migrants and feel united in their pursuit of success and happiness. Footballer or not, according to Oladiji, "everyone is moving around looking for a better life. There is no shame in trying to make it."