ESG Best Practices in Cambodia – Smart Axiata Case
In recent decades, the importance of sustainability has spread far and wide, becoming a rallying call for individuals, governments, and businesses alike. In the corporate world, this growing movement has led to the development of Environmental, Social, and Corporate Governance (ESG) frameworks that aim to unify stakeholders in the name of sustainability. In Cambodia, Smart is ahead of the curve.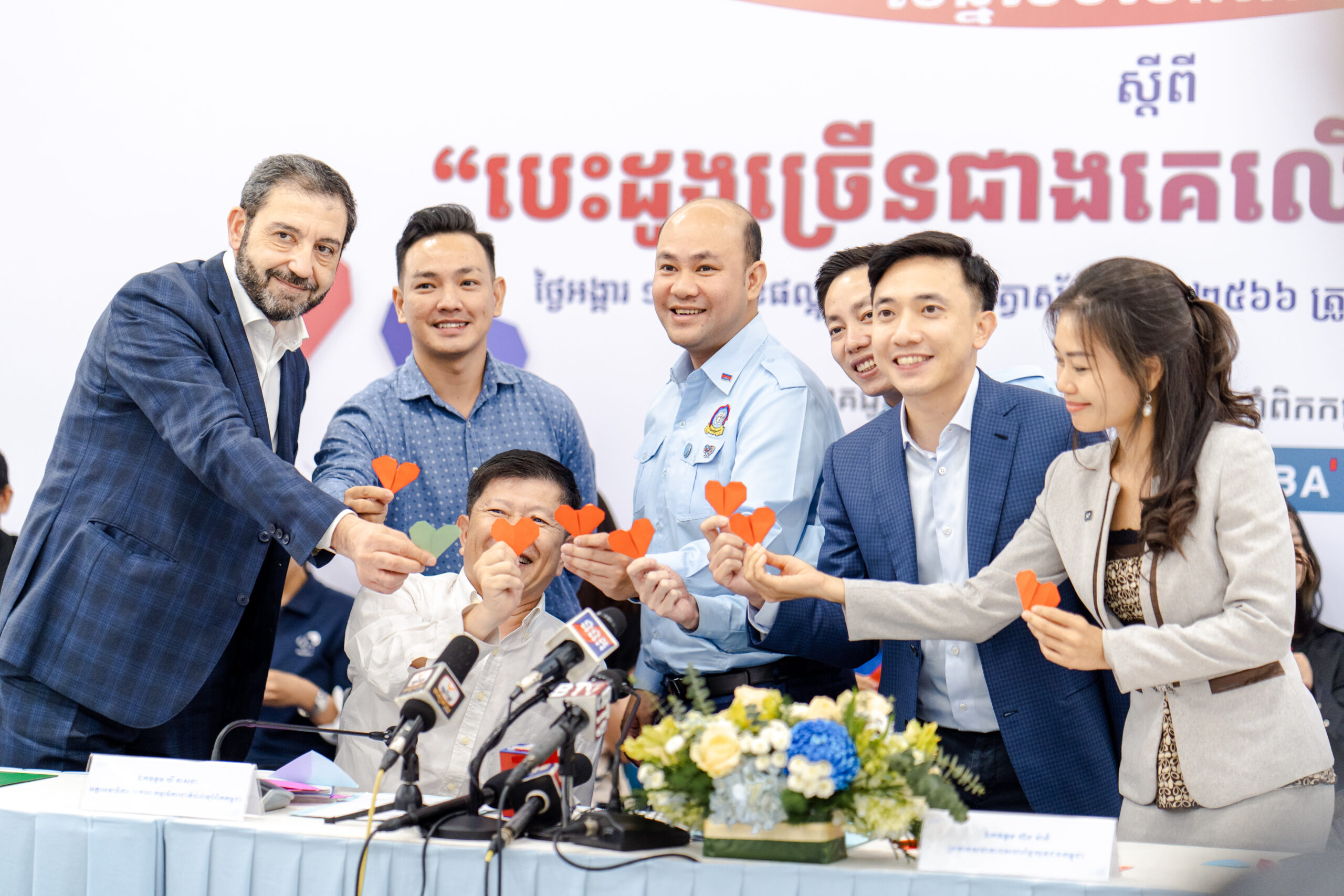 Leading by Example
Launched in 2008, Smart has become synonymous with mobile technology and digital innovation in Cambodia and is dedicated to bringing people together and improving their lives through communication. With this mission in mind, the company has set its sights on becoming the nation's digital and sustainability champion.
To achieve this goal, Smart has transitioned its CSR model, aligning ESG strategies with its parent company, Axiata Group. Building on a four-pillar sustainability model, Smart has committed to looking beyond short-term profits, nurturing people and developing world-class talents, embracing Process Excellence to improve products, services, and internal operations while ensuring a fair, transparent process, and giving back to society and minimizing its environmental footprint.
Remaining true to its vision for Cambodia's future, Smart has become a pioneer in sustainable business practices in the country.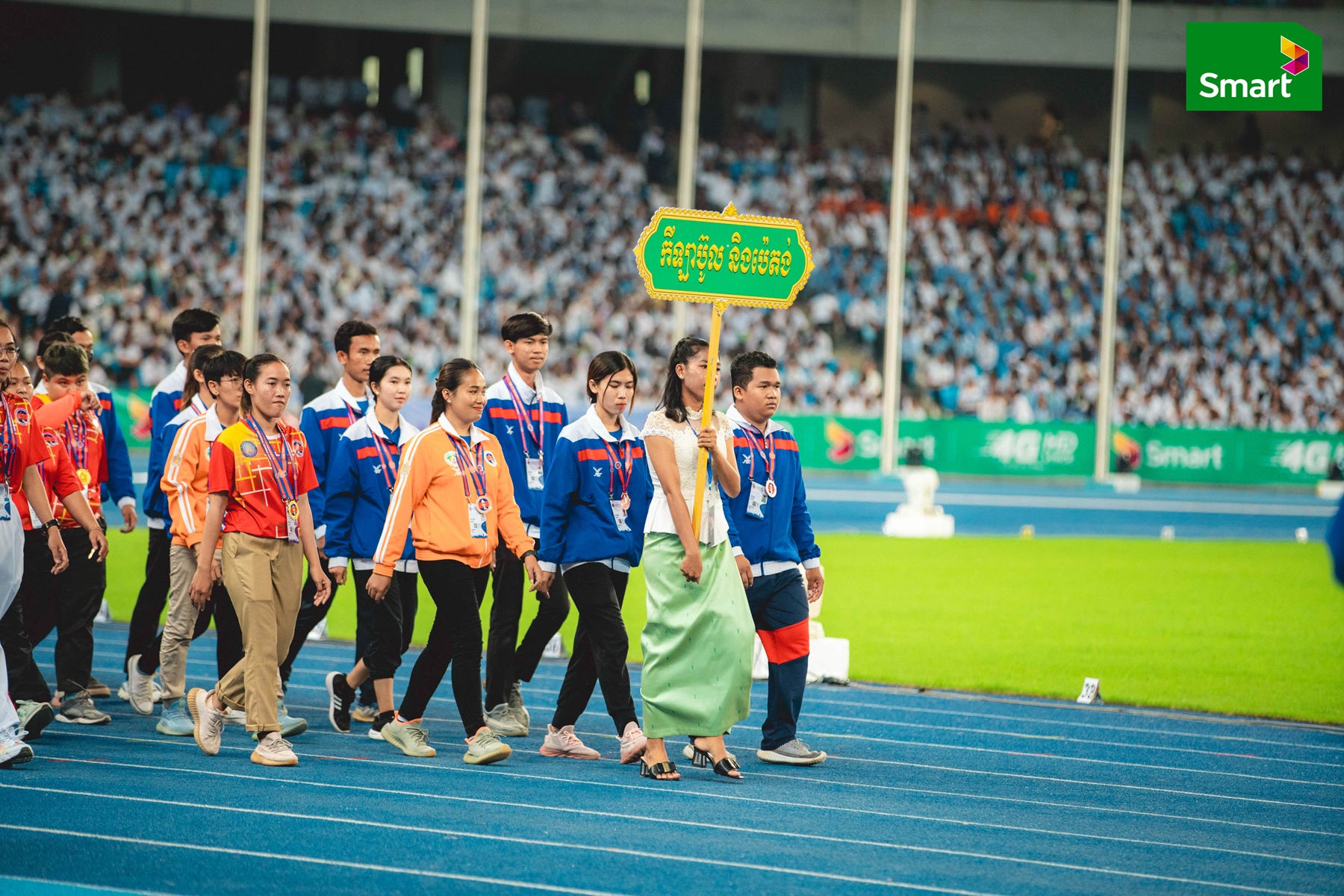 Caring for the Planet
Safeguarding the environment is a core sustainability pillar for corporations around the world, and Smart has fully committed to being an eco-conscious business. The company aims to reach net-zero emissions by 2050 and optimizes every operation with this ambitious target at the forefront of considerations.
Externally, Smart is utilizing key technologies to reduce emissions. By the end of 2022, 38% of the company's base stations were equipped to partially run on solar energy, with more stations being upgraded every year. Smart was also the first company in Cambodia to introduce the eSIM, increasing customer convenience while cutting down on physical SIM card waste and transportation-associated pollution.
Internally, Smart has digitalized numerous corporate processes, implementing a cloud-based human resource management system, electronic procurement solutions and an IT support system that reduces the usage of paper. Additionally, the company's Green Team is constantly working to improve energy efficiency in daily operations and actively engages with employees to lay the foundations for positive, sustainable practices.
Demonstrating the success of this people-to-people cooperation, their efforts were recognized at the 2022 Cambodian Energy Efficiency Awards, where they earned the Best Green Team award.
Building an Inclusive and Future-Ready Society
The true meaning of sustainability goes far beyond environmental concerns. With their holistic vision, Smart remains a significant driver of the Kingdom's sustainable development and is working to bridge the nation's digital divide through close collaboration with the Royal Government of Cambodia and key stakeholders.
Smart sets aside a percentage of its revenue to support Cambodia's development. Each year, 2% of the company's annual revenue goes to the Universal Service Obligation Fund (USOF), which helps to broaden access to quality, affordable mobile and digital services in remote areas of the country. Another 1% of Smart's yearly revenue goes to the Cambodian Ministry of Post and Telecommunications' Capacity Building, Research and Development Fund, where it is put to use improving infrastructure and supporting digital literacy programs for young Cambodians.
The digital divide is most apparent in the countryside, where the majority of Cambodians reside. With support from the USOF, Smart has deployed base stations in over 300 villages across Cambodia to provide quality mobile and digital services to thousands of people living in remote Cambodia.
To enhance the digital security of new and existing users, the company has been working closely with the Ministry of Post and Telecommunications to roll out a new campaign encouraging subscribers to register their SIM card profiles and protect their numbers. As of January 2023, more than 50% of unregistered users had completed the process.
The mobile operator also launched the Kingdom's first venture capital fund, the Smart Axiata Digital Innovation Fund (SADIF), which has invested 3 million USD in 10 startups, including the successful super-app Nham24. Several other startup incubation programs have been developed – including SmartSpark and SmartStart – with the aim of building a more resilient and supportive entrepreneurial ecosystem for young Cambodian talents. Support for other future-proofing programs focused on digital literacy and basic education are a strong testament to the company's commitment to bridging the digital divide and closing Cambodia's skills gap.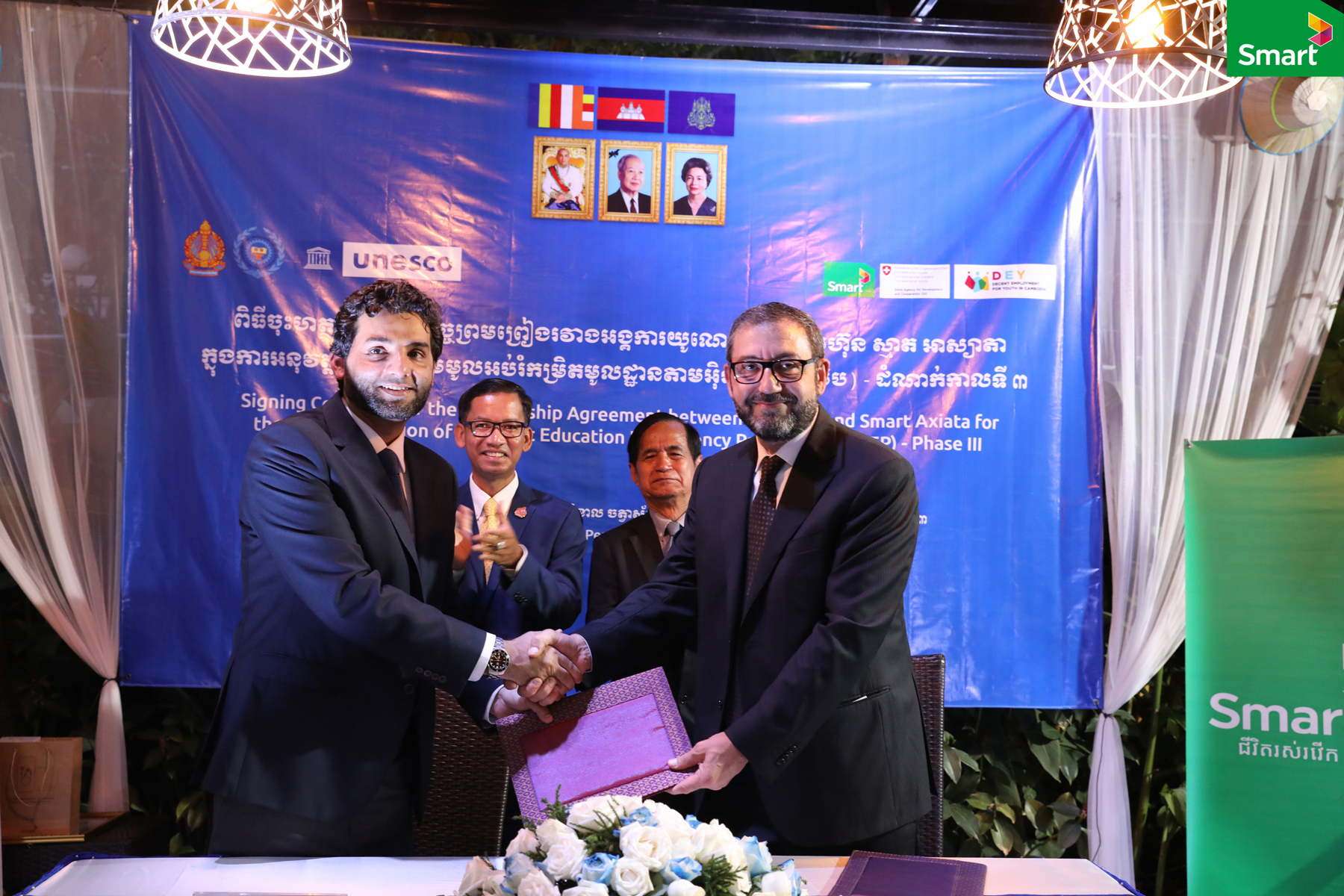 As of the end of 2022, Smart was the Kingdom's employer of choice, directly supporting more than 1,000 jobs, as well as indirectly supporting over 30,000 jobs through its operations and almost 23,000 jobs through its capital investments. The company has additionally vowed to support its employees through lifelong learning opportunities; numerous initiatives designed to equip young managers at Smart with leadership mindsets and expanded skill sets have been introduced, such as the Smart Accelerated Development Program.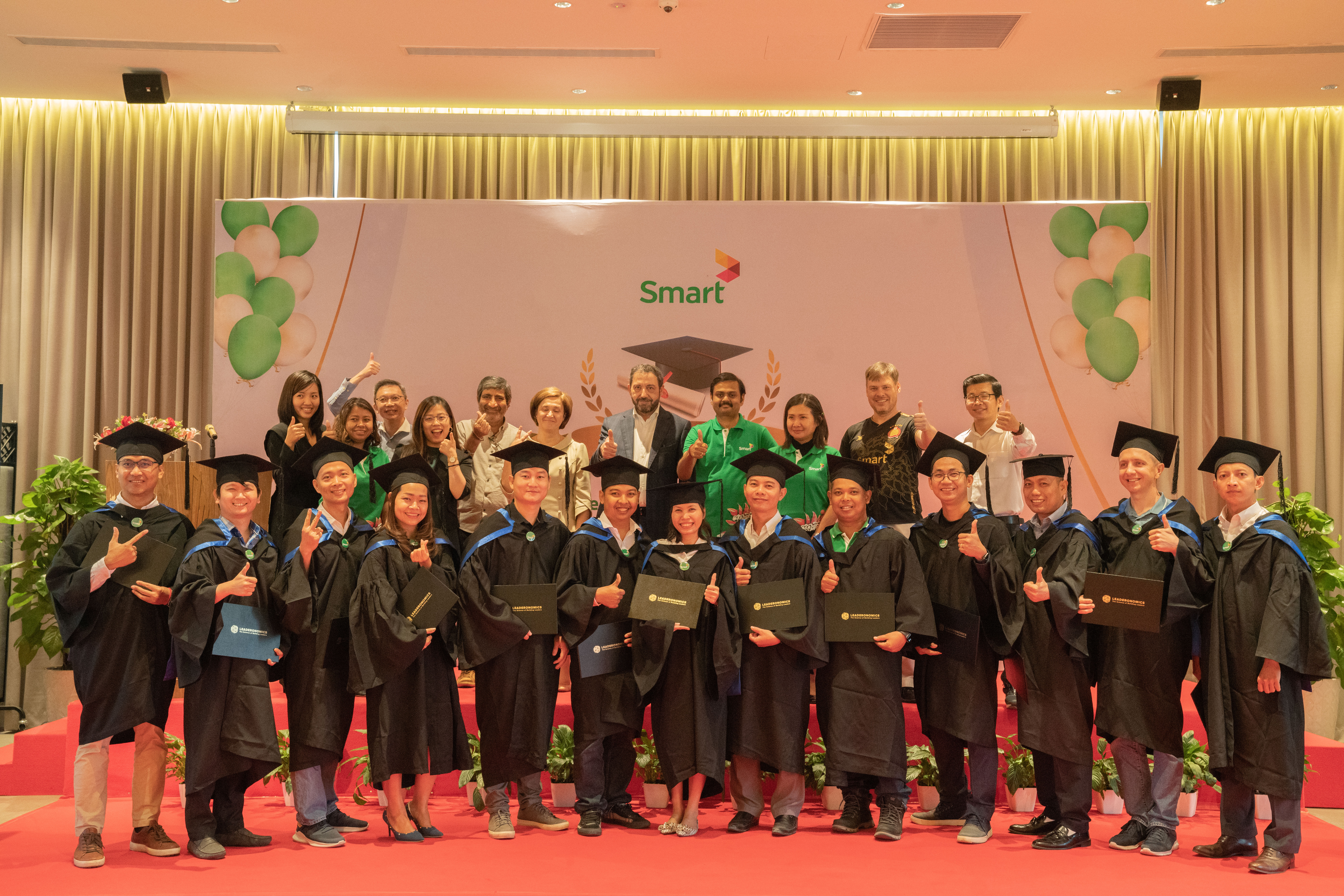 Demonstrating Excellent Governance
Smart's leadership understands that sustainability must include the broader systems that organize society, with local and national governance requiring full participation by all stakeholders. To this end, the company acts as an example of transparency, oversight, and compliance. Smart was the first-ever mobile operator to receive the Gold Award for Tax Compliance from the General Department of Taxation back in 2018. The company subsequently received the award in 2020 and 2022 too.
In 2022, Smart ranked in the top five tax contributors and received special recognition from Samdech Akka Moha Sena Padei Techo Hun Sen, the Prime Minister of Cambodia.
The company has also demonstrated excellence by championing regulatory compliance, adhering to the ISO 27001 international standard in its implementation of information security management systems and deploying Open Digital Architecture (ODA) at scale as part of Axiata Group, one of only three telcos listed by the global telecom association TM Forum to have implemented ODA. This further solidifies Smart's primacy in the field, with its architectural shift to an agile Digital Telco driven by its success in building a comprehensive Telco Operations framework.
Smart was the first telecommunications company in Cambodia to publish annual sustainability reports, too, the first of which was released on its fifth anniversary of operations in 2014. The reports reflect the values of the company, its commitment to transparency, and the progressive approach Smart takes to delivering exceptional performance.
A Cohesive Vision
Sustainability goes beyond environmental awareness and reducing emissions. It is these things… but it is also so much more. Sustainability is about a broader understanding of the ways that different systems and processes are interconnected and, for businesses, developing strategies that support these relationships in ways that benefit society as a whole.
Smart is committed to building a unified vision for the Kingdom's communications and digital landscape by working with stakeholders across all sectors, from individual customers and local startups to NGOs and government agencies.
In Cambodia, Smart means sustainability.

---
Read more articles