Cambodia's economy is going from strength to strength, with GDP expected to grow by 7% in 2018 and 2019. But with rising incomes comes a greater need for environmental responsibility and leadership in the face of infrastructure gaps  – here are three companies paving the way
A staple for high-end hospitality, Thalias Hospitality Group's waste management and recycling efforts have garnered them industry awards – and now they have their sights set on reducing plastic across their supply chain, improving product traceability and sustainable agriculture.
"Every Thalias outlet has a CSR ambassador dedicated to waste management," explains CSR manager Mathilde Vasseur. On average, Thalias recycles 25kg of metal cans and over 50kg of plastic bottles per month. "Plastic bags from Topaz go to Siem Reap to be upcycled into craft products, while non-profit social enterprise Naga Earth makes around 2,000 litres of used cooking oil into biofuel and soap per quarter." 
But the focus is not just on end-of-life waste. "We use biodegradable bags and takeaway boxes, and encourage our suppliers to do the same," she said.
When it comes to changing habits, Vasseur said, training plays a huge role. "Starting in April 2017, we audited how much plastic suppliers delivered to us and held workshops where we requested them to reduce it. We continue to seek new suppliers committed to reducing their plastic consumption."
Wherever possible, menus use local produce, winning Thalias the Khmer Product Usage prize  at the Cambodian Eco-Business awards judged by the National Committee for Clean City Assessment in March 2019, alongside the Environment Award for minimal footprint and the Outstanding Implementation award for efforts to reduce, reuse and recycle. 
Carefully chosen partners are helping Thalias to achieve the goal of improving product traceability, easing the transition towards sustainable agriculture and digitising processes to make agriculture more efficient.
Cambodia's thriving hospitality sector has some way to go before it's zero impact, but the Ministry of Tourism has been quick to give credit where it's due, says Thalias' communication manager Gabrielle Gabillat. "Awards are a good way of recognising efforts, further incentivising companies to improve practices," she says. "Most importantly, awards draw public attention to sustainability."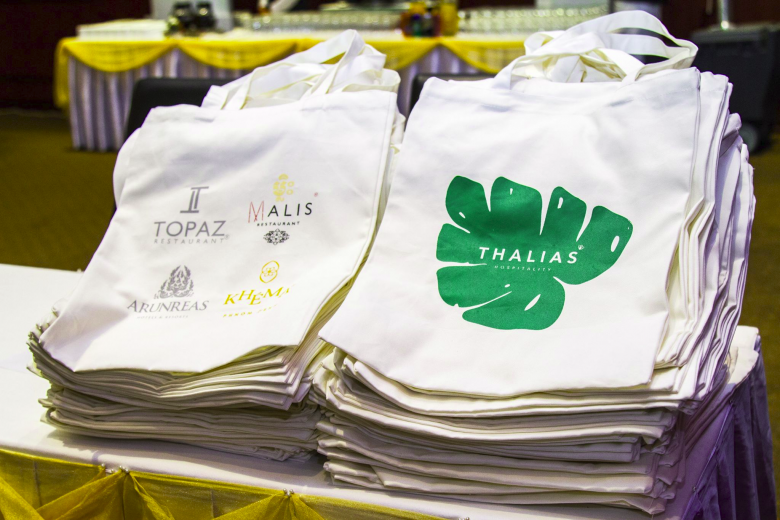 Phnom Penh restaurant, recycling hub and community space in one, Farm to Table's latest initiatives include community composting workshops and recycling events. 
"We strive to value resources upon which we all depend, like a clean environment," says sustainability coordinator Monorom Tchaw. That means business decisions informed by careful consideration of needs and impact. 
For Farm to Table, that ranges from saving more than 6,000 plastic straws since switching to a stainless steel alternative, to the 300 bottles of wine the restaurant goes through every month. "In two and and a half years, our bottles have been used by beverage partner Tangy Turtle, repurposed as drinking glasses, and even to construct a school!" From June 2019 new partners GAEA Waste Management Services and Naga Earth will convert the glass into sand for construction.
But the recycling isn't limited to the restaurant's waste. "We're planning events where customers can drop their recyclables to pass onto social enterprises like Mekong Quilts, who upcycle 11kg of our paper into handicraft products per quarter."
According to a 2018 UNEP report, over 50% of Phnom Penh's waste is organic. "We're committed to cutting our organic waste in half, donating our daily 20kg to fish farmers in southern Phnom Penh," explains Tchaw. "Plus, so far we've hosted three composting workshops showcasing different systems so we and our customers can convert food scraps into rich compost from which to produce more food – it's really win-win."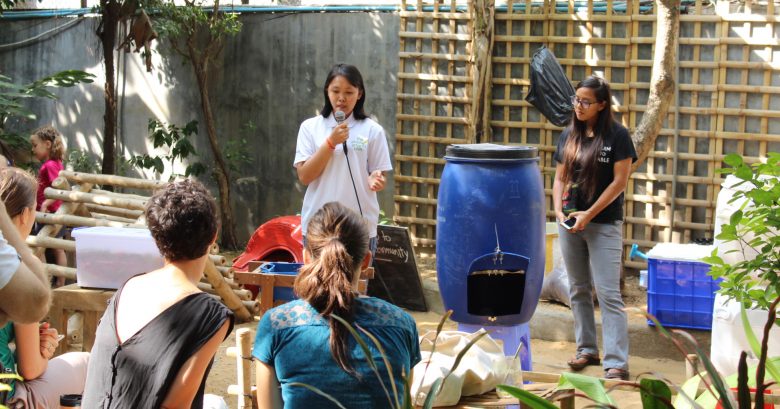 Food delivery service Meal Temple and sister company online supermarket Grocery Delivery deliver food, beverage and daily essentials to 50,000 customers in Cambodia. In 2018 they switched their delivery vehicles to electric motorcycles.
"Currently we have 10 e-motos, around one third of our fleet, with more on the way" says CEO and founder Maxime Rosburger. "We wanted to reduce our carbon footprint while improving energy efficiency."
The savings have been substantial. "Not only do e-motos retail for half the price of conventional motos, but they can ride around 100km on a single charge, saving $80 in fuel per month, a total of $800 for the entire fleet."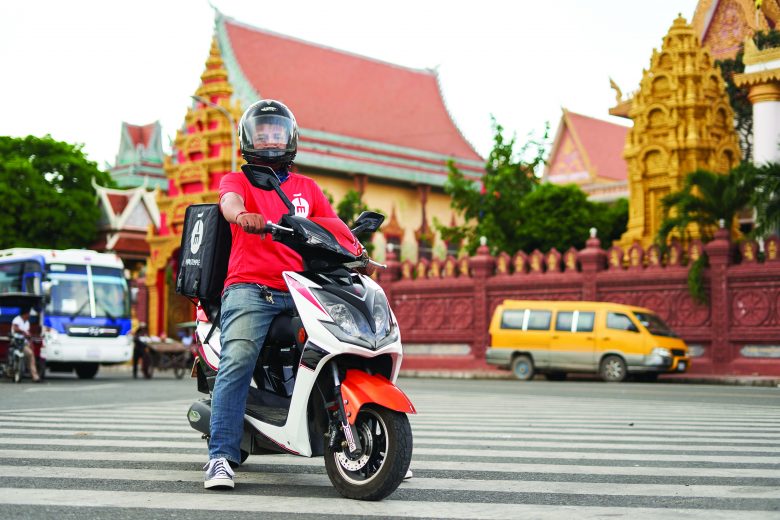 The change has been meant a 70% decrease in the company's transport CO2 emissions. "According to estimates, a regular petrol moto emits 100g of CO2 per km. Our e-motos emit only 30g per km, equivalent to the CO2 emitted by a person while cycling."
 But making the change wasn't easy. "The first six months were a major learning curve, because the e-motos were not designed to operate for eight hours per day in 30C+ heat. We had to find appropriate batteries that can sustain our usage." 
Though there were learning-curve frustrations and, of course, the initial cost, Rosburger is positive about the switch. "Sure there is an initial investment, but riding 100km per day, return on investment is achievable in less than one year," he says. Plus, he adds, the motos are covered by a two year warranty.
The e-motos are the latest in a line of green initiatives. "There's no warehouse –instead we pick up stock from suppliers and deliver them to customers directly, making our supply chain virtually emissions-free," says Rosburger. 
"If you're a business owner seeking to de-carbonise your last mile delivery, e-motos are ideal." •