Acclaimed French director Xavier de Lauzanne sat down with Southeast Asia Globe to discuss his new documentary, Les Pépites, which looks at the story of Phnom Penh-based NGO Pour un Sourire d'Enfant
The latest documentary from award-winning French filmmaker Xavier de Lauzanne tells the story of Christian and Marie-France des Pallières, the founders of Phnom Penh's Pour un Sourire d'Enfant (PSE). The organisation aims to lift children out of extreme poverty through education, and was set up after the couple discovered children working at a now-defunct rubbish dump on the edge of the city in 1995.
In France alone, 170,000 people have gone to see the film in cinemas – a sizeable figure for a documentary. The film has also been shown in Belgium and there are plans to air it in Switzerland, Canada and the US. Following the French-language film's release, Xavier de Lauzanne opens up about what motivated him to make the documentary and the challenges he faced bringing it to the big screen.
****
What first led you to become a filmmaker?
When I was young, I had two passions – cinema and cooking. I didn't know anyone in the film industry, so I went to hospitality school. Then I worked for about ten years in the hospitality industry. I lived in Hanoi for three years and set up a hospitality school with a French-Vietnamese woman as a social enterprise.
After a few years, I wanted to return to my first passion, cinema. I first came to Phnom Penh in 2000 and I met Christian and Marie-France. Each year they were going to France and touring around in a caravan looking for donors and sponsors for Pour un Sourire d'Enfant. They needed a promotional film and I was looking to change careers, so I made it for them. This was my first film.
What pulled you back to Cambodia?
Four years ago, I came back to Phnom Penh and asked Christian and Marie-France to make a full movie about their story, because after first meeting them we stayed friends. I saw their project growing and growing and growing and knew it would make a good documentary.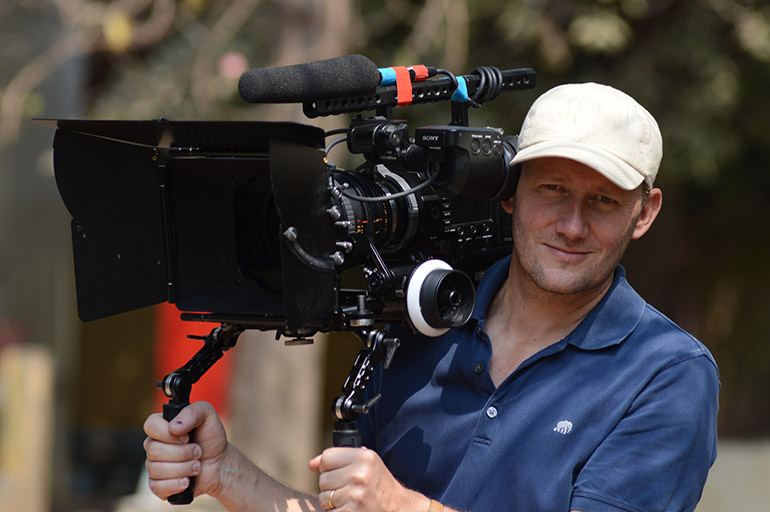 The film is hugely emotive, often moving audiences to tears. Is that intentional?
For me, that emotion is key to the project itself. Marie-France and Christian didn't start this PSE based on ideology, or strict analysis or morals. They started it because they had a feeling, an emotion. When they arrived at the dumpsite in 1995 and saw the children for the first time, the sight of it was so shocking that they had to do something. They felt something very deep.
I didn't want to work with a voiceover or a narrator. We never speak about morality. It is all about emotion. You have to understand it more with your heart than with you brain. That is my style.
What logistical challenges did you face making the film?
Working with the Cambodian team was a challenge. There is a cinema school at PSE and I wanted to work with the students and the teachers to make this film. They were very enthusiastic and hardworking, but they are still learning. I had to check everything but it was great to work with them because it was their story and they were very proud in everything they did.
Also to make a documentary film, there is a lot of work to prepare and get funds and convince partners, etc. You do all this in France and the shooting part is a very small element. This film took four years to make from its idea to screening but I did the shooting in Cambodia for only around nine weeks.
What needs to happen to address the underlying issue of child poverty in the country?
A lot of change is being made, but we cannot expect things to happen too quickly. The story of Cambodia is very special and the suffering has been so huge. It is a question of generation for me – there is hope in the new generation.
They want to have a good life, they want to learn, they are curious, they want to travel and they have hope. The older generation, in their 40s and upwards, is like a lost generation. It is harder to see hope.

Les Pépites will be screened at Institut français du Cambodge, in Phnom Penh, on 3 December.