Investment in two special economic zones have turned Japan into a major player in Myanmar almost overnight
People walk on a wooden bridge at the Thilawa special economic zone (SEZ), the centrepiece of Japan's investment in Myanmar.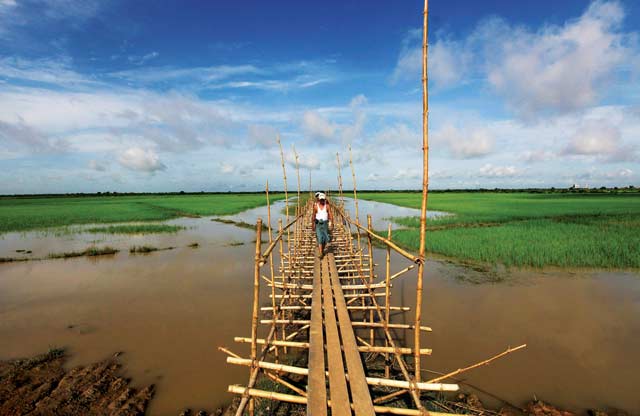 Japan is to provide an estimated $12.6 billion in aid to build infrastructure around Thilawa, a 2,400-hectare SEZ strategically located between Yangon – the country's commercial capital – and the Indian Ocean coast.Mitsubishi Corp, Marbeni Corp and Sumitomo Corp will form the Japanese side of the joint venture in Thilawa with a 49% share. They are expected to work with a consortium of Myanmar businessmen, who are likely to include long-time cronies of the military-backed government. The plan is to build the first 450 hectares of the industrial park by 2015, by which time Myanmar's new foreign investment law should be in place and legislation governing economic zones revised. A key part of the plan is to address Myanmar's dire shortage of electricity. Only a quarter of the population has access to power. Roughly $900m is planned for a 500-megawatt power plant that would supply electricity to Thilawa and Yangon. Japan is also investing in an economic zone in Dawei on the southern peninsula, where the largest industrial complex in Southeast Asia is on the drawing board.