Southeast Asian countries come in last in range of global rankings for electoral integrity

Southeast Asian countries rank lower on overall electoral integrity than any other region in the world, according to the Electoral Integrity Project at Harvard and Sydney Universities.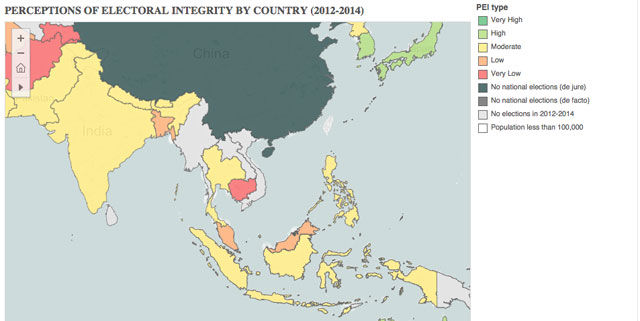 The survey gathers data from 1,429 domestic and international election experts. The data set includes 127 national parliamentary and presidential contests held from 1 July 2012 to 31 December 2014 in 107 nations.
In an article for New Mandala, Max Grömping, a researcher for the Electoral Integrity Project at the University of Sydney, wrote that the average score for Southeast Asian countries is 56 out of 100, compared to the global average of 64. Southeast Asia also came in last on electoral procedures (score of 59 compared to global mean of 73), voter registration (Southeast Asia: 46; global mean: 62), media coverage (Southeast Asia: 53; global mean: 60), results (Southeast Asia: 53; global mean: 72), and electoral authorities (Southeast Asia: 55; global mean: 69).
The Electoral Integrity Project found that Southeast Asia has a dynamic array of electoral systems. Vietnam and Laos are one-party states that silence dissent from any opposition. Elections in Singapore, Malaysia and Cambodia vary in terms of inclusion and competitiveness, but are all criticised for their chokeholds on the electoral process. The Philippines has been holding elections for more than 100 years, while Myanmar is only just emerging from decades of military dictatorship.
Keep reading:
A new cold war – With the United States' renewed affection for Asia provoking suspicion from China, will Southeast Asian nations become pawns as the two superpowers battle for influence?