The regions's stock markets and beyond are losing ground amid global economic uncertainty

Asia's stock markets have tumbled this week, with potentially damaging knock-on effects for Southeast Asia. In Hong Kong today – on the first day of trading after the New Year holiday – the stock market fell 4.11%, to the lowest level since June 2012. Yesterday, Singapore's Straits Times Index (STI) ended 41.11 points or 1.57% lower to 2582.1, taking the year-to-date performance to -10.43%. Japan's Nikkei index fell on Tuesday and Wednesday, dropping 5.4% and 2.3% respectively. Tokyo's markets are closed today and China's will be closed all week.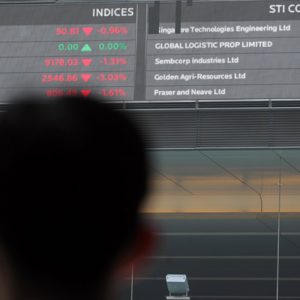 Elsewhere in the region, Malaysia's FBM KLCI index lost 18.05 points or 1.09% on Wednesday and the Thai SET main index opening today at 1,302.12 points, down 2.62 points from close of trade on Wednesday – down 0.20%. Only Indonesia recorded modest gains this week.
"The STI is catching up on the decline in the overseas markets upon return from the Chinese New Year break," Bernard Aw, market strategist at IG, told the Straits Times yesterday.
"I expect bearish sentiments to underline Singapore for the rest of the week," Aw added. "However, some relief rally in the US markets could provide a temporary floor for Singapore equities, until the resumption of China's onshore markets next week."
Economies in Southeast Asia, such as Malaysia and Thailand, are heavily linked to trade with China's manufacturing industries and are slowing down sharply as the world's second-largest economy eyes attempts to stimulate consumer confidence and tackle corruption. Sovereign debts that last year looked to be reasonable are being watched carefully by international ratings agencies.
The continued anxiety over the world's economy and China's contracting growth was highlighted by US Federal Reserve chair Janet Yellen in her speech to Congress yesterday. She warned that financial conditions in the US have recently become "less supportive of growth" while China's "unclear" currency policy was stoking global stock market volatility, the BBC reported.
"This uncertainty led to increased volatility in global financial markets and, against the background of persistent weakness abroad, exacerbated concerns about the outlook for global growth."
Meanwhile, foreign investors' confidence in Thailand fell for a third straight month, Reuters reported on Tuesday, with an 'extremely bearish' view revealed in a survey taken at the end of January by the Federation of Thai Capital Market Organisations.