Sponsored: Through its uniquely bilingual approach to education, Phnom Penh's East-West International School develops its students into people capable of taking control of their own lives, according to interim director Samantha Fraser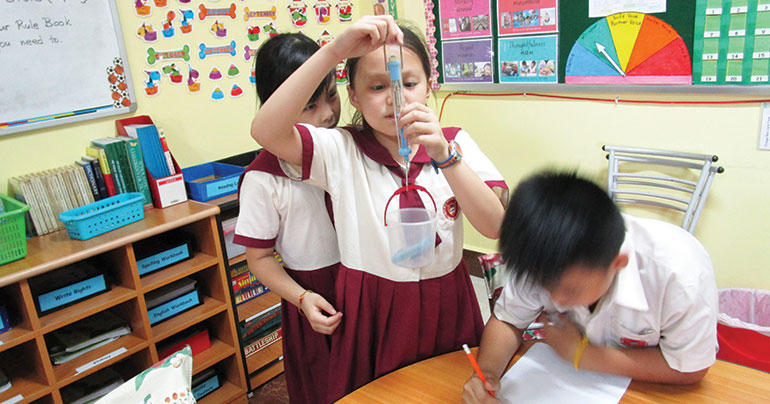 You've described East-West International School's approach to education as "truly bi-lingual and bi-cultural". What does this look like in the classroom, and why is it important?
Each Early Years and Primary class has two qualified teachers: one English foreign teacher and one Khmer teacher. Teachers 'co-teach' lessons where possible. This means that there will be a language switch during a lesson, covering the same content. Or concepts might be introduced in English and then consolidated in Khmer. Basically, we model to students the positive use of both languages to develop their thinking skills. In this way we are ensuring that we don't 'replace' the home language with English but reinforce development in both.
What are some of the advantages of teaching both the Cambodian national curriculum and the British curriculum? What implications does this have for a child's higher education beyond East-West?
The majority of our students are Khmer and do the bilingual programme and we believe this has ensured cognitive and literacy development happens effectively in both languages. The British curriculum – specifically the Cambridge International Exams – is a rigorous, internationally recognized programme. Cambridge "A" level passes, or the Cambridge AICE diploma, ensure access to most universities across the world. It is a tried and proven programme that is flexible enough to be adapted for use in a school such as ours. Students who can pass AS and A levels are almost certain to succeed at completing Degree courses.
Apart from academic development, what extra-curricular programmes does East-West offer its students?
All our students participate in music, art, physical education, swimming and computer classes. Our music programme is especially well developed and we have a talented team of teachers who offer training in violin, guitar, percussion and vocals. Our Secondary school students have the opportunity to join one of the middle school or high school sports teams, who compete against other international schools in Phnom Penh. We also offer an after-school programme with activities run by our teachers. These could include chess, drama club, dodgeball, paper art and wall climbing. Once a year our Grade 5 to 12 students go on extended field trips to regional areas of Cambodia, or to a neighboring country. Students are encouraged to take part in extra-curricular activities because these help to develop social skills, confidence, greater awareness of the world outside home and the classroom, and an opportunity to explore their individual talents and passions.