Philippines President Rodrigo Duterte will attend the wake of Joanna Daniela Demafelis this week, an overseas worker whose body was found in a freezer in Kuwait earlier this month.
The 29-year old moved to Kuwait in 2014 to work as a maid under the employment of a Syrian woman and her Lebanese husband. The pair are now wanted by Kuwaiti authorities and Interpol in connection with the murder of Demafelis.
It is the latest in a string of incidents of abuse of overseas workers from Southeast Asia.
Duterte reacted emotionally to news of the death, hitting out at the Gulf state for its treatment of Filipino workers.
"What are you doing to my countrymen? And if I were to do it to your citizens here, would you be happy?" Reuters reported the President as saying.
The latest incident has prompted the Philippines to offer to repatriate any citizen currently working in Kuwait who does not wish to remain there, Reuters reported. This is on top of a ban announced in January preventing Filipinos from working in the Gulf state.
Prevalent issue
Abuse of Southeast Asian migrant workers in the Persian Gulf is widespread and has raised concern for many years.
In November, the ten leaders of the Association of Southeast Asian Nations (Asean) reached a consensus aimed at improving working conditions and workers' rights for the millions of migrant workers in Southeast Asia, the Sundaily reported.
However, earlier this month another story of abuse made headlines when an Indonesian maid died in Malaysia after suspected mistreatment by her employer.
Adelina Lisao was rescued from her employer's home last week but died later in hospital. She was found with wounds to her hands and feet, and said that she was made to sleep outside with a pet rottweiler, Reuters reported.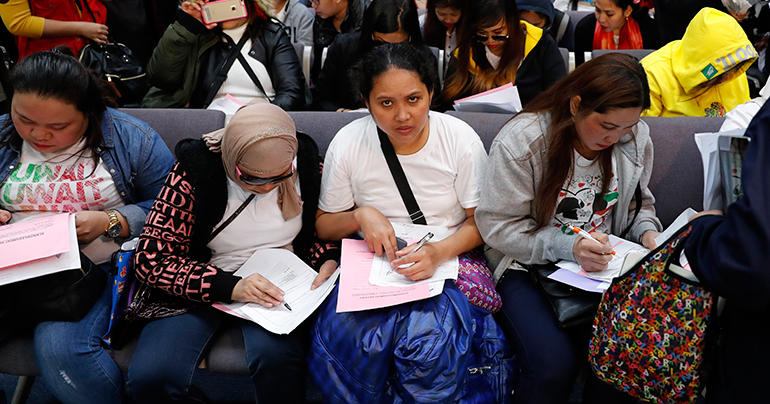 Indonesia is now considering a ban on sending workers to Malaysia, according to local news outlet SINDOnews. It had previously imposed a ban in 2009, but it was lifted three years later with the stipulation that better protection be offered to the maids.
Malaysia has one of the highest rates of foreign labour in Asia, with approximately 2.5 million Indonesians working there. According to Muhammad Iqbal, the director of the Protection of Indonesian Citizens and Legal Entities department at the Ministry of Foreign Affairs, more than half of them are working illegally, the BBC reported.
Online service
At the start of 2018, Malaysia launched an online maid recruiting service to provide an efficient means of employing overseas workers. The Maid Online system (SMO) allows employers to hire maids from nine specified countries at a far cheaper rate than by going through agencies. With the SMO, the process of hiring a maid could take as little as eight days.
One of the countries involved is Cambodia, which announced in January that it was lifting a ban on sending maids to Malaysia. The ban was imposed in 2011 following reports of mistreatment of Cambodian maids.
"On the 1st of June this year, the first group of migrant workers will depart to Malaysia," Labour Minister Ith Sam Heng said, according to the Phnom Penh Post.
Malaysian human resources minister Richard Riot asserted that the maids coming through the system would be protected under Malaysian law once they arrived in the country, the Phnom Penh Post reported.
Many households in Malaysia employ foreign maids, mostly from Indonesia but also from Cambodia, Philippines and Sri Lanka.