Three countries in the region burned more than $1 billion worth of drugs, but addressing the root of the problem has proven far more vexing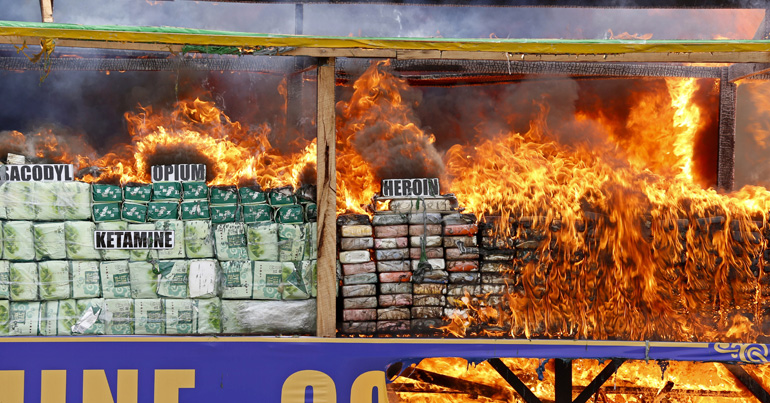 A trio of of Southeast Asian countries that are facing disturbing trends in drug use and distribution showcases their efforts to combat the problem yesterday, burning millions of dollars worth of seized narcotics to mark International Day Against Drug Abuse and Illicit Trafficking.
Thailand, Myanmar and Cambodia incinerated a combined $1 billion in drugs on Monday, according to an AFP report.
An estimated $385 million worth of drugs went up in smoke in Myanmar in what police said was a record amount due to rising seizures. Thailand burden some $589 worth of narcotics, including large amounts of methamphetamine, in both pill and crystal form, while Cambodia set fire to about $4 million worth of drugs.
"The burned drugs, including heroin, crystal methamphetamine, methamphetamine pills, ketamine and ecstasy, were seized from criminals in late 2016 and early 2017," Meas Vyrith, secretary-general of Cambodia's National Authority for Combating Drugs,  told reporters after the ceremony, according to Xinhua. "This reflects our commitment to fighting against the illicit drugs."
Sirinya Sitthichai, secretary-general of the Thailand's Office of Narcotics Control Board, also told reporters that the seized drugs were a sign of success. "Currently, we are able to take down a lot of networks, including … transnational networks bringing drugs into Thailand," he said, according to Reuters.
In Yangon, the biggest of the bonfire sites in Myanmar, officials said the piles of opium, heroin, methamphetamine and cocaine were proof of more seizures, but also an increase in production in an area that has long been one of the world's top drug suppliers.
"Drug production has increased every year since 2006," Yangon police chief Win Naing told crowds on the outskirts of the city, according to AFP.  
This trend of rising methamphetamine use in particular has caught the attention of the UN and governments throughout the region. Few have done more to call attention to the issue than Philippine President Rodrigo Duterte, whose war on drugs over the past year has left thousands dead.
Countries including Cambodia have also launched high-profile initiatives to combat rising drug use and trafficking, through it remains unclear if these efforts are reducing drug abuse and sales or simply leading to a rise in arrests and seizures.
The U.N. has called on Southeast Asian nations to come together to form a regional response to the problem, given the porous borders and weak law enforcement that allows the trade to thrive in the region.
"The global trend in the use of amphetamines is stable, although this may underplay the situation in regions where recent information on the extent of drug use is unavailable,"  the UN's crime and drugs office said in its 2016 World Drug Report. "This is particularly the case in Asia, where expert perceptions of trends and treatment admission reports suggest an increase in the use of amphetamines in the region, specifically in East and South-East Asia."
Myanmar has long been one of the world's top producers of opium, heroin and methamphetamines, though the government has recently pledged to change that with legal overhauls that would create harsh penalties for drug offenders.
Similarly strict anti-drug strategies in Thailand, however, have given rise to one of the largest prison populations in the world, while a six-month crackdown in Cambodia this year has left the country's already overcrowded prisons at a breaking point, observers say.