This article is the second part in our two-day dive into Sihanoukville's rampant development. You can read the first part here.
Sreymau is a small and slight woman, which helps somewhat as she edges her way around the cramped, jerry-built home she's carved from an abandoned building in the city of Sihanoukville on Cambodia's coast.
To reach the "apartment," a set of scaffolding jammed in a kind of front vestibule of a crumbling, gray structure, Sreymau and her boyfriend must first wade through one of the city's many kerbside rubbish dumps before scrambling up a rickety, homemade wooden ladder.
31-year-old Sreymau is eight months' pregnant. Each day it gets harder to hoist herself up to the entrance, a glassless window punched in the outer wall.
Social workers clamber across piles of rubbish to get to Streymau's makeshift home. Many meth addicts in SIhanoukville are now squatting in construction sites. Photo: Andrew Haffner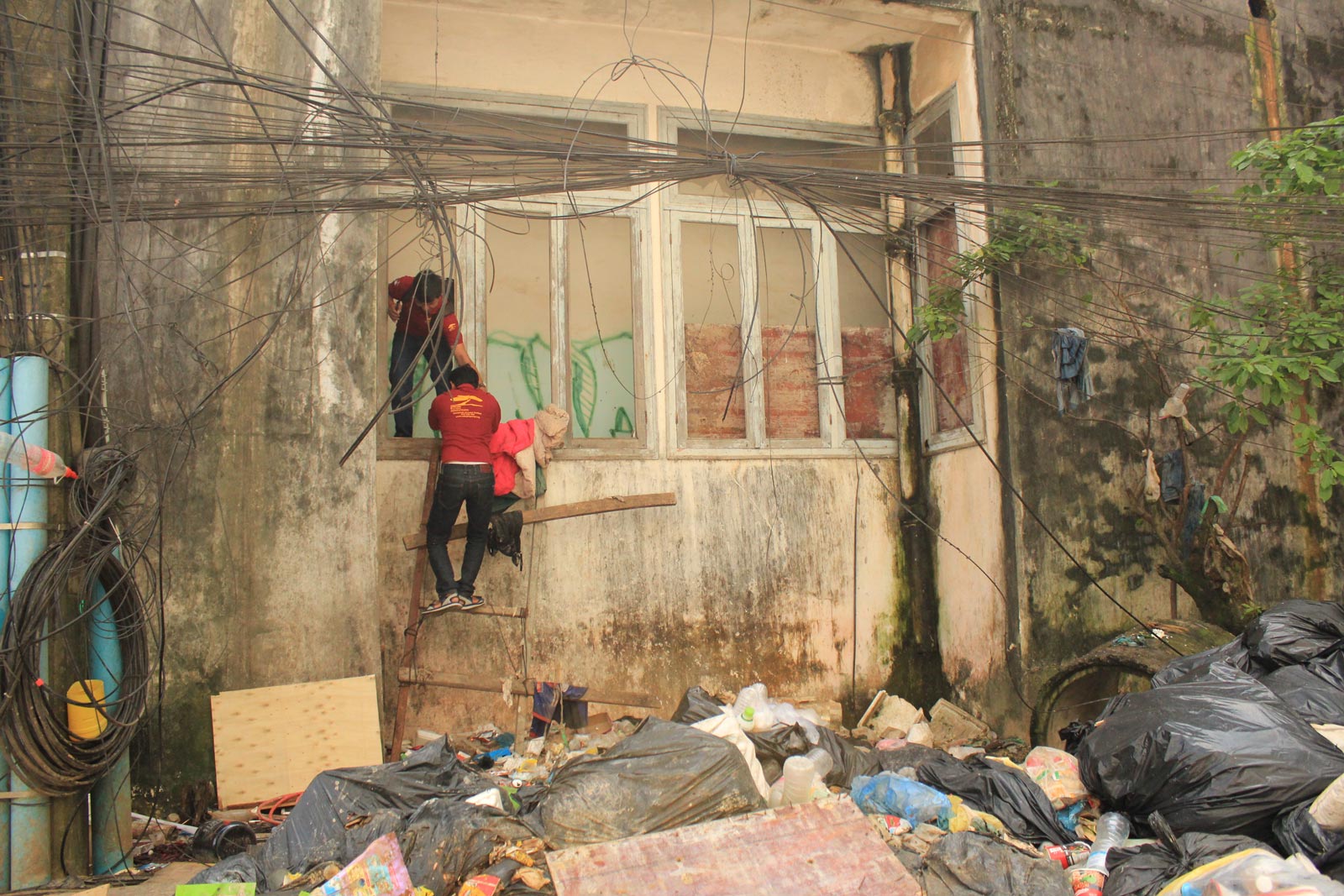 Rough and ready as her place is, Sreymau has neither a plan nor the choice to move, even after the baby comes. She offers refreshments in the modest form of the first sip of a can of soy-flavoured drink, and is bubbly, even giggly, as she explains the downward spiral that brought her to live on a wooden platform under a leaking slime-slathered roof, along a road that pounds to the incessant thudding and drilling of the city's ubiquitous construction sites.
Sreymau isn't her real name, but one given to her to hide her identity. And her name is not the only part of her story as hazy as smoke.
Years of addiction will do that.
"For the poorest of the poor, a huge amount of them have no choice but to live in abandoned buildings"

Maggie Eno, M'lop Tapang
Sihanoukville has been the scene of a runaway period of development that's left most of the city unrecognisable to visitors. But it's not just the look of the place that's changed – social workers there say the city's lurch to modernity has unravelled much of the community fabric that once provided a basic degree of protection to its most vulnerable residents.
Perched above the greasy puddles of the garbage dump, Sreymau certainly qualifies. She's been hooked for years on crystal methamphetamine, or crystal meth, a drug known across Asia as ice. After years of ice addiction, say the aid workers that check in on her, Sreymau often thinks and acts as a child might.
She's also far from the only one in Southeast Asia to be snared in the chill of ice dependency. Use of the drug has exploded in recent years across the region, driven by international criminal groups making a killing from selling to people like Sreymau.
Though details of her descent are unsteady, social workers have drawn a rough sketch as bleak as it is blurry.
Raised in a Phnom Penh household by a mother in the sex trade, Sreymau left for Sihanoukville between seven and nine years ago.
She can't remember exactly when that was. But she does remember that her young daughter, who's lived the past three years full-time for safety's sake with local non-governmental organisation M'lop Tapang, was born about a year after she arrived on the coast. Pausing, Sreymau asks co-director Maggie Eno how old her daughter is now. Eight, she responds. Her daughter is eight. Sreymau has lived in Sihanoukville for seven years.
Or maybe not. A moment later, she's unsure again. Seven to nine years is as much clarity as we're going to get.
Sreymau worked for a time as a waitress, a job she'd return to if she could. But more recently she'd been roving Sihanoukville's streets and beaches as an "entertainment worker," a euphemism for the sex trade, before settling into relative calm at her current location.
It's been a hard past to a grim present, but Sreymau is now one of around 150 people who regularly get drug-related help from M'lop Tapang, a Sihanoukville-based aid organisation that draws its name from a Khmer reference to the shade of the umbrella tree. The group works mostly with youth but sometimes with adults with children.
Sreymau said she quit meth after becoming pregnant, but like addicts anywhere, those in Sihanoukville eke out chaotic, turbulent lifestyles marred by a spiralling decline of body and mind.
The latter, we see first-hand. After saying their goodbyes and wrapping up their morning visit to Sreymau, the M'lop Tapang team quietly corrected the record. She had not, in fact, managed to kick the meth habit for the baby.
Sihanoukville's beaches and turquoise waters have long attracted people from other provinces looking for a new start in a low-cost tourism hub popular with Cambodian families. But after years of breakneck Chinese real estate investment, the city is being transformed economically and demographically.
Much of the new Chinese population is highly transient, coming to town for work or leisure and returning home – sometimes quite abruptly, as was the case when the Cambodian government banned online gambling and prompted an exodus of short-term foreign residents. The newcomers include an organised crime contingent that trafficks in narcotics, and while drugs flow within the Chinese transplant community, local social workers don't believe they're the source of the uptick in Cambodian usage.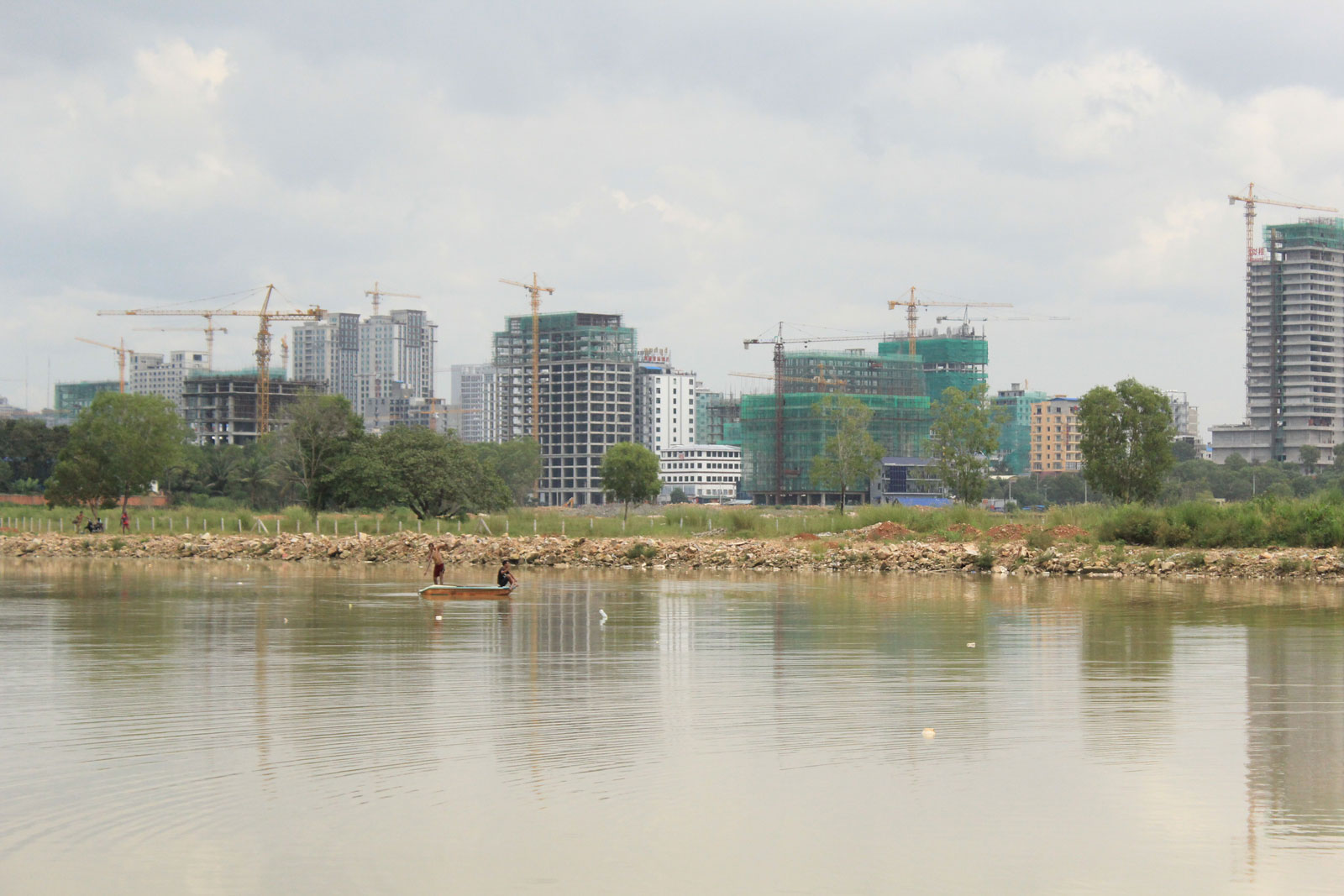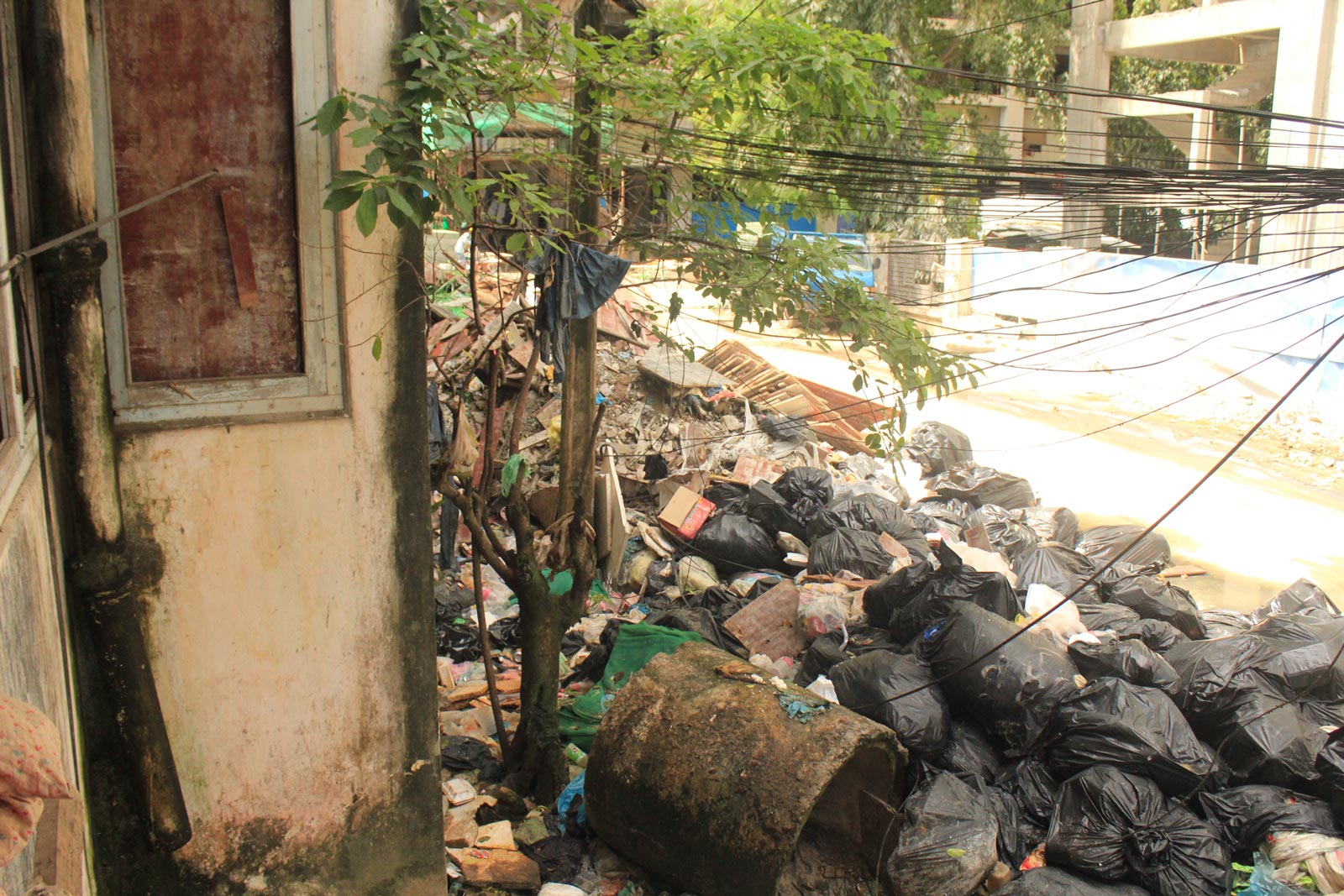 Despite that, the influx of foreign capital has sent land prices and living costs alike soaring, pushing already-vulnerable communities to the edge.
"For the poorest of the poor, a huge amount of them have no choice but to live in abandoned buildings," said Eno, who's also a co-founder of M'lop Tapang. "There isn't anywhere left to pay $50-80 a month for a simple room."
"It's all been rented out to the Chinese. I can't pay anymore"

Sreymau, Sihanoukville resident
Some of those cheap, rented rooms of the past are now filled with Chinese workers who labour on the city's soaring new skyline of half-built casinos, hotels and tourist attractions. But much of the once-affordable housing has been priced out of reach or levelled in the construction overhaul.
"We've seen rent increases of over 1000%," said Eno. "For our drug and alcohol rehabilitation center, we were… paying $600 a month. Now that's actually increased to $8,000 a month."
M'lop Tapang was able to relocate and is now making the final renovations to the new rehab centre. Sreymau has had no such luck.
"It's all been rented out to the Chinese," she said, without bitterness. "I can't pay anymore."
It's been more than a year since Sreymau lived in a proper room. When she lost that home, she had to improvise, even scavenge – moving to her current abode after the demolition of the first abandoned building in which she squatted.
The construction boom is an inescapable part of life in Sihanoukville. The concrete shells of towers rise floor after bare concrete floor, skeletons wrapped in often-ragged green netting and spindly scaffolding. The streets below have been rutted by the tyres of more cars, more trucks, more equipment.
Flooding has increased as runoff patterns have been altered by tons of new concrete construction. A viral video shared last summer showed a flowing river of rubbish after heavy rains, but even normal afternoon rainfall is enough to turn entire streets into ponds.
Most of the buildings now under construction will speed up Sihanoukville's transition to a resort and gambling town. Brightly hued billboards advertise dice games, karaoke nights and swimming pools shimmering with promise under the tropical sun.
Many of the billboards have been battered by the elements, bleached by that same sun. They stand in front of construction sites overgrown with weeds and strewn with refuse, advertising a future that looks very different than the present.
Though Som Lavuoch, head of the drug outreach efforts at M'lop Tapang, believes substance abuse is increasing on its own, both he and Eno say the city's rapid, recent socioeconomic development has only made the city's public health problems worse.
Whereas before addicts often lived in standard – if simple – housing, they are now scattered across poorer parts of the city. Some cluster wherever they can find whatever cheap housing remains, others aim for abandoned buildings or put up shacks or tents on the beach.
"They live in four to five places now," said Som. "We have to find them everywhere in Sihanoukville."
With no access to running water or electricity, maintaining hygiene is nearly impossible, as Sreymau's home shows. Her scaffolding has two wooden platforms suspended over a concrete floor. She and her partner sleep on the first, which is carpeted by a red blanket and otherwise furnished with items donated by M'lop Tapang, such as the bedding, or has been scavenged from the city.
Since there's no running water, the pair have a large plastic jug that they use to store water for drinking and bathing, which they tend to do on the street below.
The air is hot and still, and the putrid smell of rubbish wafts through when the wind changes. There's a small bowl of coal ash on the platform. Aside from that, her kitchen is limited – one of its only other features is a cloud of fruit flies hanging over a plate of dragonfruit on a table.
Young Cambodians are those most at risk from drug addiction, with statistics from 2017 showing that 83% of people admitted to treatment centres as between 18 and 35

UNODC
But while food may be scarce for people like Sreymau, the UN Office on Drugs and Crime (UNODC) sees a growing appetite for meth in cities such as Sihanoukville.
And it's not just housing prices that have gone up. Eno and her coworkers say the price of meth in Sihanoukville seems to be increasing along with goods and services.
That's contrary to the rest of the country, with the UNODC saying that the "average retail prices" for meth have steadily fallen due to oversupply across Southeast Asia.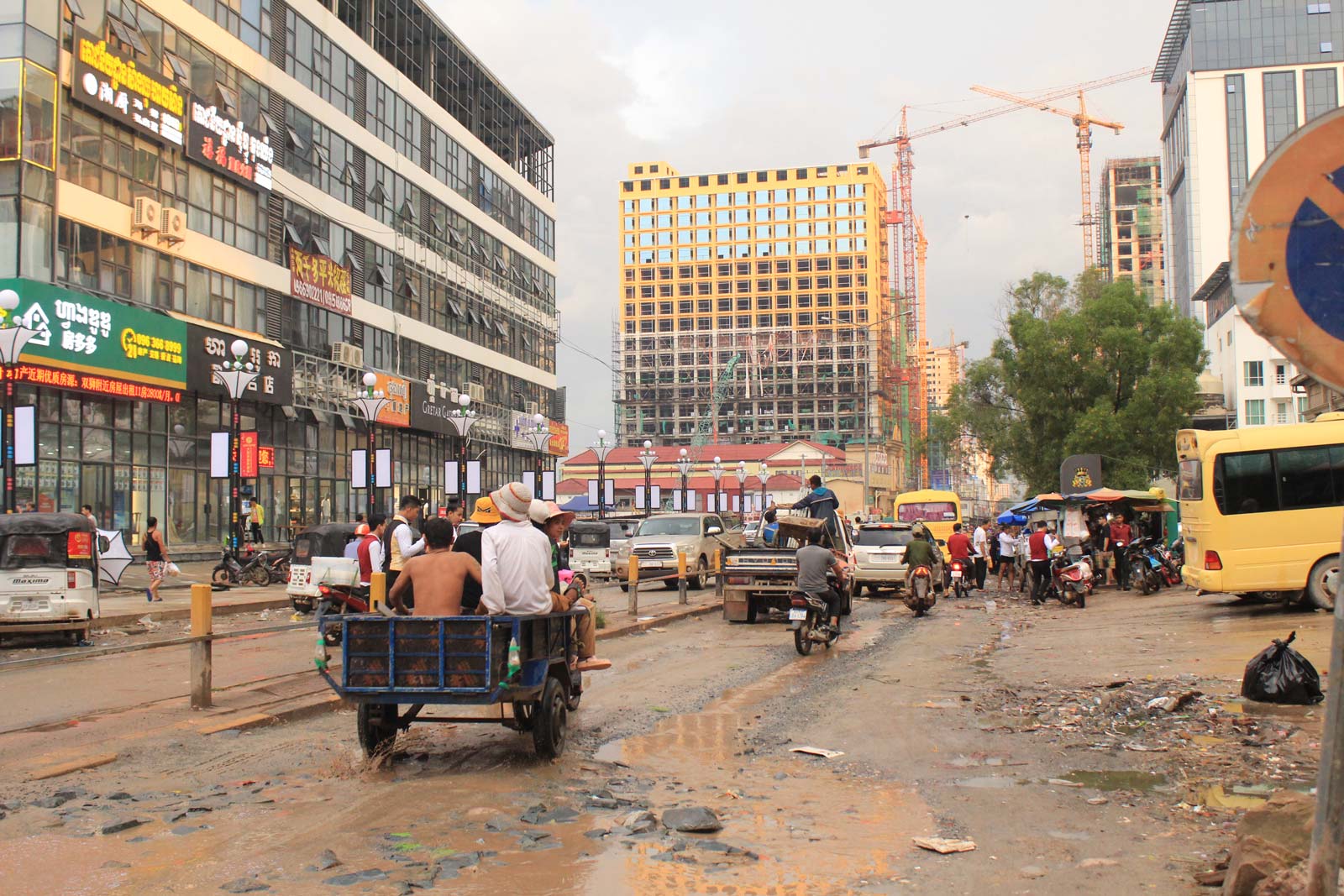 The office estimated earlier this year that total annual meth sales in the region could be as much as $61 billion, a four-fold increase since 2013. The transnational market for meth includes production labs in Myanmar, money and muscle from crime syndicates based in Thailand, Hong Kong and Macau, and consumers living everywhere from bustling megacities to rural hamlets.
Young Cambodians are most likely to use drugs, and are also the ones most targeted by traffickers importing meth from Laos and China. NACD and DAINAP statistics from 2017 show 83% of admissions to the Kingdoms' drug treatment centres as between 18 and 35 years old. About 5% were just 10-17 years old.
While the youngest and poorest drug users sometimes sniff glue, the majority of those admitted are meth users, with 15,547 cases in 2017 out of 15,796 admissions. Heroin users, the second biggest category, amounted to just 148 cases.
Further illustrating the scale of the local dimensions of the regional meth crisis, Cambodian authorities are seizing increasingly large amounts of the drug, with 2018's haul exceeding the previous five previous years combined, according to the UNODC.
As part of its repertoire of anti-drugs measures, Cambodia in the past relied on forcing drug users into treatment centres as part of compulsory rehab programmes.
Those centres were locally infamous and drew international attention after a 2010 investigation and report by Human Rights Watch, a US-based non-governmental organisation, that alleged abuses ranging from severe beatings to gang rape by centre guards.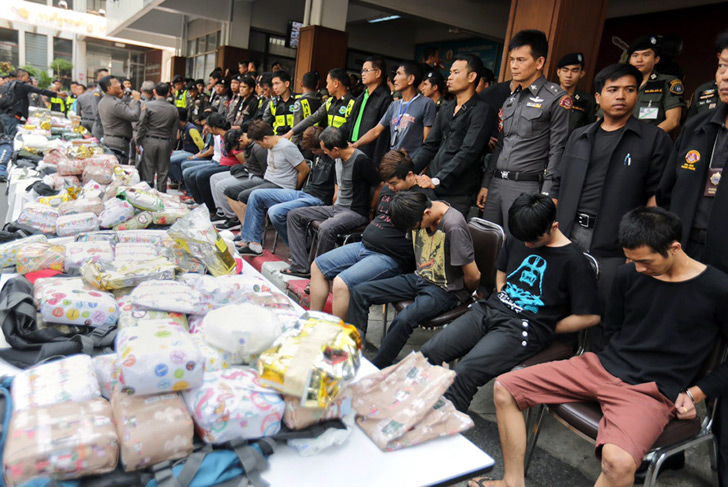 With UNODC help, Cambodia aims to build a more humane, community-based treatment system, with the Ministry of Health saying it has tabs on around 430 such centres across the country. The compulsory centres are still in use, having sunk out of the eye of public notoriety. It's unclear what reforms have taken place there, if any.
Even while the number of centres has gone up, so has demand – spurred in part by an anti-drugs campaign launched in 2017 at the behest of Prime Minister Hun Sen.
As part of the wider "war on drugs", the campaign led to increased arrests of traffickers and users across the country. Drugs-related arrests that year topped out at almost 17,800, a big jump from the roughly 10,000 collared by police in 2016.
The number edged down last year, though the renewed anti-drugs vigour and the apparent determination to arrest users, rather than just traffickers has more than doubled the number of patients sent to state-run drug rehabilitation facilities.
In 2016, about 3,400 people were sent to centres. A year later, that number jumped to over 8,700, according to the Ministry of Social Affairs.
"I think the trust has not been made between police and drug users"

Sithat Sem, Friends International
While authorities have discussed the need for more robust drug treatment, much of the long-term support for users comes from civil society rather than the state.
Sithat Sem is a drug project manager for Friends International (FI), a non-governmental organisation in Phnom Penh that provides social services to children and families in the metro region and beyond. Though he now mostly works to prevent HIV infections caused by injecting drugs, he has come across all sorts of cases during his work with the vulnerable on the streets of the capital, where FI provided addiction-related services to more than 676 people.
Sem describes how low-income people migrate from the provinces for work but lack a strong social support network in the city, leaving them isolated and exposed more fully to the stresses of life in the big city. Many of the people he assists have jobs, some as day labourers, but others in the rough and haphazard rubbish scavenging trade, in which workers comb through rancid garbage piles looking for scrap and recyclables to sell.
Everybody is wary of the police. "For users, they're fearful – they're hiding in the community," said Sem.
When people are arrested for drug use, Sem said, they get the option of going to rehab instead of prison. He supports giving that choice, but believes that more needs to be done to build a rapport between addict and cop.
"I think the trust has not been made between police and drug users," Sem said. To be successful in controlling substance abuse, he continued, that would have to change.
Back at Sreymau's current home, she says she's had scant dealings with officials, laughing when asked if anyone other than M'lop Tapang has offered help.
"Of course they never come here!" she says.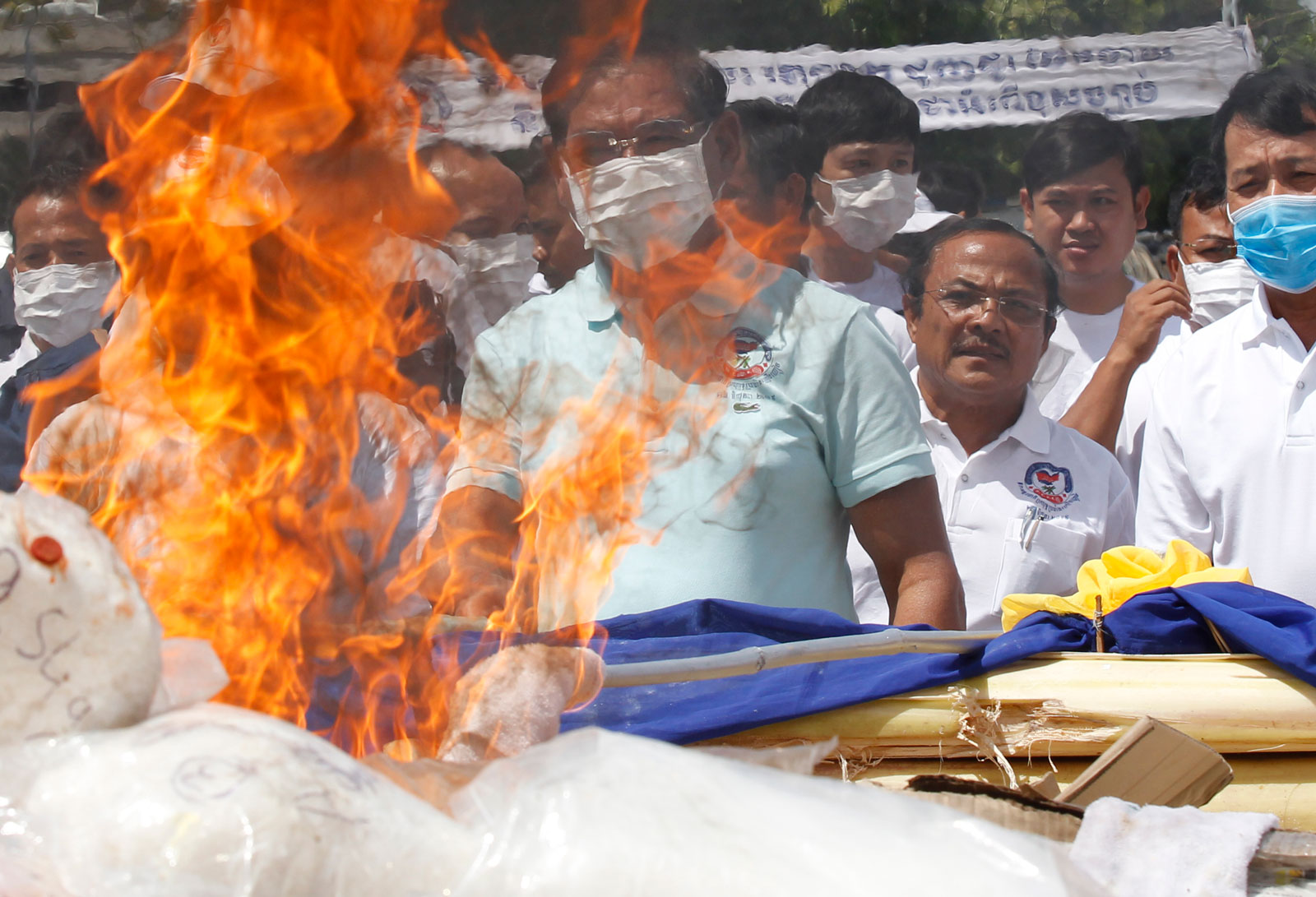 Cambodian Minister of Interior Sar Kheng (C), during a drugs destruction event in Phnom Penh on 26 June 2019. Photo: EPA-EFE/Kith Serey
Even without help, in some ways, Sreymau's life is calmer than it was. For many other meth addicts in Sihanoukville, life takes on a harsher tone.
As two M'lop Tapang social workers discussed their work in the shade of some trees on a public beach, a barefoot woman walked in jerks between a tree and a bench, her jaw grinding. Eventually she stopped by the tree and dropped her pants, squatting to urinate as young men with fishing rods picked their way around her to the water. The social workers glanced back at the woman. They knew her from their outreach visits, but in her current state they didn't think she'd recognise them.
"It's psychosis," said Eno, looking on. "From the meth."
Senior social worker Sun Kosal said the woman had originally come to Sihanoukville from a different province to earn a living. Now, she works in the sex trade at the docks, catering to Khmer and Chinese clients.
"People come here to make money, even if it's sex work," he said.
Back in Sreymau's hovel, the expecting mother spends much of her day in the scaffolding while her boyfriend – who she refers to as her husband – is off seeing friends or earning petty cash.
To pass the time, she likes to draw in her notepad, using one of the many pens bristling from a cup on a small stand. Sometimes she sketches people. Other times, she draws houses. She had nothing to show us when we visited her. She'd torn up the last of her drawings.
She chips into the budget by making shopping errands for friends, a way to bring in a few riel. Mostly, she spends a lot of time on her own, with thoughts turned lately to the baby growing in her womb.
"I used to have a lot of friends, but things got messy," said Sreymau. "Now I focus on my family."
Before leaving through the window, the M'lop Tapang staff invite Sreymau back to their offices to visit her daughter and make use of some of the prenatal health services they provide to at-risk mothers. She turns down the offer – she has things to do, she says vaguely, and she doesn't have any money to bring to her child.
Little reunions of mother and daughter are few and far between. But when Sreymau dreams of the future, her little girl has rejoined the family and is in school, right along with the imminent new arrival.
No longer is everyone packed into a stifling ruin, dystopia replaced by a quiet house on a small patch of land. Somewhere she can call home.
But as the jackhammers pound away outside Sreymau's window, it doesn't take her long to come back to reality. She brushes away notions of buying a clean, well-lit place to live.
"I don't think that'll happen," she says.