As accusations of human rights abuses continue in Myanmar's Rakhine State, a group of international diplomats is conducting an official visit to the unsettled region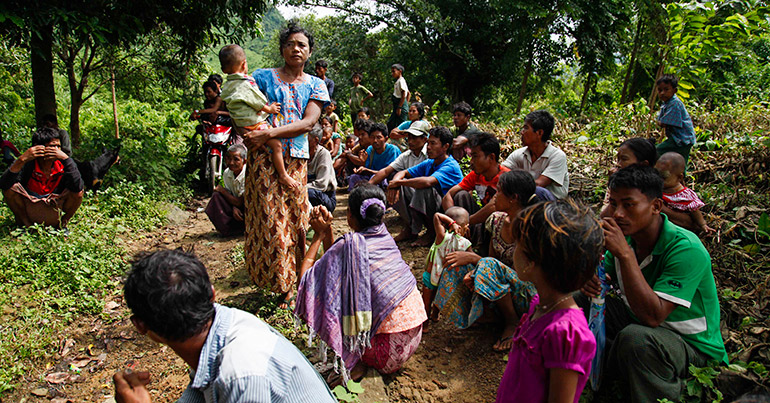 Senior diplomats are visiting Myanmar's troubled Rakhine State today, signalling an increased international role in the ethnically charged tensions simmering there between Buddhists Arakanese and Muslim minority Rohingya.
Today, the ambassadors of the US, Britain, China and the EU travelled from the state capital of Sittwe to Maungdaw in the northern part of the state, which is under lockdown by the Myanmar military.
Violence in Rakhine has escalated in recent weeks after militants, believed to be a group of Rohingya Muslim men, killed nine police officers in attacks on border posts on 9 October. The government says five soldiers and at least 33 suspects have been killed in the fighting.
Government forces have also been accused of committing human rights abuses against ethnic minority Rohingya, including summary executions, rape and torching homes.
Leading the diplomatic mission was Nyi Pu, chief minister of Rakhine State. The list of attendees, as reported by Reuters, also included the top UN representative in Myanmar, Renata Lok-Dessallien, and envoys from countries including India, Turkey and Indonesia.
Moe Thuzar, a fellow at the Institute of Southeast Asian Studies, said that while the visit by the dignitaries was unusual, it did not necessarily reflect a higher level of international interest in Myanmar's affairs than normal.
"Although it is still Myanmar's domestic concern, the issue has transboundary implications," said Thuzar, "so access to Rakhine and a first-hand view, so to speak, would probably help explain the challenges that this government faces in trying to come up with practical ways to bridge the negative attitudes on both sides."
Thuzar added that efforts beyond diplomacy would be necessary to resolve the conflict in Rakhine.
"Because this is a decades-long issue with a history of broken trust, the process of re-establishing trust will not be an overnight task."
The UN Office for the Coordination of Humanitarian Affairs has pressured Myanmar's military to allow aid agencies access to the 10,000 to 15,000 people reportedly been displaced in the latest bout of violence.
And a group of Asean parliamentarians today also urged Myanmar to probe reports of human rights abuses.
"The reports coming out of Myanmar's Rakhine State are alarming and demand a credible investigation…All authorities must take urgent action to prevent further violations and fulfil their responsibility to protect the rights of all civilians," Charles Santiago, chairperson of Asean Parliamentarians for Human Rights and a member of the Malaysian parliament, told Reuters.
State counsellor Aung San Suu Kyi is currently on a visit to Japan. She was scheduled to meet the country's Myanmar diaspora today, as well as with Japanese Prime Minister Shinzo Abe.