Forty years after the Khmer Rouge waged a devastating war on education, Cambodia's children still cannot access the reading materials they need to start a new chapter in their, and the nation's history. Now, a handful of NGOs are using technology to change that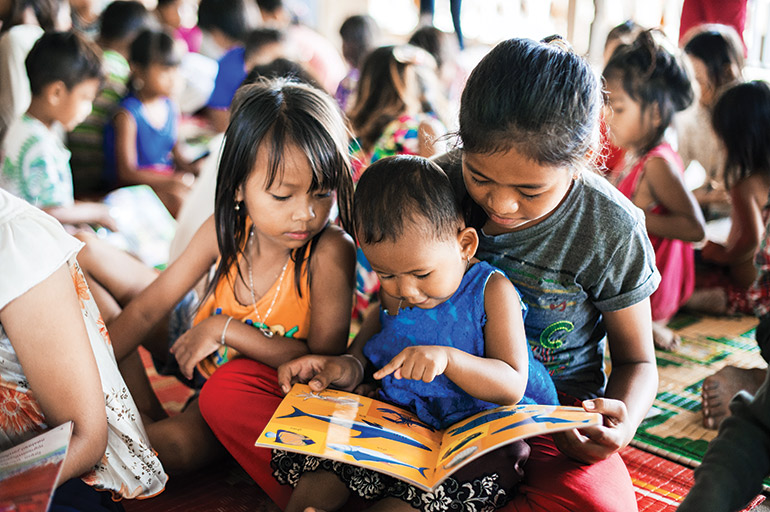 In Matilda, the story of a girl who grows up seeking shelter from her neglectful family between the covers of her books, children's author Roald Dahl wrote lovingly of the power of literature to transport young minds to worlds far from their daily lives.
"She went on olden-day sailing ships with Joseph Conrad. She went to Africa with Ernest Hemingway and to India with Rudyard Kipling. She travelled all over the world while sitting in her little room in an English village," he wrote. "These books gave Matilda a hopeful and comforting message: You are not alone."
In Cambodia, though, the children's book industry is almost nonexistent, while a lack of infrastructure to distribute books has left many students struggling to find the stories fundamental to the first years of their lives.
Rewriting history
It is a tale best told in the context of a country rising from the ashes of decades of civil war. Although the Khmer Rouge was not, as is sometimes said, fundamentally opposed to reading and writing – indeed, the belief that one should read "as a peasant", uncritical of the propaganda pumped out by the Angkar administration, was in many ways the bedrock upon which it planned to build its new unquestioning utopia – it would be difficult to overstate the debilitating impact those years had on the country's education system.
Of the more than 20,000 primary school teachers working in Cambodia, fewer than 3,000 survived the regime's assault on education, according to figures from the US Library of Congress. The nation's body of literature was similarly devastated, with an estimated half of Khmer-language written material destroyed.
While the literacy rate has risen sharply over the past decade, the Unesco Institute for Statistics stated that one in five Cambodians over the age of 15 remained illiterate as of 2013. In a joint opinion piece in the Phnom Penh Post on the 50th anniversary of International Literacy Day in September, former education minister Hang Chuon Naron and Unesco representative in Cambodia Anne Lemaistre wrote that improving literacy rates was essential to fight many of the deep-seated inequalities within the country.
"Literacy is vital for poverty eradication, gender equality and more inclusive and sustainable societies," they wrote. "Literacy is more than just reading, writing and counting abilities. It is the use of this ability to improve the quality of life for ourself  [sic] and others around us."
Building the basics
Despite this apparent goodwill, though, there remains a stark dearth of reading material for young Cambodians outside of their official school textbooks. Wendy Rockett, senior communications officer for The Asia Foundation's Books for Asia programme, said the country's fledgling children's book publishing industry was being hampered by a lack of fundamental infrastructure.
"There isn't a public library system, so books are either being sold in the handful of bookstores that there are in the country, or in the markets," she said. "So there isn't that kind of distribution system that you see in the West, where books can be sold and accessed by the public."
Launched in November 2015, the Books for Asia Library for All pilot programme runs digital libraries in five Cambodian primary schools, each equipped with Android tablets and 100 digitised books in both Khmer and English. By providing about 4,700 children with access to an easily updated range of high-quality children's literature, the programme hopes to kindle a passion for reading from an early age. While Rockett said the schools had seen in a surge in library use compared with schools outside the pilot, she stressed that poor conditions within schools made gauging its full impact difficult. "Some of the biggest issues we've faced is the lack of technology infrastructure in the schools," she said. "In four of the five schools we're currently working in, internet is not available."
In schools with more traditional library programmes, the problems are only more pronounced. A July 2016 survey by World Vision canvassing the reading habits of children in grades four to six in 39 schools across Cambodia revealed that while students were broadly satisfied with their school libraries, the range of reading materials left much to be desired. In addition, the libraries' opening hours tended to be sporadic and unpredictable.
"Eighty-five percent of all students from 32 schools reported having a library at their school. However, from their report of opening day and hour of library [sic], the survey showed many libraries are not consistently operating," it read.
Of the students surveyed, more than a quarter reported typically spending less than five minutes in the library at a time. Another 22.7% stayed just six to ten minutes. Less than 2% spent more than an hour in the library in a single session.
Turning a new page
According to World Vision education and life skills technical lead Jill Reimer, lack of access to reading materials was only exacerbated among families from poorer backgrounds. "It is difficult for rural families to access what Khmer language books exist; either the books are not available for sale in their area, or they do not have the financial resources to purchase them," she said.
Huot Socheata, publishing programme manager of NGO Sipar Books, said many parents did not understand the importance of early reading programmes for their children and had seemingly little regard for the works of fiction so integral in developing their passion for reading. Even when parents had access to early learning materials, Socheata said, they tended to veer toward thick, cheap books that came in both English and Khmer – regardless of their quality, or the age of their children. "[They focus on] educational tools, because books have to provide knowledge. Fiction is the second choice. It's a story – they don't have the idea that documentaries and stories are complementary," she said.
According to Reimer, many parents in rural areas believed they lacked both the time and education to encourage their children to read. "They feel they cannot contribute to educating their own children, but that is not true," she said. "The single most effective way for parents to promote reading skills in children is to spend time reading with children, including being read to by children if the adults themselves are not literate, and otherwise interacting around the books."
Yet Rockett said the severe lack of available children's books was a problem with no easy solution. "That's a much more tricky issue," she said. "With children's books in Cambodia, there are many factors to why there aren't as many as there should be. There aren't enough content creators, and that's because of a lack of opportunity to publish."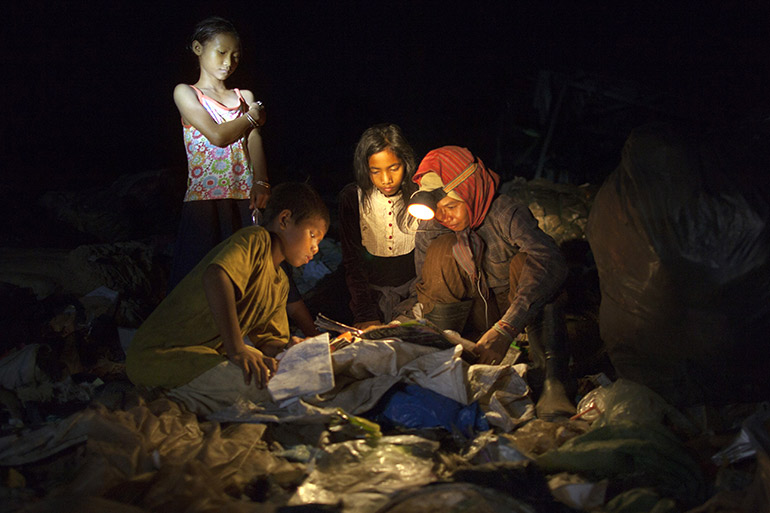 The next chapter
It is this hole that Books for Asia hopes to fill with its latest project. Centred around a series of "hack-a-thon" events, the project brings together local authors, illustrators and e-book developers in day-long creative marathons to produce fresh e-books aimed at children. While the first session in October was targeted at authors already experienced in creating children's literature, the programme will eventually expand its circle to include those outside the industry. The Asia Foundation estimates that the marathons may cut down e-books' time in post-production to as little as two months from the first stroke of the pen. Although available in a print-friendly format, the emphasis on digital content is designed to slash printing and distribution costs – two major expenses in a developing country such as Cambodia.
It is this belief in the potential of digital media to connect young Cambodians with their nation's available literature that sparked international NGO Aide et Action to launch its Khmer LEARN platform. Riding on the back of rising rates of smartphone use among Cambodians – owned by almost 40% of Cambodians, according to The Asia Foundation's estimates – their flagship project, the Khmer Library, is an app containing more than 1,000 books in Khmer and other languages available for free download. Regularly used by more than 38,000 Cambodians, the app contains dozens of books targeted at children to promote love of literature from an early age.
Aide et Action's communication director Sek Barisoth said the digital platform gives Cambodians easy access to content not readily available in print form.
"If they want to read a book, they don't have to travel to the city, to spend time in a library to borrow the book and then return the book – they can just click on their phone and they can read from that, and learn from that," he said.
Acknowledging that smartphone ownership was rarer among readers from poor backgrounds, Barisoth pointed to his NGO's pilot programme equipping seven targeted primary school libraries with tablets and televisions to create communal spaces for children to develop a passion for reading.
"We want students not just to go through to learn or to read, but to get entertained by using the technology – and to learn at the same time," he said.
Rockett also maintained that technology would be critical in connecting young people with the kinds of works their school libraries lacked. "We're seeing that technology can attract young people to reading," she said. "And we're trying to really see how we can capitalise on that to improve Cambodians' attitudes towards reading because… the culture of reading in the country is pretty poor."
For Socheata, though, it is this perception of Cambodia that needs to be overcome if the country is to once again become a place where children can find their voice between the pages of a book. "We cannot blame the children, or the people here [and say] they don't like to read – because there is nothing for them to read," she said.
Aide et Action communications director Sek Barisoth lost his life in a car crash on Sunday, 16 October. The Southeast Asia Globe team would like to express our sincere condolences to his family, friends and colleagues.