Riverorchid and the evolution of marketing in Indochina
By Daniel Otis
Working exclusively within the Indochina region for 14 years, Riverorchid is a communications agency that prides itself on its regional expertise. With offices in five countries, the company has successfully run campaigns for clients as diverse as Nokia, Arsenal FC, L'Oréal and Chevrolet.
In September, Riverorchid announced that its digital arm had merged with Notch, a leading Vietnamese digital marketing firm. The new joint venture, called Riverorchid Notch, is now offering digital marketing solutions to clients in Vietnam, Cambodia, Laos, Thailand and Myanmar.
The Southeast Asia Globe sat down with Riverorchid's digital group head, New Zealander Shea O'Neil, and the company's Cambodian digital accounts manager, Kounila Keo, to talk about the recent merger, social media and the evolution of digital marketing in Southeast Asia.
How do Riverorchid Digital and Notch benefit from their recent merger?
SO: The merger has allowed both of us to expand our capabilities. Riverorchid Digital is a strong creative agency with a firm presence in Indochina, while Notch has a strong technical background and a good reputation in Vietnam. When combined, this makes for a solid offer.
What exactly is involved in digital marketing?
SO: A big part of our job is social media management – that's literally making Facebook pages and responding to people when they ask things. In Cambodia, we work a lot with Nokia by managing conversations on their Facebook pages and building and running apps for them. In Vietnam, we've done microsite projects for clients such as Arsenal FC and Samsung.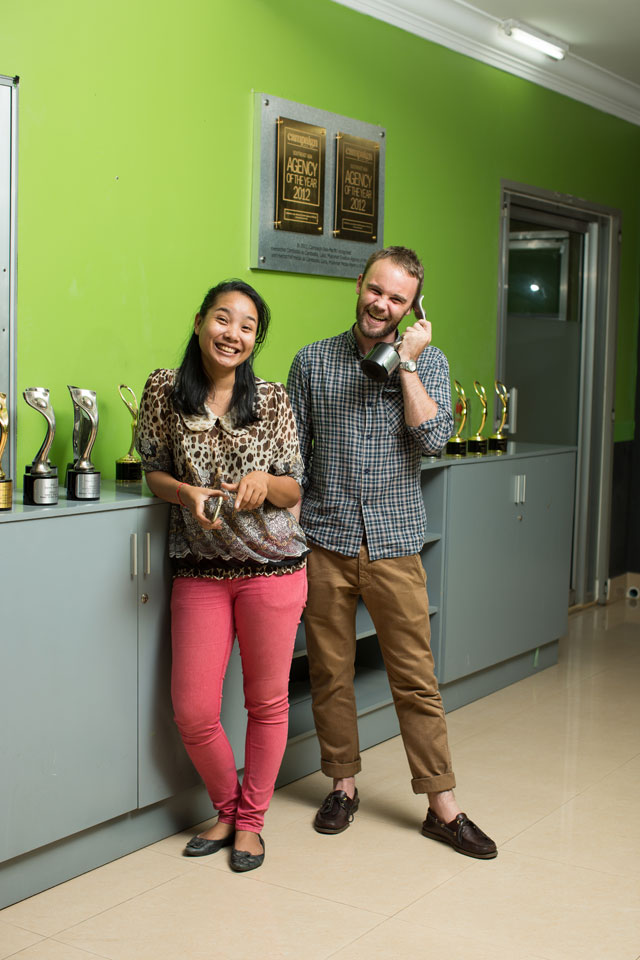 How is the digital world changing traditional marketing strategies?
SO: The advertising model is shifting from one where we stand in front of an audience and shout at them, to one where we're joining in a conversation by managing digital spaces. Because digital advertising gives consumers the power to ignore or turn off an ad, we're using social media to communicate with audiences, so we're not just throwing things like traditional TV or billboard ads in their faces. Social media is a space where brands can make friends with and talk to consumers, which is a very different model to what has happened before.
Certain Indochinese countries, such as Cambodia and Myanmar, have some of the lowest internet penetration rates in Asia. Do you see this changing over time?
KK: Few people were using the internet in Cambodia before 2010. Since then, internet use has really taken off, with Facebook driving the traffic. I think it's the same for other countries in the region, such as Laos and Myanmar. The Vietnamese and Thais, however, have been active on the internet since the early 2000s, with chat forums being particularly popular back then.
SO: Mobile access is also leading the change, especially in rural areas. We're seeing incredible growth in mobile access in places such as Cambodia and Myanmar, where smartphones are also becoming increasingly popular.
Do digital marketing strategies differ between the countries you work in?
SO: In each country, the platforms and the way they are used is different. In Cambodia, where Facebook penetration is about 140% of the internet population, it's almost as if Facebook and the internet are one thing. So, in Cambodia, brands focus on Facebook. In Vietnam on the other hand, Facebook is part of a wider digital communications strategy, but it's definitely not the focus. In Vietnam, it starts with the website.
Does internet censorship interfere with your work?
SO: There are restrictions in places such as Vietnam and Myanmar, but for us, it just means being more creative. The interesting thing is that while restrictions might add barriers for brands, audiences always find ways around them. Vietnam, for example, is one of the fastest growing Facebook markets in the world, yet Facebook was unofficially blocked there until last year.
What will happen to brands that fail to make inroads into social media?
KK: I think it's very important for brands to be present on social media, because that's where audiences are investing their time and attention. Brands will miss an opportunity to engage audiences if they lack online visibility.