A well-respected figure in the field of human rights, Pung Chhiv Kek has recently agreed to take up a position on Cambodia's National Election Committee. How will she negotiate this world of fractious politics and democratic doublespeak?
By Daniel Besant   Illustration by Victor Blanco
"Hey! Think the time is right for palace revolution, but where I live the game to play is compromise solution." So sang über-pouter Mick Jagger on the Rolling Stones' 1968 classic "Street Fighting Man", written in part as a response to the student riots that took place that May in Paris.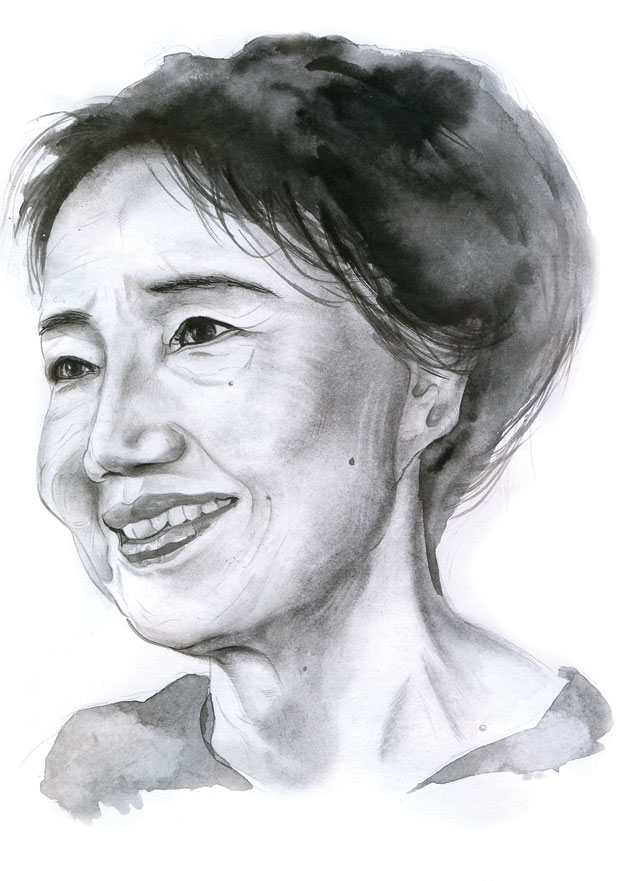 The lyrics may also have a certain resonance for Pung Chhiv Kek – who was in the French capital studying to be a medical student at the time – particularly in light of her new role as the independent ninth member of Cambodia's National Election Committee (NEC), a position likely to involve finding no end of compromises in a Kingdom of bifurcated political parties. 
She agreed to take up the position following a July agreement between Prime Minister Hun Sen, of the ruling Cambodian People's Party (CPP), and Sam Rainsy, leader of the opposition Cambodia National Rescue Party (CNRP). The deal brought to an end a one-year political stalemate and included the terms for a new NEC.
Previously, the NEC consisted solely of CPP-affiliated members, but its new incarnation will feature nine members – four each for the CPP and CNRP, and one unenviable seat for a neutral member. 
This new, bipartisan affair has the potential for much rancour, with a flashpoint likely to be provided by the government's rather limited enthusiasm for reforming the election process – the other side will be pushing for free and fair elections. According to Dr Markus Karbaum, an independent consultant in Cambodian politics, Kek "will be in the middle of tremendous contradictory expectations".
On the face of it, Kek seems the perfect fit. "Without question she is the best person for this job. She is a highly intelligent woman who always advocates for what she feels is right and just," said Simon Springer, an expert in post-transitional Cambodia from Canada's University of Victoria. "Her agenda is only to serve the Cambodian people, and she is very humble and measured in this regard, but with a passionate spirit and a firm conviction for improving social justice in Cambodia." 
That passion for social justice is evidenced in her work as head of Licadho, a Cambodian human rights organisation she founded in 1992. Prior to that, in the late 1980s, Kek was instrumental in persuading Hun Sen and Prince Sihanouk to attend talks that eventually led to the signing of the 1991 Paris Peace Accords, a move that subsequently brought an end to decades of civil conflict. 
Add to these points her seniority in terms of age – she is 72 this year – and the fact that Sam Rainsy and Hun Sen do not see her as a threat, and she must have been at the top of the shortlist, particularly in a country lacking positive role models of her calibre.
Yet despite her noteworthy achievements, Kek may struggle in her new job, one that requires an intimate knowledge of arcane polling procedures. "As the president of Licadho, her record in analysing election processes is very limited," said Karbaum. "Hence, she will [have to] be reliant on the contributions of her research assistants."  
Kek's leadership skills may also hamper progress. Being of the 'old school', she has a traditional, autocratic style of leadership, according to Thida Khus, executive director of the Cambodian capacity-building NGO Silaka. "She likes to be the centre of attention," Thida added.
Whatever happens, Kek's learning curve will no doubt be steep. Cambodia's politicians are notoriously partisan and both sides will be trying to whittle away the other's advantage and attempting to woo her to their side. 
Kek, however, is an old hand when it comes to the Kingdom's game of thrones. Almost three decades after her instrumental role in bringing warring factions together for the greater good, she finds herself playing moderator once more.
"I'm genuinely excited about her appointment. I think it represents a watershed moment in Cambodian politics, where we could see significant changes in the structure and directives of the Cambodian government as a result," Springer said. "One thing is certain, the 2018 election is going to be very interesting."