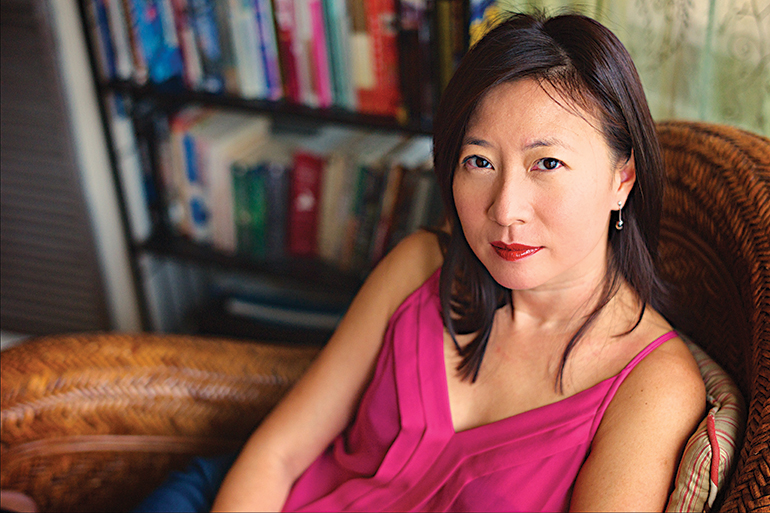 "Aiyoh, I tell you. If we do nothing, we are confirm getting into bang balls territory. We have to figure out how to make this happen – and we have to do it now."
With these words, Singaporean author Cheryl Lu-Lien Tan's debut novel Sarong Party Girls thrusts her readers into the desperate lives of the city-state's subculture of gold-digging guniang [girls]. Taking its title from the derogatory label slapped on the groups of young women prowling Singapore's bars and nightclubs in the hopes of hooking a wealthy ang moh [Caucasian] husband, Tan's book, written in raucous street Singlish, is a biting satire on the city-state's long-running obsession with status.
Speaking to Southeast Asia Globe, Tan revealed that her fascination with the city's sarong party girls, or SPGs, began when she was still in high school.
"I first became aware of them when I was very young," she said. "I would sometimes pass these bars as a teenager and look in and see the scene unfold – these women who were there to meet expat Caucasian men, and then the men who were going there to meet these women who were SPGs. And I always wondered what would lead people to attach such status to race, specifically, and class, and what is it about hyper-materialism in Singapore, and Asia as well, and it was always something that I pondered. And I wondered – is this the colonial stain? Is this just what racial and gender politics are like in a post-colonial society?"
As a woman you do live that dichotomy – you can be out there conquering the world, but at home you're pouring the tea
At 18, Tan left her homeland to study journalism in the US, becoming a reporter for the Baltimore Sun and eventually a staff writer at the Wall Street Journal. It was not until Tan returned to Singapore for a longer period in her 30s to write her non-fiction debut A Tiger in the Kitchen: A Memoir of Food and Family that she began to experience firsthand the heady hedonism of SPG life.
"I would spend days in the kitchen with my aunties, and then at night I would actually reconnect with some of my childhood girlfriends, and some of them had gotten married young, gotten divorced, and then were back on the scene," she said. "And so if I wanted to see them, I had to meet them in these clubs. So I would go meet them in these clubs, and I would see SPG culture unfold around me."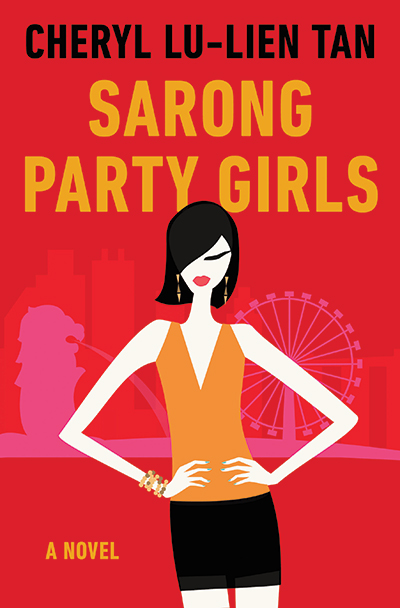 Desperate not to make what they saw as the same mistake twice, her friends' fixation on the shiny prize of an ang moh match put them in fierce competition with a younger generation of Asian women vying for the attention of wealthy expats flocking to the financial hub. For Tan, the overtly racial overtones and implicit rejection of traditional Singaporean mores were made explicit in a chance conversation with one of her girlfriends.
"One day we were talking about the SPG phenomenon and a friend of mine who was dating a British guy said: 'Well, you know, it's all about getting the Chanel baby, right?' And I'm like, what? And she said: 'You know, it's a baby that's half Singaporean, half expat – it's the Chanel of babies.' And I thought that phrase, that term, said so much about the hyper-materialism in Singapore, and status consciousness, and where race fit into that, and class as well. I remember writing that down and thinking, 'Well, that's got to be in a book someday.'"
Through the jaded eyes of Jazzy, an editor's assistant in her mid-20s who recruits her high school friends into her crusade for a Caucasian wedding, Tan's book staggers through the glitz and glamour of Singapore's nightlife.
Her characters plunge ever deeper into the nation-state's underbelly in their pursuit of the good life. In the book's most disturbing sequence, Jazzy even accompanies a male friend for business drinks at one of Singapore's notorious KTVs, the karaoke bar-cum-brothels that have become a mainstay of Southeast Asia's hyper-masculine business culture. Horrified, the normally upbeat Jazzy stares in shock as the men order up hostesses to their private room like so many cuts of meat.
An overt expression of the severe gender imbalance that still exists in parts of Singapore's society, the KTV scenes – taken from a series of interviews charting the personal experiences of Tan's male friends – were met with shock upon the book's release. According to Tan, though, these brothels are an inescapable part of Singapore's male-dominated society.
"It strikes me as false to not acknowledge them," she said. "And you can say: 'Why are these scenes so lurid in the KTV lounges?' But it happens, and I wanted to pull back the curtain on that a little bit and go, well, everyone thinks Singapore's really squeaky clean, but there are these really dark pockets in which there is some form of institutionalised misogyny."
Though hesitant to position her own experience of Singapore's stratified gender roles as gospel, Tan described her traditional Chinese-Singaporean upbringing as central to her understanding of the city-state's complicated perception of class, race and gender.
"There are some things that don't really change," she said. "You can have the biggest job, you can be incredibly successful as a woman, but at home you're still expected to fulfil certain roles: have children – you're a mother first and foremost – be a good wife, pour drinks for people when they come, clear the table when people are done eating… as a woman you do have to live that dichotomy a little bit – you can be out there conquering the world, but at home you're pouring the tea."
It is these limitations, Tan's novel suggests, that drive the actions of Jazzy and her friends as they grind against hairy expats in pulsating nightclubs. In an early chapter, Jazzy recounts her friend's shock on discovering that not only did her father have a second family, but that it was her mother that had taken the role of mistress. It is this concubine culture, as Tan calls it, where women are picked up, betrayed and discarded at the whim of their husbands, that fuels the anxiety behind her characters' desperate bid for freedom. It is a reality that Tan knows only too well.
"My great-grandfather had several wives, and several families, and they all lived under the same roof," she said. "My grandfather on my mother's side was the same way – he had family in China and then he came here, he was Singaporean, and met my grandmother."
Like Jazzy, Tan and her friends promised themselves that their generation would escape the cycle that had engulfed generations of women before them. Despite their best efforts, though, she admits that the more she reconnects with the friends of her youth, the more she sees the people in her life falling back into the roles their mothers were once forced to play.
"It's really struck me that the cycle hasn't broken, and it might never be broken, that there is that concubine culture, that the boys I grew up with – many of them didn't turn out to be that different from our parents' generation or grandparents', after all," she said.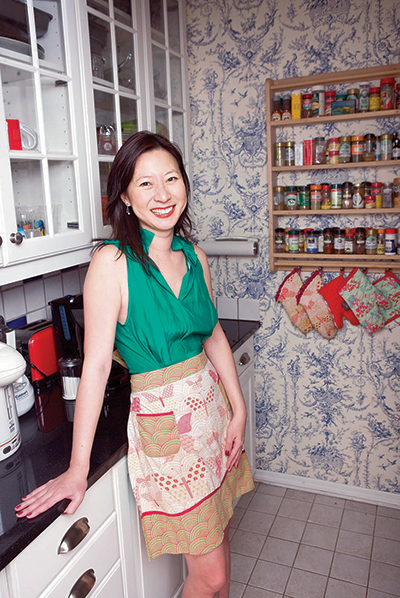 It is a tension that Tan captures beautifully in Singlish, the native patois of Singapore. A raucous mix of English, Malay, Tamil and Hokkien, the creole has been targeted over the years by a succession of authoritarian prime ministers struggling to stamp out the dialect in favour of the received pronunciation of the Queen's English – most recently in the multimillion-dollar Speak Good English campaign foisted on the city-state's citizens. But for Tan, the idea of telling Jazzy's story in any other tongue was unthinkable.
"I felt that the language is almost another character in the book – the characters are really in full blossom when they speak Singlish," she said. "And when I finished the manuscript and was thinking, well, how am I going to tackle this Singlish issue, I realised that I couldn't go back and turn it into standard English – the book would be lifeless."
With its raunchy subject matter and frank dissection of a culture still deeply divided along gender lines, Sarong Party Girls' success has not come without scrutiny.
"When the book first came out and I sat down for an interview with one of the papers in Singapore, one of the questions was: 'What made you decide to write about a character that's such a bad example for Singaporeans?' and I thought, well, that's what makes it an interesting character," Tan explained. "She's very flawed; it's a very flawed person. But I just said: 'You know, I don't think Nabokov was pro-paedophilia when he wrote Lolita.'"
Her family, though, were more easily persuaded.
"My dad was a little concerned at first when he first read it. He was like: 'Who taught you to speak like that?'" she laughed. "He was very upset at how racy it was. But then of course once it hit the best-seller list he was just a Singaporean parent. He was like: 'Yep, yep, that's my daughter.'"