One of only two countries in the world to feature a building on its national flag, Cambodia's cultural narrative is inseparable from the legacy of the Angkorian empire. The architectural wonder of Angkor Wat and the feats of hydraulic engineering overseen by the god-kings of Angkor afforded them great economic and political power, and remain a source of great national pride.
"Don't scorn us; we built Angkor Wat when some countries didn't have independence and others didn't even exist," Prime Minister Hun Sen said in response to foreign observers who criticised Cambodia's 2002 local election process for failing to meet international standards.
"Don't scorn us; we built Angkor Wat when some countries didn't have independence and others didn't even exist,"

Hun Sen, Prime Minister
But while the authoritarian leader has been quick to point to the wondrous achievements of the Angkorian empire as proof of his country's technical prowess, he has been less willing to learn from its demise. The world's largest pre-industrial city was built upon its ability to manipulate water, but water was also what brought it to its knees.
Today, the largely agrarian Southeast Asian nation is faced with the same dual threat of flooding and drought – and rampant deforestation means the situation is fast deteriorating, with a mounting body of scientific research showing that deforestation affects our climate more profoundly than we previously realised.
Not only does cutting down trees release carbon dioxide into the atmosphere, which traps heat and causes global temperatures to rise, it also directly causes drought and flash flooding.
"We don't know exactly how much forest is needed [in Cambodia]," said Simon Mahood, senior technical advisor at the Wildlife Conservation Society, "but we do know that for water and biodiversity, large intact forest ecosystems are important, and they are the most important factor in ensuring resilience to climate change."
Cambodia's forests have been ravaged by large-scale logging since the early 1990s when both Khmer Rouge forces and the Phnom Penh government began selling timber concessions to private companies to fund their respective war chests.
The Cambodian government awarded between 30 and 40 logging concessions to private companies during the mid-1990s, temporarily handing over 39% of Cambodia's total land, according to a report by environmental watchdog Global Witness that exposed the government-linked syndicates driving forest crime. What's more, the report stated, these companies often operated beyond their legal boundaries and "committed serious human rights abuses against people living inside or adjacent to forest concessions".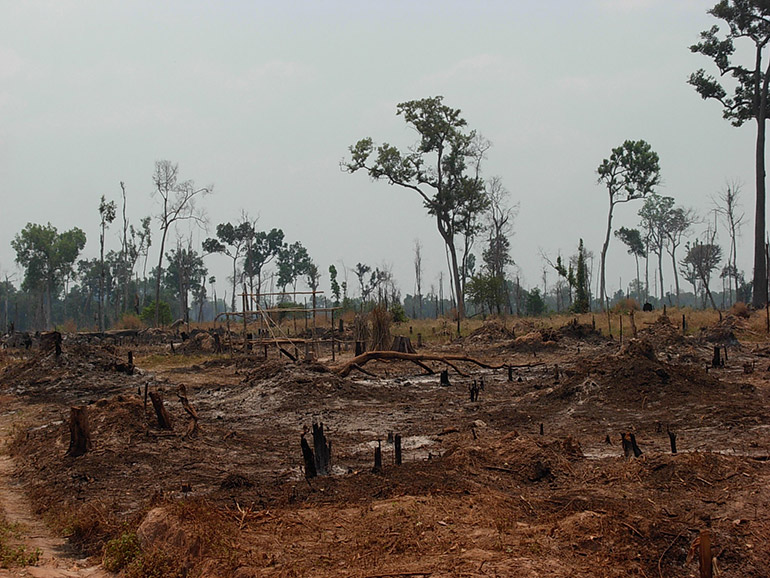 "Soldiers were running around villages and raping women; trucks destroyed houses. Security would shoot at you if you went into the forest to collect some resin. It was really bad," said Marcus Hardtke, a former official Cambodian forestry monitor with Global Witness who has worked in Cambodia for more than 20 years.
Disturbing reports of this nature moved the International Monetary Fund to cancel a $20m loan to the Cambodian government in late 1996, and other institutions soon followed suit.
"Illegal logging came down and it was sort of OK for a few years. Then they discovered they could use plantation development as a platform for logging."
"Donors basically said: 'There's either forest reform, or no more money.' And then Hun Sen pretended to do forest reform," said Hardtke, referring to the government's suspension of logging concessions and moratorium on all timber exports in 2002. "Illegal logging came down and it was sort of OK for a few years. Then they discovered they could use plantation development as a platform for logging."
Ostensibly introduced to drive economic growth and create local jobs for rural communities, Economic Land Concessions (ELCs) allowed private companies to lease state-owned land from the government for "agricultural and industrial-agricultural exploitation", initially for up to 99 years.
Companies would normally lease the land to develop rubber or sugar plantations. But before they could set up the plantations, they needed to cut down the trees, which were sold on for huge profits, according to Hardtke.
Kith Meng's Royal Group business conglomerate is but one example of a large organisation that has allegedly cut down trees illegally with impunity. The company was granted a licence to log 36,000 hectares of forest to make way for the controversial Lower Sesan 2 hydropower dam, but NGOs and locals have long suspected the company of using the reservoir to launder timber illegally felled beyond the concession's boundaries.
An unusual report from the National Police last month supported their suspicions, stating that "forest destruction in Sesan district and timber smuggling for sale in Vietnam is happening in the name of the company clearing the Lower Sesan 2 reservoir… but authorities ignore and overlook it and do not prevent it".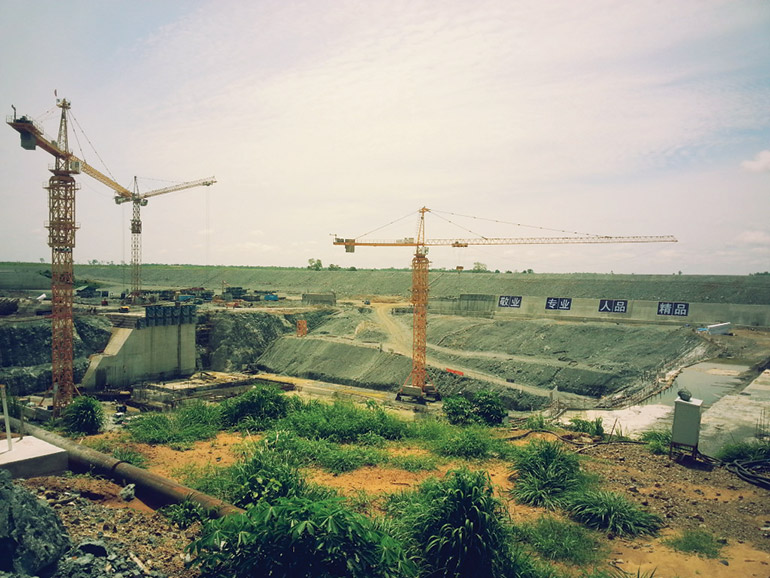 As with the timber concessions, NGOs and rights groups soon drew attention to the damage being done by the ELC scheme and pressured Hun Sen into taking action. In May 2012, he responded by issuing a moratorium on new ELCs, but not before two million hectares of land had already been awarded to corporate interests.
Despite the bans, however, the ravenous felling of Cambodia's forests continued. Satellite data released by Global Forest Watch in 2015 showed that, since 2001, Cambodia had lost more than 1.75m hectares of forest, with its deforestation rate accelerating faster than any other country in the world.
And the Cambodian authorities continue to be heavily involved, as an undercover investigation into industrial-scale logging in Ratanakiri province by the UK-based Environmental Investigation Agency (EIA) revealed last month.
EIA investigators learned how Vietnamese traders, backed by the Gia Lai provincial government, "pay millions of dollars in bribes to Cambodian officials to open up logging areas and smuggling routes in Cambodia". Over a 55-day period between early December 2016 and January 2017, during the height of the operation, approximately 110,000 cubic metres of logs were exported from the O'Tabok Community Protected Area across an "unofficial crossing with no checkpoint" to Vietnam.
Yet, while the plunder of the forests has received a great deal of attention over the years, the massive impact it has had on the country's water supply has largely slipped under the radar.
"The main factors that have caused both droughts and flash floods are heavy loss of forests and lack of flood management systems"

Vicheth Chan,
"Deforestation leads to drought for a number of reasons," said Mahood. "Firstly, trees release water into the air through evapotranspiration, allowing clouds to form. A landscape with more trees is, therefore, less likely to suffer from drought. Secondly, trees regulate the flow of rainwater into rivers. For this reason, forested catchments are less likely to suffer from flash floods, and rivers stay fuller during times of less rain."
Forests also help to create rivers through a process known as 'biotic pumping', a positive feedback loop first discovered by Russian researchers in 2005. By transpiring water into the atmosphere overhead, the academics argue, forests create a low-pressure system that sucks in surrounding air, including moisture-laden air currents from the sea. The result is greater inland precipitation.
According to Suwanna Gauntlett, founder and CEO of Wildlife Alliance, deforestation's impact on water supply is clear to see in the communities surrounding the Tonle Sap lake, where fewer trees have reduced the amount of groundwater to such an extent that even wells as deep as 70 metres are running dry.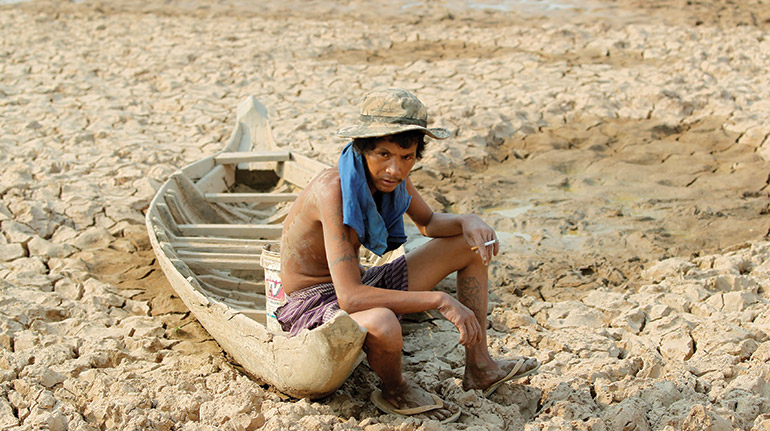 "When we were working in Phnom Kulen, which is the watershed for Siem Reap town, the deforestation rate went from 70% to 100% in two-and-a-half years. We saw how the water supply in some districts gradually reduced to zero during the six or seven months of the dry season," she said. "Some districts had no water at all for two whole months."
Last year, almost all of Cambodia's provinces were affected by the worst drought the country had seen for 50 years. Scores of vulnerable communities were left without access to drinking water, and many poor farmers lost crops and livestock.
As a result, 62% of families reported income losses, with an average decline in earnings of 19%, while two-thirds of children under five years of age fell prey to diarrhoeal illnesses, according to a joint report published in September 2016 by the World Food Programme, Unicef and the UN's Food and Agriculture Organisation.
Vicheth Chan, programme manager at the NGO Save Cambodia's Wildlife, said that while the severity of last year's drought can largely be attributed to the global El Niño weather phenomenon of warmer temperatures and reduced precipitation, "the main factors that have caused both droughts and flash floods are heavy loss of forests and lack of flood management systems".
While the National Committee for Disaster Management acknowledged the severity of last year's drought in their annual report released in February, their recommendations were less than encouraging. Seemingly inspired by the feats of engineering overseen by the god-kings of Angkor, they urged local authorities to "build more wells and canals for water storage" to mitigate the effects of drought.
But such hydraulic interventions didn't work then, and they won't work now, according to a report published by Stanford University in February 2016.
"They're making much more money by selling the plots they've cleared than by simply planting rice," she said. "So, this is deforestation forever"

Susanna Gauntlett
Groundwater irrigation may help farmers harvest rice in both the dry and wet seasons, the report said, but it also "jeopardises access for shallow domestic water supply wells, raises the costs of pumping for all groundwater users, and may exacerbate arsenic contamination and land subsidence that are already widespread hazards".
Instead, Cambodia and other nations with particularly rampant deforestation should stop cutting down trees immediately and begin "a large-scale, effective effort to replant and restore the areas denuded of their forest cover" to minimise the effects of drought, according to a 2014 report written by Antonio Donato Nobre, a veteran climatologist with Brazil's National Institute for Space Research.
Yet while climate scientists say that deforestation raises a red flag for the future of our planet, Hun Sen is among those who say otherwise.
"Every television station, please show the issue of water shortages occurring in other countries in order to stop cheaters who like to make negative propaganda by saying that flooding happens because of cutting trees, and that the drought now occurs because of cutting trees," he said during a speech at a graduation ceremony in Phnom Penh last year.
According to Mey Kalyan, a senior advisor to Cambodia's Supreme National Economic Council, reducing the country's dependence on rice would be particularly effective in minimising the impact of drought as the crop is reliant on rainfall. While Cambodia had an obligation to "minimise its contribution to climate change", he said, it can't prevent it entirely and should, therefore, act accordingly.
"What I tell the government is we need to do whatever engineering interventions we can, but we have to promote crop diversification. I tell them: 'If you want to be rich, reduce rice,'" he said.
Promoting economic development could also discourage poor rural communities from engaging in small-scale logging and slash-and-burn agriculture, according to Gauntlet. As it stands, she said, without adequate numbers of rangers patrolling protected areas, making easy money from cutting down trees represents too good an opportunity to miss.
"They're making much more money by selling the plots they've cleared than by simply planting rice," she said. "So, this is deforestation forever."
Ultimately, prevention is better than cure. And that starts with education, according to Kalyan."Everything boils down to human resources," he said. "Stopping people cutting the forests, improving the way you do agriculture – it comes down to whether the people [influencing policy] are smart enough, whether the leaders are good enough."