A night in a plush tented camp next to one of Cambodia's most enigmatic temples renders 'glamping' an appropriate portmanteau
By David Hutt   Photography by Bernardo Salce
From Discover magazine
As the sun crests over the forest canopy, breakfast lies prepared on a table in front of our tent: fried rice, omelettes, fresh fruit and thick iced coffee. A line of empty wine bottles rests on the ground – a relic of the night before, when a veritable Cambodian feast was forked down as a six-piece band crooned classic Khmer music well into the night.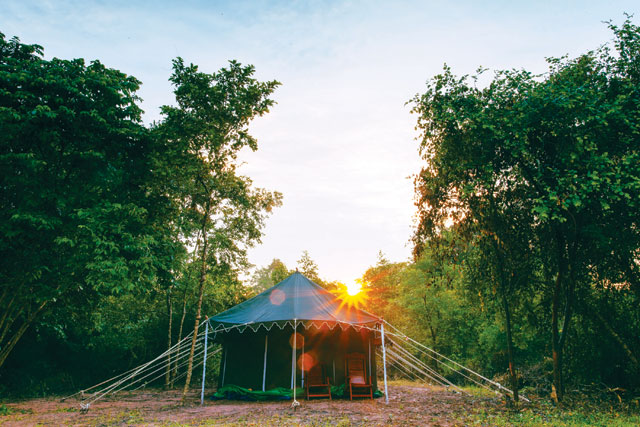 But stepping out of our tent, no attention is paid to the breakfast spread. Our eyes are instead drawn towards the tangerine-coloured walls of Banteay Chhmar, one of Cambodia's most mysterious temples, standing just 50 metres to our right, bathed in the golden morning sun.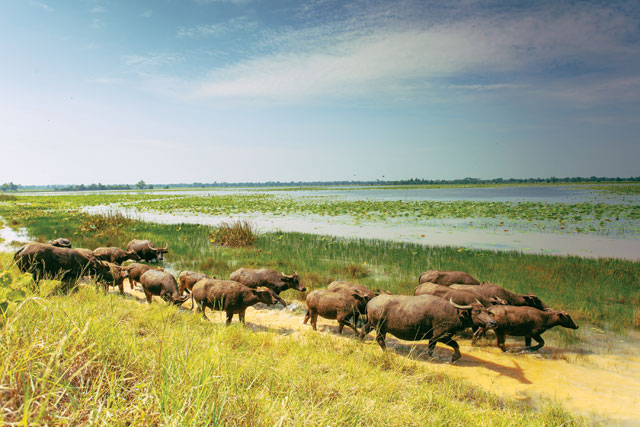 Breakfast can wait. It's not every day one gets a sunrise tour of a 13th-Century temple. We head off for a short walk around the site – a more extensive visit took place yesterday, but as the guide explains, "things always look better in the morning". Moving from the east to the south passage, we pass piles of lichen-tainted rubble, stones that long ago made up the surrounding walls and now lie useless in a heap on the ground. A group of conservationists loiters in front of a recently restored bas-relief, smoking cigarettes and chatting noisily among themselves. Behind them, a scene depicting mighty Khmer warriors engaging in an epic war against invading Champa armies is etched into stone in eye-watering detail.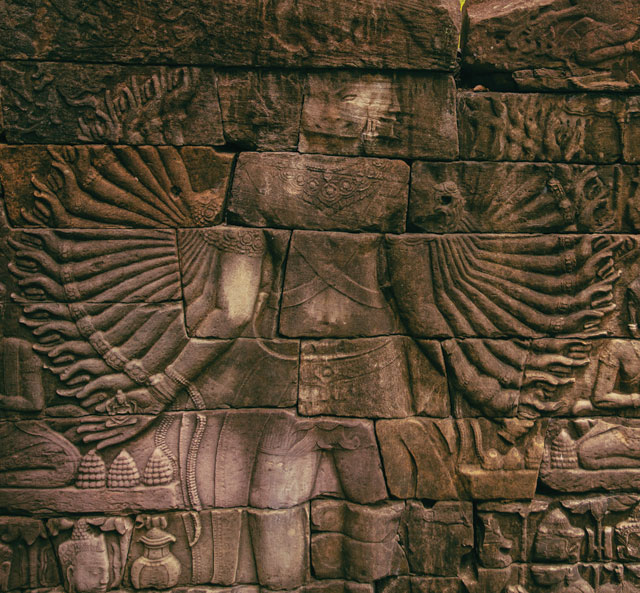 In its heyday, Banteay Chhmar was said to have "rivalled Angkor Wat in size and magnificence", according to the historian Lawrence Palmer Briggs. It was built between the late 12th and early 13th centuries during the reign of Jayavarman VII, the mastermind behind the last of the Khmer Empire's great cities, Angkor Thom. Upon completion, it comprised an extensive temple complex, a huge natural reservoir (baray) and a surrounding population of close to 100,000.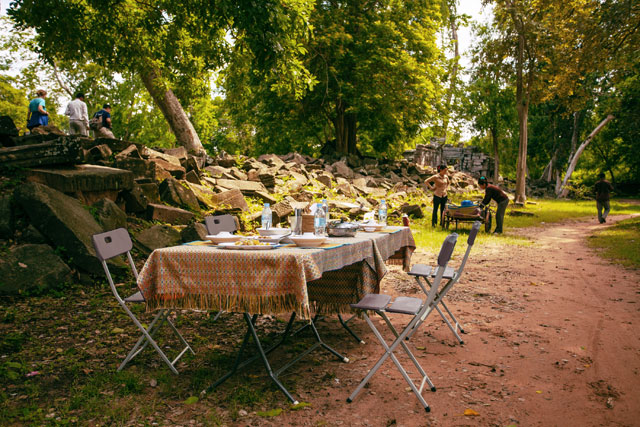 But as the empire collapsed, Banteay Chhmar became lost among the forest that reclaimed the area, earning it the epithet of the 'forgotten temple'. Although those who have lived in its vicinity have known about it for hundreds of years, the temple's 'rediscovery' by French colonists early last century united it with the renaissance of Angkor Wat. But unlike its easterly counterpart, Banteay Chhmar became forgotten once again after Cambodian independence, except by the locals and those who came to cart off its riches in plunder. Thais, Vietnamese, Khmer Rouge and the modern-day Cambodian military are all said to have looted the temple – sculpted bas-reliefs reportedly show up in Bangkok homes, while one tour guide claims he once saw Cambodian soldiers load as many decorative blocks and relics as they could onto the back of an ox cart and then ride away. As with all these incidents, the barrel of a gun was pointed at anyone who objected.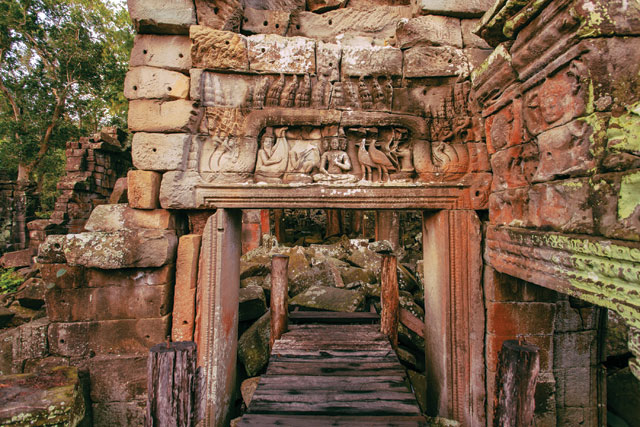 The consequence of centuries of neglect and looting is that little of the original structure stands today, and where it does, right-angled wooden beams prop up its walls. Conical towers, meanwhile, resemble giant games of Jenga that have ended prematurely, the contestants aware that another round would bring the whole structure tumbling down.
While less archaeologically minded visitors might well throw up their arms and say: "Not another temple. I've done Angkor Wat," the true glory of Banteay Chhmar is that it is raw and unadulterated. It is very common to find yourself alone among the giant sandstone faces that peer through the thick vegetation growing among the collapsed walls, lintels and the shattered naga and singha statues.
Located in northwest Cambodia, only a dozen kilometres from the Thai border and a three-hour drive from Siem Reap, Banteay Chhmar is not an easy place to access. A narrow, brown-dust road stretches 65km from the nearest major town, Sisophon, and even if you are able to find transport – no buses take this route – once you arrive, accommodation is sparse. There are no hotels in the vicinity of the temple, and only a few homestays offer spartan rooms and a true Cambodian experience.
Fortunately, those who prefer a little more luxury can now experience the majesty of Banteay Chhmar while still enjoying a few creature comforts. 'Glamping', or glamorous camping, sticks with the tried and tested tent, but adds extras such as Persian rugs, bookshelves, flowerpots, a comfortable double bed, duvets, electricity, and – critically – a hot-water shower and a plumbed-in, porcelain toilet.
While it may not quite match the decadence of one of Gaddafi's Bedouin tents, this setup offers all the mod cons that one would demand of a hotel room, with the exception of air conditioning. Nevertheless, after a sweaty day exploring the temple and its environs, the blast of a warm pressure shower is a comforting relief.
And of course there is the location. Waking up at 6am, when the air is still cool, and peering out from our tent at one of the Kingdom's finest temples is an unforgettable experience. The fact we had snored our way through a solid night's sleep makes it doubly enjoyable.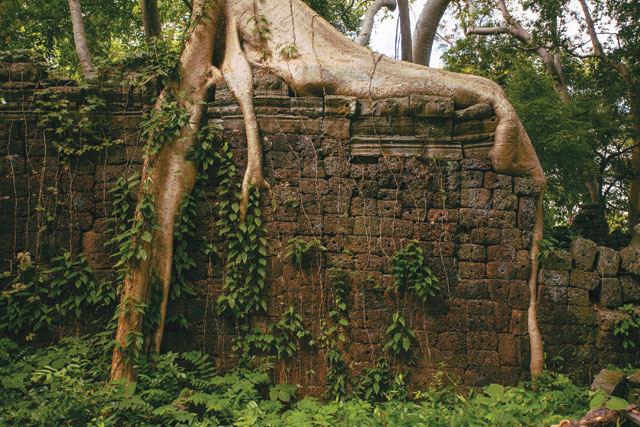 At the breakfast table we eat quickly, chowing down enough sustenance for the busy day ahead. Our itinerary includes a visit to the Pol Pot baray – a man-made reservoir constructed during the bloody days of the Khmer Rouge regime. It is located a 30-minute drive away, along a pockmarked road, and as we arrive, a herd of water buffalo charges into the water. The beasts watch us with suspicion as they bathe and graze, just as their kind has done for centuries.
The baray itself is enormous, stretching off into the distance further than the eye can see. We walk along a thin, wooden plank onto an awaiting boat. The driver winds the diesel motor and we begin to chug through the lilies and lotus flowers, feeling an awe-inspiring sense of peace as a gentle breeze counters the searing Cambodian sun and small waves lap against the boat's bow.
Khiri Travel offers one-night excursions to the Banteay Chhmar Tented Camp including transport to/from Siem Reap, meals and entrance fees. Log on to khiri.com or email  sales.cambodia@khiri.com for more information.
***
You can read this and more stories presenting the best of Cambodia by downloading a free issue via our free app