Have you heard the one about the Australian, the Englishman and the Singaporean who combined to bring international stand-up comedy to the region?

By Chris Swanicke
The crowd of expatriates and Jakartans sat eagerly around ballroom tables at the American Club in Indonesia's capital, all of them wearing goofy hats. The organiser of this strange affair himself wore a leopard-print fedora as he hopped onstage to begin the proceedings. Lively conversations settled to murmurs as he took to the microphone.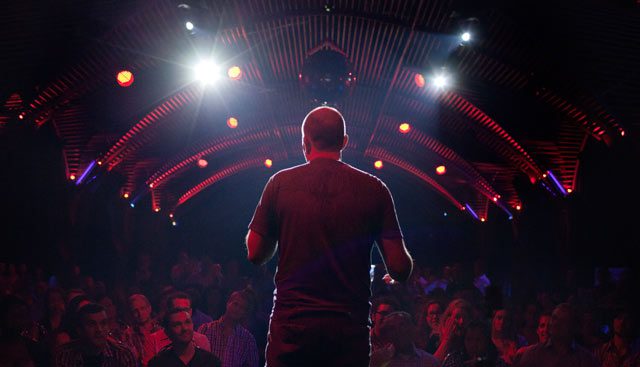 "Are you ready for some comedy?" asked Australian promoter Eamonn Sadler, the fedora-adorned man behind the show and its funny hat requirement. The crowd erupted with a healthy applause, but Sadler wasn't satisfied. He repeated himself, yelling this time: "I said… are you ready for some comedy?!" The crowd got a bit louder, as did Sadler: "Are you ready?!" Wild cheers, hooting and hollering filled the room, and he'd warmed them up for the first act.
It was with that, and the shine of a spotlight, that earlier this year the 13th annual Joker's Ball had begun, with comedians flown in from Singapore, the UK and the US to perform.
The event was organised by the Jakarta Comedy Club, which Sadler founded in 2000. Such events are now tied into the broader Comedy Club Asia, with different destinations sharing troupes of comedians who make their way along Asia's fastest growing stand-up circuit.
When the fourth annual Kings & Queen of Comedy Asia show is held this month, on October 4 and 5 at Singapore's Esplanade Theatre, it will represent another step forward for the club, with the organisers expecting another sold-out show. The network of comedy clubs and their progress in bringing international acts to Southeast Asia is due in no small part to the work of Jonathan Atherton, an Australian comedian and promoter who, along with other stand-up enthusiasts, established the club's 15-show, five-country tour.
"It all started because I was brought to Singapore by a dodgy English promoter who ran a monthly stand-up show aimed solely at expats," Atherton says of the club, which started in 2009 as an amateur open mic night at Singapore's Blu Jaz Café. "He asked me to be his resident MC and he would act as my manager for corporate gigs. Unfortunately, he never paid me anything." Rather than going back home to Australia "broke and with my tail between my legs", Atherton says he continued bringing shows to Singapore and beyond.


Atherton has not been alone in his quest to bring stand-up to the region. Through Sadler's partnership with the Comedy Club Asia, for example, "code-sharing" of comedians is possible by splitting travel costs. Atherton boasts it is now "the most fun comedy tour on Earth", and that "we get acts that we ordinarily wouldn't be able to afford because our rep is so good".
"The guys who run the whole business are very passionate about comedy as a craft, and being invited to be part of their endeavours in such an exotic part of the world was a real privilege," says Imran Yusuf, a British comedian who joined the tour in August last year and will be returning for the Kings & Queen show.
For the more recent push into Cambodia, Atherton let others take the lead. Others such as Dan Riley, an English expatriate in Phnom Penh for nearly a decade, who spawned the Cambodian branch with fellow stand-up enthusiast, Singaporean Andre Chalson. Chalson had hosted comedy nights in Singapore and when they started to plan acts in Cambodia, it was natural to reach out to Atherton for a partnership under the Comedy Club Asia. The Comedy Club Cambodia started running shows in 2011 to mostly full crowds.
"[Atherton] is a professional comedian and a mentor to up-and-coming comics in Singapore and Kuala Lumpur," Riley says. "If you've only seen comedy on the TV then you're missing out on the magic that is live stand-up. There's also nothing else like this going on in Cambodia; and, at the moment, it's only on [in Phnom Penh] once every two months."
In addition to promoting comedy shows in Southeast Asia, Atherton and his partners are mentoring Asian comedians and working towards taking them around the globe. Atherton has led trips with Singaporean comedians to the Sydney Comedy Festival and sent other acts to the Sydney Comedy Store. He says a two-month tour of the US college circuit is on the agenda for next year. It's a cultural exchange, through the medium of comedy, that also helps the Asian comedians refine their sets for Western ears.
At the moment, the styles of comedy on offer vary greatly. Many Western acts tend towards a brand of observational humour while Singaporean and Malay comics describe their cultures' comedic style as more physically expressive and slapstick.


The acts seem to be doing the business, with the Comedy Club Asia continuing to expand. Chalson recently set up shop in Ho Chi Minh City and Riley says, "In the near future, we will look to establish [more Cambodian] nights in Siem Reap, Sihanoukville and maybe even Kampot." The goals of the club going forward are to introduce more Cambodian English-language acts and continue to help local comedians to bring out their own brand of comedy.
To that end, Atherton hosted the Comedy Bootcamp Asia last month in Kuala Lumpur, an event geared towards mentoring local comedians. Attendees included amateur comics from across the region who participated in workshops with regulars on the club tour, such as Mary Bourke, Simon Taylor and Harith Iskander.
Grassroots comics are crucial, with open mic nights a big part of the club's draw. "I think he's going to give up his day job, he's that good," Sadler told the Jakarta crowd while introducing a Singaporean amateur who had a knack for winning the ball's open mic contest. After taking five minutes to set up his only joke, with the crowd in silence, the amateur hit his punch line like a pro and had the room roaring with laughter.
Despite its success and continued growth, nobody claims to be getting rich off the tour. "One day, I'll make back my investment, but until then I'm happy just to hang out with some extremely cool and funny people," Riley says, citing the necessity for low ticket prices in Phnom Penh as one of the reasons it is hard to turn a profit. Sadler also says his club in Jakarta is mostly a hobby he has kept up with friends over the years. Meanwhile, many of the comedians on the tour simply seem to relish the idea of an all-expenses-paid vacation and a new experience abroad.
"I loved my time on the tour," says Yusuf, who was nominated for the Best Newcomer award at the world famous Edinburgh Fringe Festival. "The audiences were receptive and, more importantly, very comedy savvy. Aside from the amazing gigs, I really enjoyed soaking up the travelling experiences such as the markets of Singapore and playing football with all the expats in Jakarta. Visiting and learning about the Killing Fields and S-21 prison in Cambodia were also very humbling experiences."
Meanwhile, in addition to his work as a promoter, Atherton has continued working as a full-time comic. His busy schedule includes about half a dozen corporate gigs every month, frequent compering in Singapore and elsewhere on the Southeast Asia circuit, and regular trips home.
"I return to Australia every two months to visit my kids and take to the stage," he says, "so I don't lose the skill of talking to drunken morons."

* * *
Five Live
A selection of top acts who have graced the stage for Comedy Club Asia
Shazia Mirza
British stand-up comic of Pakistani descent who gained notoriety in the wake of the 9/11 attacks when, as a Muslim and dressed in a hijab, she would open her act with: "My name is Shazia Mirza. At least, that's what it says on my pilot's licence."
Phil Nicol
Scottish-born, Canadian-bred comedian who found fame with the musical comedy trio Cork & the Juice Pigs. Won the prestigious if.comedy.award at the Edinburgh Fringe in 2006.
Glenn Wool
Hugely popular Canadian comic, who is set to take his hit collaborative show The Lumberjacks on tour with fellow Canadians Stewart Francis and Craig Campbell.
Brendon Burns
Australian who won the 2007 if.comedy.award at the Edinburgh Fringe. Appeared alongside Ricky Gervais and Sacha Baron Cohen on The 11 0'Clock Show on British TV.
Tommy Dean
An American living in Sydney for 16 years, whose impressive media appearances include Spicks and Specks, Stand Up Australia, Rove Live, Sunrise and The Today Show.




Also view:
"Bringing the heat" – Ahead of their performance at the Big Wig Festival in Singapore, Cuban Brothers founder Miguel Mantovani discusses Spanish children's entertainers, nude sunbathing and Tom Jones having sex with a cardboard box