Miguel Mantovani sits on an elaborate throne adorned with shocking pink dahlias, surveying the festival crowd through huge black shades. His long dark hair licks at the shoulders of a beige shirt covered in palm trees, which has been paired with pastel green slacks and silver Oxfords. "I'm mind-bumming you all now, you are mind-bumming me, eet's a nice feeling, let's-a go… gracias, gracias, gracias," he purrs into the microphone in an affected Hispanic accent.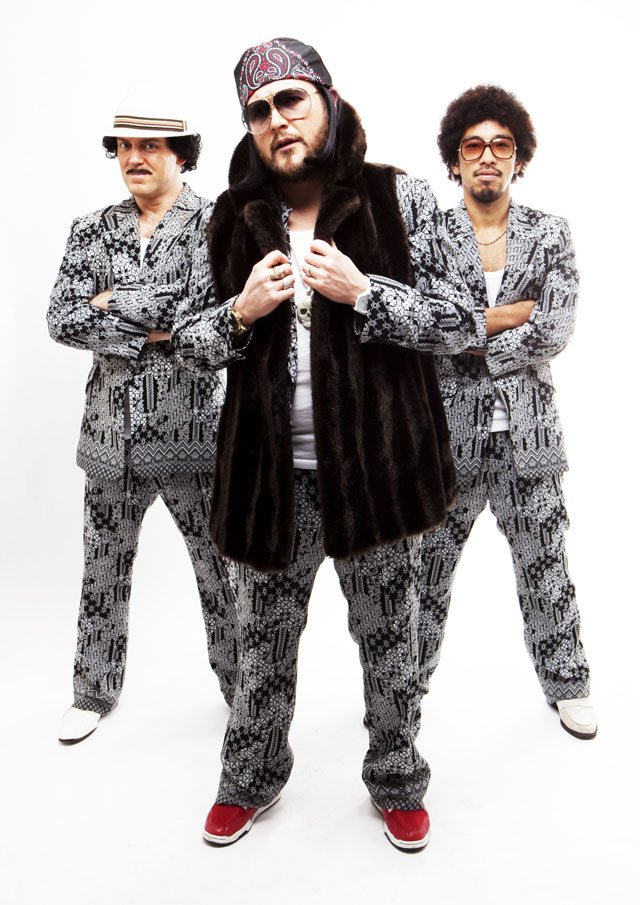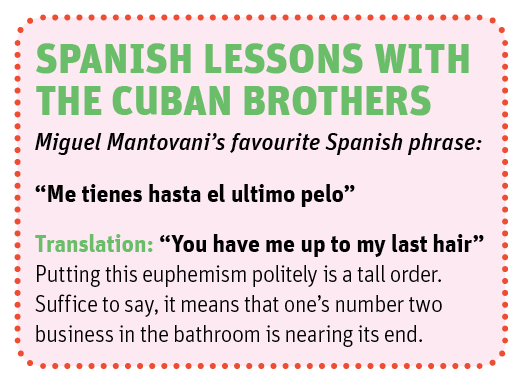 Meanwhile, his two sidekicks – Archerio and Kengo San – are busting a disco groove while wearing spangly black leotards with white tassels running from wrist to ankle.
This über-tanned, Panama-sporting threesome constitute the Cuban Brothers, a group that have built a reputation as one of the world's most entertaining live acts. Theirs is a crazy universe, where 'party' is definitely a verb, although labelling the Brothers' shtick is a unique challenge. Comedy troupe? Yes. Purveyors of cheesy tunes? Absolutely. Masters of b-boy buffoonery? Undoubtedly.
Yet for all their 'Spaneesh' accents and outlandish outfits, the Cuban Brothers have also released a critically lauded album of their own material and all three are accomplished breakdancers – Archerio, for example, was the MVP at the 1996 UK Breakdance Championships.
"Yessir! I started the show in 1999 and recruited two amazing performers," explains Miguel. "Being honest, I corrupted Archerio and Kengo massively as Arch was on tour [as a dancer] with the Prodigy and Kengo was studying English literature. But we are brothers; we've been round the world 12 times over and generally just have a show-off competition onstage.
"How would I describe a Cuban Brothers show? Simply the greatest show on earth," Miguel understates. "We are a band but we are also entertainers who love to get down. Dope music, fun and action with a bit of wrongness. OK, more than a bit of wrongness."
Indeed, the Cuban Brothers' website claims that the band will "make you laugh, sing along, cry with joy, shit your pants and shake your booty", and their penchant for partying has had booking agents clambering for their services at all manner of events. Robbie Williams, Damien Hirst and Elton John have all booked Los Hermanos Cubanos for private functions. When pushed on who throws the best shindig, Miguel's answer is emphatic.
"Elton. It was at his place near Cannes and he ended up accompanying us on the piano, with Lulu joining in, and in the corner of the room the legendary Tom Jones was fucking an empty cardboard box while singing 'It's Not Unusual'. Surreal, but absolutely true."
Adapting to such an environment was easy for Miguel, this Cuban master of promiscuous prose and a man known in his 'home country' as Man Grande Chorizo. The transition may, however, have been more of a challenge for his real-life alter ego. Away from the stage, Miguel Mantovani's real name is Mike Keat. He is blonde. He is Scottish. He really shouldn't be able to pull off the role of Cuban party impresario as emphatically as he does. But he has always been a performer, and when he witnessed a terrible children's entertainer in Spain, the seed was planted.
"It was the impetus for Miguel as a character. I was DJing in Majorca, Spain, circa 1993, and living in this hotel. Every day I would see this cat named Pedro, or Spanish Pete as I called him, entertaining the junior guests around the pool or rocking discos for them.
"He was so fantastically sub-standard and an unusual looking dude – at about 5ft [1.5 metres] –and in his mid-50s, but so enthusiastic and warm. I just found him hilarious and would catch myself watching the dude do his thing when I was supposed to be at my own job. It wasn't until a few years later that I realised I was channelling him when I started playing Miguel."
Following this brief appearance from Mike Keat, he soon reverts to Miguel's unmistakable machismo when attempting to demonstrate how far the Brothers go to achieve their look. According to him, tans that would make Donatella Versace wince and moustaches that curl around the lips like lascivious leeches both stem from natural sources.
"Our shits are real, hombre," says Miguel, referring to the 'taches. "Lying naked in the sun is my preferred tanning method, but the security at the Four Seasons didn't really appreciate my vibe last time we stayed."
Exactly which locality of the luxury hotel chain enjoyed the pleasure of 'Miguelito' in all his glory remains unspecified, but next month the general managers of Singapore's finer establishments will be quivering at the knowledge that the Cuban Brothers will roll into town to perform at the inaugural Big Wig Music Festival at Fort Canning Park on April 6.
The group seems a perfect fit for a festival that is pushing both musical diversity – soul, funk, Latin, reggae, hip-hop, dancehall – and a desire to be a tad more 'out there' than Singapore's usual offerings. The organisers have ordered 2,500 giant wigs for revellers to wear, and a number of wigwams will be dotted about the festival site to be used as bars or shelter from the sun. Added to the mix will be professional skateboarders doing their thing on a purpose-built ramp, breakdance performances and live graffiti.
This kaleidoscopic vibe is not dissimilar to the legendary Bestival, held every year on the Isle of Wight in the UK. Known for its balls-to-the-wall, fun-at-all-costs ideal, Bestival is a gathering close to Miguel's heart, and he can see Big Wig carving a similar niche in Singapore.
"Yessir. I would imagine so. We've been hosting Bestival since its inception in 2003 and I've watched it grow from 6,000 cats to 70,000 onsite last year. It's one amazingly dope party. The thing I love about Big Wig is the line-up: Pharoahe Monch is one of my favourite artists and, dare I say it, one of the best to do it [MC]. We toured with the Pharcyde in 2009 so it will be great to link with those talented cats again: true classic amigos."
While Miguel's excitement at hooking up with some of his favourite hombres is touching, this Latino heat has been known to bubble over onstage. Indeed, Cuban Brothers shows are renowned for containing more than a reasonable amount of stripping. One story even has Miguel crowd-surfing sans clothes.
"Of course. I've been naked onstage many times, mi amor," he reveals. "The naked b-boyin' thing came about in Ibiza when it was so blazing hot I decided to get my full swerve on… I see it as a reward to an audience if they've been particularly hype, although some might see it more as a punishment."
Nudity or no nudity, any Cuban Brothers show comes with a good-time guarantee. According to Miguel, festivalgoers can expect to hear some "classic Hermano Cubano shit", as well as a few joints from their album, Yo Bonita. Given that one of the tracks on the album is titled "Mike For President", Miguel signs off by outlining what would be on the Cuban Brothers' manifesto.
"Compulsory pumping lessons with Miguelito and mandatory joint-smoking after 8pm – yes, friends!"
Big wig's big-hitters
Three of the diverse acts set to rock the stage at the Big Wig Music Festival…
-Pharoahe Monch
New York hip-hop artist famed for his intelligent lyrics and complex, multisyllabic delivery.
– Chrom3
London-based Dizzee Rascal collaborator who blends grime and dubstep with a feel-good vibe.
– Captain Planet
Fuses Indian, African, Latin and Far Eastern influences with his original loves such as hip-hop and breaks.