India is working hard to maintain strong economic ties to Vietnam
By Manish Vaid  and Tridivesh Singh Maini
With the global shift of power continuing its easterly migration, India is attaching greater importance to its historical relations with Vietnam, a gateway to one of the world's most promising trading blocs: Asean.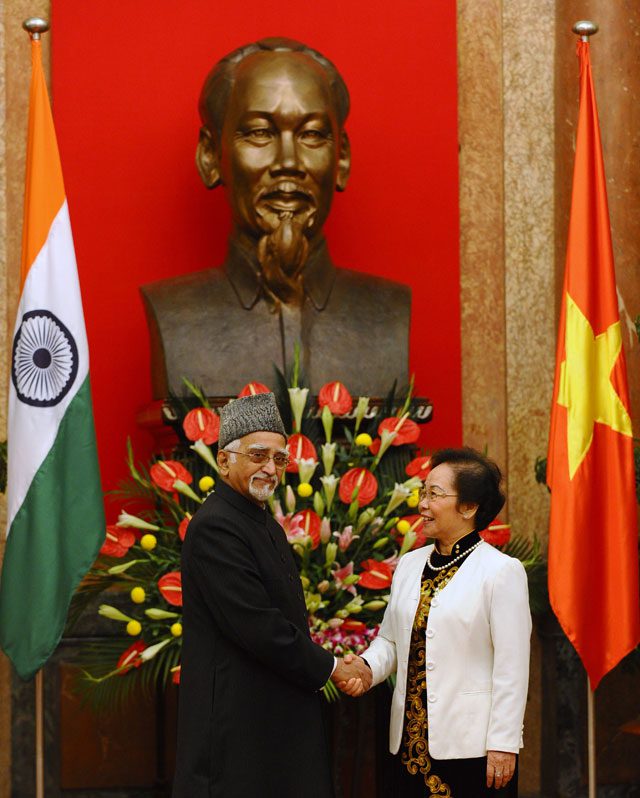 Dating back to the 2nd Century, when Vietnam and India shared close cultural and economic links, bilateral trade between the two nations currently stands at $4 billion and is expected to reach $7 billion in 2015 if the present rate of trade growth is maintained.
The world's largest democracy has enjoyed strong relations with Vietnam since it supported the communist state during its war with the US. Since then, Vietnam has become an important regional partner in Southeast Asia, an area of importance to resource hungry India.
As part of its 20-year-old Look East Policy, which aims to cultivate economic and strategic relations with Asean to bolster its standing as a regional power, India is continuing its courtship of Vietnam, an entry point to Asean's $2 trillion market.
To date, India has extended 17 lines of credit in Vietnam totalling $164m, including $19.5m for the Nam Trai-IV hydropower project and the Binh Bo pumping station. Agreements have been
signed between the country's state banks to upgrade the representative offices of the Bank of India and Indian Overseas Bank to fully fledged branches.
As of June, India had 73 investment projects in Vietnam, with a total registered capital of more than $252m across sectors such as sugar manufacturing, agro-chemicals, IT and agricultural processing. Despite strong competition from South Korean and Russian companies, Vietnam recently chose India's Tata Power to develop a $1.8 billion thermal power project in the country's southern Soc Trang province. It will be the single largest Indian investment in Vietnam.
The oil, gas and mineral exploration and processing sector is an area of strategic significance for both countries. Importing 80% of its fuel requirements, India is prioritising trade in natural resources and sees potential in Vietnam's offshore deposits. India has invested $460m in three exploratory blocks off the coast of Vietnam through ONGC Videsh Limited, the overseas arm of India's oil conglomerate, which has had a presence in Vietnam since 1988.
The blocks in the Phu Khanh Basin are, however, part of a wider conflict in a bitter maritime dispute that involves China. Touted as a new energy frontier, the South China Sea has become an area of contention for several countries competing for what is believed to be sizeable deposits of oil and gas. In the face of a bullish China, which is increasingly resorting to violence and intimidation in its bid to secure bloated borders in the region, Vietnam is seeking support from India, which has no territorial claims in the region but wants to uphold freedom of navigation in the area, specifically in the Straits of Malacca – through which 50% of its sea-borne trade is directed.
India's interest in access to Vietnam's energy resources puts it in direct conflict with China's territorial claims in the region, and tensions between the two economic powerhouses have been brewing
for more than a year. India's decision to explore hydrocarbons with Vietnam followed a July 2011 incident in which an unidentified Chinese warship demanded that an Indian amphibious assault vessel
travelling in international waters identify itself and explain its presence in the South China Sea. China has since put up for international bidding the same oil block that Vietnam has given India permission
to explore.
Like other major powers, India is concerned about China's challenge to free access to the South China Sea, a key passage for international trade and security. Maintaining a foothold in Vietnam
while nurturing other strategic and economic partnerships within the region may eventually turn India from an observer of Southeast Asian politics and resources to a defender of its strategic interests.
Walking a fine line between the two will help India ensure it benefits from strong relations with the dynamic economies of both China and Asean.

See also:
Claws and fire – With the stakes high in a world of diminishing resources, will Southeast Asia become the battlefield for a stand-off between India and China?