Since opening its doors as a preschool in 2012, the Canadian International School of Phnom Penh (CIS) has expanded to their main campus on Diamond Island (Koh Pich) in 2015 and opened their second preschool in Tuol Kork in 2016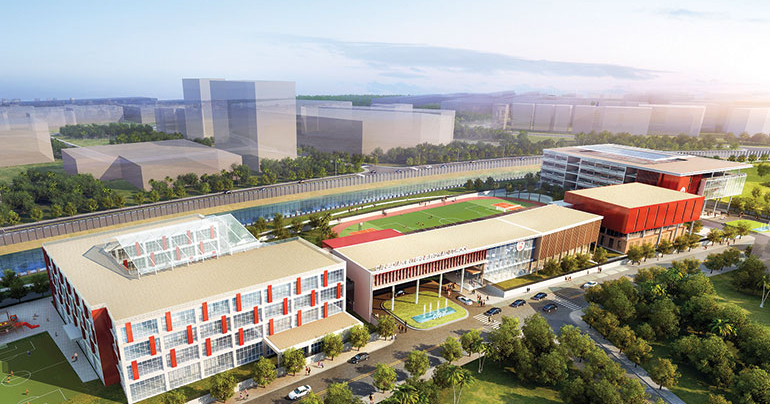 Expansion continues as eager learners are enrolling year-round at all 3 campuses and construction of phases two and three are well on their way at their Diamond Island location.
The construction of the next two phases will continue north along the Tonle Bassac. Once completely finished, the entire Canadian International School will cover over 3 hectares of land with two major campuses: a secondary  school (middle and high  school) with a student capacity of 750 and the current elementary school (primary school) with a student capacity of 925 bringing the total campus capacity to 1675. This phase of construction will highlight new additions such as a black box theatre with a capacity of 600, a running track, a six-lane 25m swimming pool with spectator seating, science labs, fitness facilities, a new library, makerspace, student lounges, computer labs, science labs, dance studios, a soccer pitch and much more! The construction is estimated to be finished during the 2019-2020 school year.
While their main campus is under construction, CIS will move their Tuol Kork preschool closer—to Olympia City—and is currently in the midst of finalizing its construction with plans of opening campus doors in January, 2019.  CIS continues to grow at a rapid but healthy rate and is right on track for their expansion plans set back in 2012. These impressive new additions will only add to their success as one of the top international schools in the city!
The Canadian curriculum implemented at CIS is seen as one of the top curriculums in the world with graduates from their sister school in Macao (TIS), being accepted into over 200 universities worldwide with their Canadian diplomas. CIS is also in the process of applying to be a candidate school to offer the International Baccalaureate Diploma Program (IBDP) at the Grade 11 and 12 levels, giving students access to the most prestigious and widely recognized university preparation program internationally!
In addition to their world recognized curriculum, CIS hosts multiple community events throughout the year, provides three terms of extracurricular activities that are available to children from 4 years old to 13 years old, offers additional language classes for students from 3 years old—French, Khmer and Mandarin—and boasts a French Bilingual Program available to students from Grade 1 and up where they learn in French for 40% of their school day – over 10 hours a week!
For more information about their curriculum or to take a tour of CIS:
Phone: 023 900 399
Email: admissions@cisp.edu.kh