As calming music plays, visitors walk down a cobblestone pathway lined with perfectly-spaced palm trees and gold lamps, posing for pictures along the way. A triple-towered temple looms in the distance: its rooftop is decorated with images of the seven-headed mythical serpent naga, and its entryway is manned by carvings of temple guardians armed with lances and clubs.
It isn't the renowned World Heritage site of Angkor Wat, but rather a new tourist attraction built in Nanning, China called "Amazing Angkor". In near-Disney like fashion, the architecture of Cambodia's best known historic temple has been duplicated in plastic as part of China's latest tourist site.
"Visitors can't tell whether they are in Cambodia or Nanning," said one Chinese news outlet, reviewing Amazing Angkor.
"Always wanted to see the world famous temple complex at Angkor Wat, but don't feel like going all the way to Cambodia?" reads another travel blog. "Don't worry, China has you covered."
As an attraction in Nanning's new Fantawild "Asian Legend" theme park, which was built to showcase landmarks from ten Asean countries, the Angkor Wat replica is not alone: tourists to the park can take a ride through the water villages of Brunei, witness the beauty of Thailand's Grand Palace, and see the Philippines' Santo Tomas de Villanueva Parish Church, a UNESCO World Heritage site.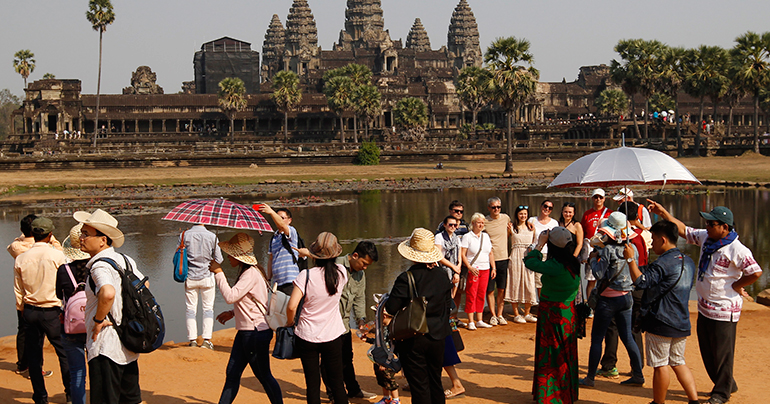 The park was created in advance of the annual China-Asean exposition – which took place in Nanning and concluded at the end of last week – and was built in part to highlight the recent strengthening of Sino-Cambodian relations.
The park welcomed more than 10,000 visitors on its first day, while its manager urged that Asian Legend would soon become a regional landmark and one of the hottest destinations in China.
Officials from Cambodia, Malaysia, Thailand and Laos reportedly attended the opening of the new theme park on 8 August, according to a park press release.
But despite the apparent support from Cambodian officials, many in the Kingdom reacted negatively to hearing that their historic and religious landmark had been replicated and placed in a theme park.
"[Angkor Wat] is important for us, very spiritual," said Heng, a local who works as a barista in Phnom Penh. "I don't think it is ok to copy it, not even for fun like in the [Asian Legend] park."
Buon, a restaurant owner in Phnom Penh, shared the same sentiment.
"Me and my friends, we are not happy about this [replica]," she said, shaking her head. "[Angkor Wat] is true Cambodia, we need to protect this. We should have known about this [replica] before now."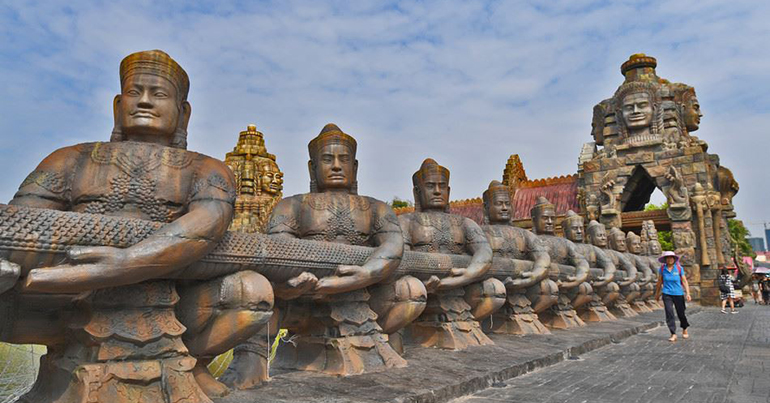 Though several Asean destinations are emulated in the park, few have had as tumultuous a history when it comes to replication as Cambodia's Angkor Wat. In 2012, India announced that it would be building a replica of the famed temple complex that would be even taller than the original and therefore the largest Hindu temple in the world. Due to Cambodian protests, construction of the temple was halted in 2015 and its design altered.
Hor Namhong, deputy prime minister in Cambodia at the time, asserted that the Angkor Wat complex was the "heart and soul of the Cambodian people" and that its replication would have "degraded" India's reputation.
As popular a story as the India replica became, few were aware of the plastic iteration in Nanning until its doors had already opened to visitors last month. According to Kerya Chau Sun, spokeswoman for Cambodia's Apsara Authority which maintains the Angkor Wat complex, her organisation had no knowledge of the temple replica until hearing of it on the local news.
She added that while it was a concern that tourists visiting the proposed Angkor Wat replica in India would be drawn away from tourism to the Kingdom, she doubted that the Chinese theme park's replica would have any considerable impact on future tourism in Cambodia.
"About… less Chinese tourists travelling to Cambodia, I don't think so," she said in an email to Southeast Asia Globe. "Because for somebody who really likes heritage, it is always better to visit the authentic one."
Cambodia has seen rapid growth in its tourism industry in recent years, in great part due to Chinese interest. Nearly a million Chinese tourists visited Angkor Wat last year, while the Kingdom welcomed a landmark 1.2 million Chinese tourists over the course of 2017. China has become the leading country for tourism in Cambodia, with Chinese tourists accounting for more than 20% of the Kingdom's total visitors. The Cambodian Ministry of Tourism has announced plans for Cambodia to welcome upward of 2 million Chinese tourists annually by 2020.