Our neighbourhood guide on where to eat, drink, shop and soak in the local culture of Chiang Mai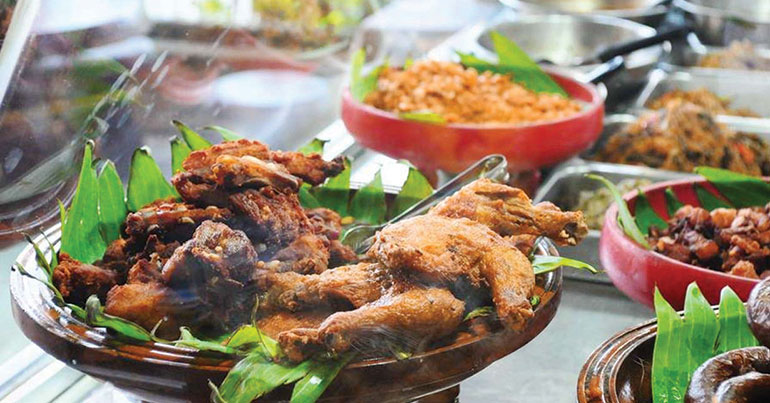 EAT – Huen Phen
A versatile eatery serving authentic cafeteria-style lunches as well as providing a more intimate dinner setting, Chiang Mai's Huen Phen restaurant is often referred to as the last word in traditional northern Thai cuisine. Its lunchtime specialty, a coconut curry noodle soup known as khao soi, is a staple of Chiang Mai's local cuisine. By night, the dining area is transformed into a low-lit cove replete with aged photographs and antiques recalling a Thailand long past. Huen Phen is notoriously popular with both local foodies and clued-up farang, meaning it's worth arriving early to be sure of a table. Visit: baanhuenphen.com/restaurant/

DRINK – 
The North Gate Jazz Co-Op
Celebrating its ten-year anniversary this year, the North Gate Jazz Co-Op stands out in bohemian Chiang Mai as home to some of the best live music the city has to offer. It's not unusual to see musicians and music fans alike spilling out onto the street from the open-fronted bar. Jazz has a long history in Thailand, with the late King Bhumibol Adulyadej renowned as an avid musician and composer – a passion that found him locked in a two-hour jam with jazz great Benny Goodman during the king's 1960 visit to New York. Visit: facebook.com/northgate.jazzcoop/

EXPLORE – 
Bua Tong Sticky Waterfalls
A surreal spin on the wilderness hike, Bua Tong Sticky Waterfalls are perhaps the only place where explorers can walk up a waterfall as easily as if they were climbing a flight of stairs. Owing their grit to limestone mineral deposits within the waterfall, the rocks have the texture – and grip – of pumice stone, allowing visitors to scamper up and down with ease. A perfect spot for a picnic or a quick dip to cool down, Bua Tong is just one hour's drive from Chiang Mai – ideal for an afternoon with friends.

RELAX – 
The Oasis Spa
Inspired by the majesty of the ancient Lanna Kingdom, centred in what is now northern Thailand, the Oasis Spa Chiang Mai's décor blends native hill tribe handicrafts with traditional Thai luxury. Its signature massages include the Voyage of Golden Lanna, an experience of utmost decadence that unites musical therapy and a four-hands massage kneading fragrant oils infused with gold flakes into your body for 90 minutes. The spa also offers a range of facials, body wraps, scrubs and hydrotherapy to relax even the most overwrought constitution. Visit: oasisspa.net/destination/chiangmai/

SHOP – 
Think Park
Standing opposite the massive Maya Shopping Wall, Think Park presents a more eclectic alternative for shoppers hoping to find something with a story to tell. With live performances and food stalls of every stripe to go with the locally made clothes, jewellery and handicrafts on sale, Think Park is the perfect setting for an evening stroll. Located on the artistic hub of Nimmanhaemin Road, the open-air market celebrates and advances the work of Chiang Mai's artists and artisans, giving them a free space to exhibit their craft – and a steady stream of customers to buy it. Visit: Corner Nimmanhaemin Rd and Huay Kaew Rd.
This article was published in the November edition of Southeast Asia Globe magazine. For full access, subscribe here.