It wasn't a surprise that Charlie Chaplin spoke. It was a surprise that he spoke French.
Almost 80 years ago, in April 1936, the iconic English silent film comedian visited French Indochina during a five-month Asian holiday tour that included stops in Saigon, Phnom Penh and Siem Reap.
The first 'talking' film had been made almost a decade before, but it would be another four years until Chaplin would lampoon Nazi Germany in The Great Dictator, his first full talking feature.
Speaking in fluent French to the Indochinese press at Saigon's Continental Hotel before driving to Phnom Penh, Chaplin – 'Charlot' to the colonists – lamented technological developments that had swept the film industry and drawn the curtain on the silent film era during which he had made his name.
"In fact, I hate talking motion pictures. It's undeniably a scientific revelation but for many reasons I believe that this progress is only relative," he told L'Opinion de Saigon, as tattered and yellowing newspaper clippings in Cambodia's National Archives reveal.
It seems to me that, with speech, a character loses some of his universality.
While Chaplin clearly recognised that the power of silent comedy meant he could be universally understood – from Hollywood to Phnom Penh – the mime artist may not have expected that his fame in the region would persist well into the 21st Century.
Though few Cambodians have any memory, or indeed knowledge, of Chaplin's one-time visit to Cambodia, 'Sak Lo' (the local pronunciation of 'Charlot') remains popular in the Kingdom today, a place where English remains little spoken outside major cities. He is known countrywide, his films were regularly shown on television up until the mid-2000s and his image still pops up on advertising signs.
As an illustration of his enduring fame in this nation of 15 million, a hand-painted Cambodian sign advertising a metalworker's business using an image of Adolf Hitler surfaced for sale online last year. While the business owner reportedly said he used Hitler's image to educate children about history, many people allegedly believed it was 'Sak Lo', presumably because they were more familiar with Chaplin's Great Dictator character than the Nazi leader.
However, Chaplin's influence is most easily traced to a crop of Cambodian comedians that dominate the scene today. While dialogue reigns in the local comedic style, slapstick remains prevalent. Neay Krem, an extremely popular, impish comedian usually performs with a Chaplin-esque moustache and blacked up eyebrows. His regular stage partner, Neay Koy, wears the same and often includes a black, slightly dishevelled, curly-haired wig reminiscent of Chaplin's iconic character known as the Tramp. Others in their troupe don similar getups.
Krem speaks in a rough voice and has a slightly wild energy even offstage. He says his love for Chaplin started as a child in the early 1970s, watching films brought home by his father as civil war raged. He laments the fact that after the radical communist Khmer Rouge regime – under which many famous performers and artists were killed – was toppled in 1979 and Vietnam occupied Cambodia in the 1980s, there was little documentation left about traditional Cambodian comedy styles.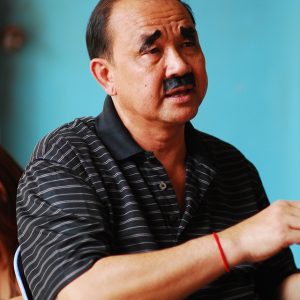 That left performers, including Krem, relying on the words of those few who survived and drawing on old films they remembered from before the war, including Chaplin classics.
"In the late 1980s and early 1990s there was a rise in the Cambodian film industry. I said I wanted to play like Chaplin [on screen] and the film director agreed," Krem says. "The most influential thing for me was his slapstick [style]."
Despite being interviewed in a crowded city cafe, Krem soon begins imitating the famous balloon scene from The Great Dictator, where Chaplin's Adenoid Hynkel character, dancing while immersed in ideas of world domination, keeps an inflatable globe afloat with delicate touches until it bursts in his hands.
"The influence of Chaplin [in Cambodia] was big in my opinion. Contemporary comedy in Cambodia now just copies from neighbours in Vietnam and Thailand. It has changed. [But] Chaplin is better, in my personal opinion; [his style] is understandable, universal," says Krem, going on to explain that while Chaplin-esque slapstick remains a core part of his act, he must constantly adapt to the crowd. "The [Cambodian] lower class is more fond of [verbal] comedy that involves some sort of sexual innuendo … the middle class, they like slapstick, action-based comedy, Chaplin style … and the upper class, they need both, the words and the action."
Newspaper accounts of Chaplin's 24-hour stay in Phnom Penh en route to Angkor describe how he had arrived in the city "expecting to camp in the bush" but was instead surprised to be put up at the luxurious Le Royal hotel, finding that some of the boulevards could be "little sisters" of the Champs-Élysées.
An April 14, 1936, report in L'Echo Du Cambodge also recounts his stroll through the "Asiatic quarters" of the city and the "profound" impression scenes of local life made on him. The reporter credits the interest of Chaplin – whose most famous on-screen character was a vagrant and who imbued social criticism into his comedy work.
Charlot, who is an artist with conscience, is also a tourist with conscience".

L'Echo Du Cambodg
Comedians such as Krem and Koy insist that their acts also have a social conscience and are used to "educate" Cambodians about important issues facing society. But Chaplin's anti-establishment spirit is certainly missing from their troupe's performances. The pair, along with many other performers, are in fact part of a special propaganda bureau in Cambodian Prime Minister Hun Sen's personal bodyguard unit. Both bear the rank of colonel. They have been known to perform sketches discrediting government critics while touting the achievements of the ruling party.
Prum Manh performs a comedy act more steeped in tradition. He specialises in Ayai – a rhythmic cabaret-style show that relies on quick wit and verbal improvisation, incorporating poetry, folk music and singing.
Manh, who studied at the Royal University of Fine Arts before the Khmer Rouge and often travels to perform for Cambodian diaspora communities in Australia, Europe or the US for hefty sums, calls himself a "comedian-artist".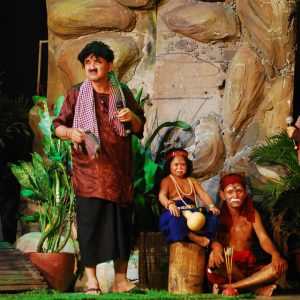 "I cannot judge the other comedians as most of them come from different situations. Some of them cannot read or write. Some of them come from different backgrounds. They kind of have a different level of telling jokes to the audience," he says. "[Ayai] is a very special art form for Cambodians to take care of."
While he recognises that a number of local comedians past and present have lifted elements from Chaplin, he says it's a "very hard art form" to get right.
"Some of the comedians in Cambodia have done that, but they still talk as well, so it's not the pure version," he says. "The young people right now, they don't really know Chaplin. Only people [like Krem and I], people of our age, know much about him."
Breathless reporters covering Chaplin's visit to Indochina couldn't help speculating that his next film would "surely be inspired" by the trip. While that didn't happen, his influence, although fading, lives on in the region.
Jonathan Samson, a Thai-language comic who has also performed in Khmer, says Chaplin is equally famous in Thailand: "You just say Charlie and everybody knows who you are talking about." But he adds that it would be wrong to say that comics such as Krem and Koy simply copied his act.
"When a comedian copies something done in another language and another country, it cannot be an exact copy. It is without question a recreation of the comedian's own doing. Especially for stuff that involves language," he says. "For Chaplin, I guess you could try to have an exact replica, but I think this was something they drew on and that inspired them rather than something
they just mindlessly copied."
Krem agrees. "Chaplin's films were so different. No one could do it like him."