Tree roots are something one comes to appreciate when trekking through Cambodia's southern Cardamom Mountains. While they can trip you up, hopping from root to root is one of the only ways to successfully descend the dark and overgrown slopes – a nervy feat while also hauling an overloaded backpack.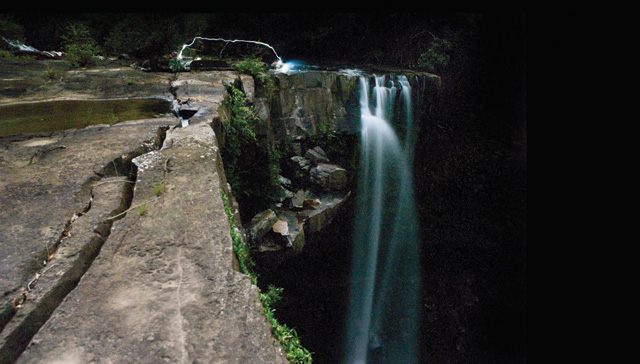 It takes a special level of concentration to negotiate these conspicuous roots while also avoiding the armies of writhing leeches underfoot, waiting to dig in to even the smallest patch of bare skin.
There's no well-trodden path through these mountains, which lie about three to four hours' drive west of Phnom Penh. Instead, hikers follow the faintest of trails through dense brush or teeter along narrow ledges traced along rock faces overgrown with Banyan trees. Putting a hand down for balance is a tantalising invite for swarms of fire ants and a magnet for skin-shredding plant spikes.
"It's literally dense jungle, it's what your idea of Cambodia is. This is how you imagine it, just thick jungle," said Australian hiker Jimmy Happs, who was one of 16 on a recent three-day trek through the mountains.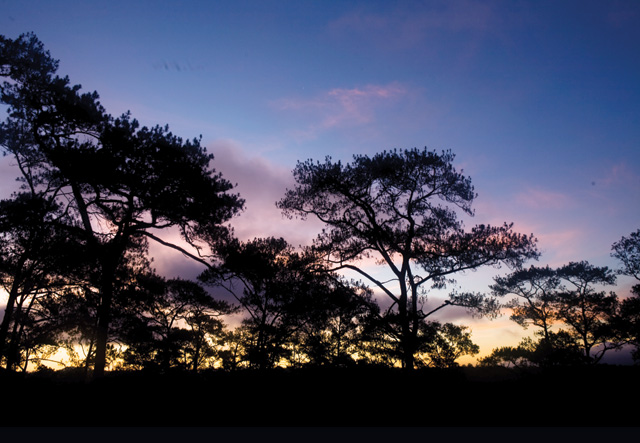 Yet despite the mental and physical challenges the Cardamoms throw at hikers, they remain one of Asia's last great and least explored forests – an alluring combination for adventurers. Hikers come in groups of five to 15, which can be organised through the group Sustainable Adventures Cambodia, run by volunteers and Belgian expat Jonas de Schrijver.
The hikes act loosely as an outreach programme for the Kampong Speu-based Buddhist NGO Meta Nature – an offshoot of the better-known Cambodian environmental NGO Mother Nature – to help people understand the importance of the mountains by personally engaging with the environment.
Buddhist abbot Brahm Dhammajat, whose barebones pagoda is a two-hour drive from Crocodile Mountain, the starting point of each trek, runs Meta Nature. Before each trip commences, hikers spend a night either in the pagoda or sleeping in hammocks strung up in the vicinity.
To date, Dhammajat and De Schrijver have organised eight three-day treks, which run from from Kampong Speu to the Areng Valley in Koh Kong province, as well as a handful of smaller excursions in the nearby mountains. The three-day hike, including a night on either end, costs $150 per person – a price that covers food and the use of a hammock and tent, set up each night by the guides.
De Shrijver says the hikes are intended for "people to get into nature, to cultivate their love of nature". More importantly, though, their purpose is to raise awareness of the ongoing threats that the forest faces.
Stretching from southern Cambodia and over the border into Thailand, the Cardamoms cover more than 809,000 hectares, according to Wildlife Alliance. Its website states that the southern Cardamoms are "a mosaic of protected areas and protected forests that form Cambodia's largest intact forest, one of Asia's last remaining elephant corridors and one of the region's most important watersheds".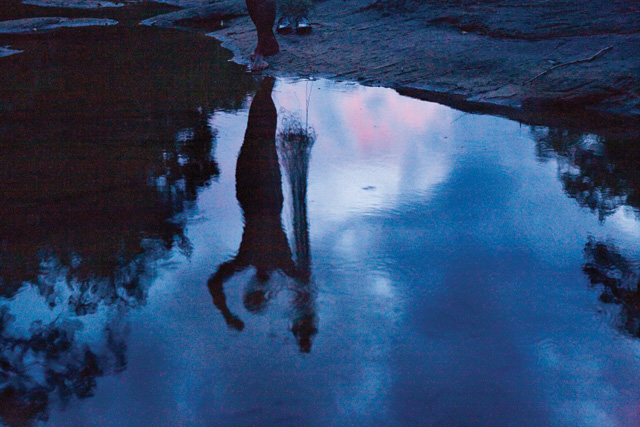 Despite protected status, the mountains are under continued threat from Cambodia's multimillion-dollar illicit logging industry. The practice seemed apparent on a recent trek when piles of felled trees could be seen lining the path from the trailhead. Potential signs of it were seen deeper in the forest as well, according to Japanese hiker Akira Morita. "There wasn't much hardwood on the way. It was new growth," the forestry graduate said. "I was noticing a lot of pines and other softwoods, such as poplar, and nothing like hardwood. I was wondering if it was because of where we were or because it wasn't quite old yet. It makes sense if they were all cut down."
To fight deforestation, Dhammajat encourages hikers to choose a tree over the course of their trek that will be blessed and robed in a monastic orange cloth. The blessing can take several hours, yet an encouraging number of trees swathed in saffron can be seen, usually by rest stops dotted along the area's bubbling creeks. "This is to show people the value of nature, and to remind people to make others understand too," says Dhammajat, who photographs the robed trees to be shared online. "Now when I see Facebook, social networks, everywhere I can see monks and [other] people [repeating] this [initiative]."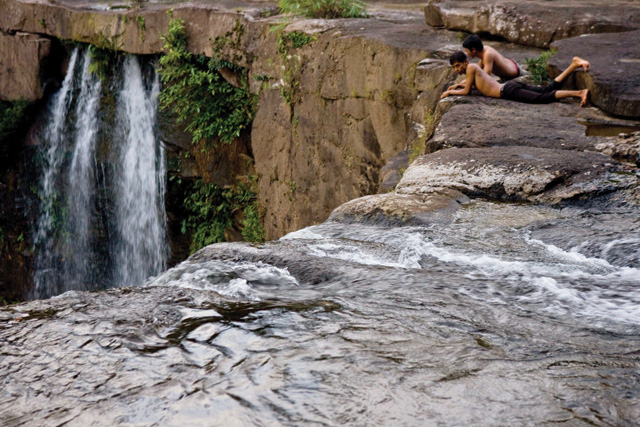 It is the stops along the way that really make this hike a spectacular experience. From spending a night in a stilted wooden shelter perched atop a misty mountain and surrounded by pine forests, to days punctuated by paddles in clear, cold mountain water, the journey is the destination. This hiker found herself contemplating this fact while sat beside a stream watching hundreds of butterflies of various shapes and vivid colours flock to recently washed clothes and bathing suits drying on rocks.
The crowning glory of this trek, though, has to be the immense Chaiyong waterfall, tucked deep in the mountains and accessible only by foot. Hikers can climb down to its base, if they dare to surrender to only a thick vine to lower themselves down a near-vertical descent. It's here that the trails are the least developed, as locals rarely traverse the area. The wildlife is elusive too, but listen closely and the call of the pileated gibbon, a shaggy, endangered primate, echoes across the landscape.
These faint trails speak to the mountains' history. Elephants that roamed the area until as recently as 40 years ago originally formed many of them, which were then developed by locals for foraging and to act as cow paths. Later, Khmer Rouge soldiers utilised them to patrol the area, according to guide Mom Ki.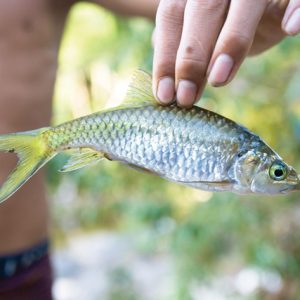 "The Khmer Rouge mostly controlled all of the Kravanh mountains," he says, using the Cambodian name for the Cardamoms. "They deployed five to ten soldiers per mountain. Then they came to gather on Krapeu mountain, where I went [on the first day of the trek]."
The final day of the journey takes hikers into the remote Areng Valley of Koh Kong province. The verdant valley has been under threat for a number of years now, due to plans to construct a hydrodam here. Many of the area's monks and villagers have been politically active as they aim to stop it.
Descending deep into the valley to our final destination is no mean feat. The path to Pro Lay village plunges through bamboo thickets and then forges on across a river to eventually reach the path that leads up to the quaint hamlet. Stars twinkle overhead and lanterns from the village flicker in the distance. It is a warming end to an immense journey.