Southeast Asian art has historically been steeped in religious and cultural imagery, and the Kingdom is no exception. In Cambodia, attention in the art community is often paid to the preservation of ancient art forms: the apsara dance is performed at schools across the country, traditional tattoo artists hold tightly to their craft and most paintings that decorate the walls of homes and stores are iterations of the stone faces and lush forests characteristic of the Kingdom's temples.
There's a natural impulse in Cambodia, a country with a history of genocide and civil war, to hold tight to a culture that was very nearly lost, explained Cambodian artist Thang Sothea. Seated in a cafe in Siem Reap not far from Angkor Wat, he gestured broadly at the nearest window and the world outside.
"It makes me very proud. I love the art, architecture, history of Angkor," he said, his hands drawing temple spires in the air as he spoke. "But this is the new generation. Angkor should inspire, not stop us. Never restrict us."
The purpose of the Treeline Urban Resort's inaugural exhibition, stocked as it is with large-scale sculptures, abstract paintings and conceptual pieces from five local artists, is to highlight the intersection of modernism and history that has been underexplored in Cambodian art.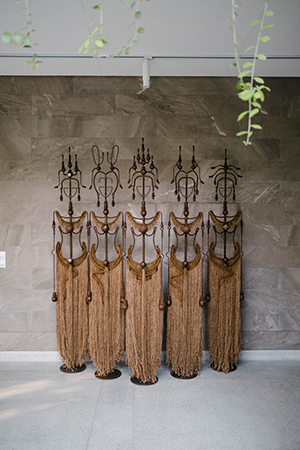 Sothea, whose artwork hangs in the exhibit and in the resort's private rooms, is one of few contemporary artists to have found success in the Kingdom's narrow art industry. His works have made their way to the lobbies and courtyards of hotels and private apartment buildings, some of the few spaces where contemporary art is displayed in the country.
Walking through the Treeline's open-air gallery, it is clear that several pieces strongly incorporate historic Cambodian themes: Sothea's eclectic apsara dancers, crafted of metal and burlap, stand near the decorative elephant statues designed by renowned local decorator Asasax.
But others are less accessible, explained exhibit curator Meta Moeng, gesturing at a painting by Battambang native Nov Cheanick: a canvas coated in layered paint and strands of grass, coloured in dark hues with small splashes of light.
"This a very abstract piece – you're not supposed to see it so much as feel it," she said, taking a step back from the painting as she spoke. "It is sometimes hard for people, local people, to always appreciate this type of art."
Cheanick, a slight man with shoulder-length hair, said his abstract works are not always well-received in a country where the very term painting brings to mind the religious and historical depictions brushed onto palace frescoes and pagoda walls. While there are more artists creating modern pieces, they are a long way from being able to live off their work.
"Sometimes I paint strange, and some people are a bit scared sometimes, because nothing I do is traditional," he said. "But maybe soon, people will grow up interested in art. I just create the best art I can, and hope others see value in it."
Breaking out of the Kingdom's traditional art mould is a challenge that requires effort not only from dedicated artists, but also from the Kingdom's designers, architects and art enthusiasts who provide venues for these works to be viewed. According to Hok Kang, whose architecture and design firm HKA & Partners designed the Treeline Urban Resort, it is imperative that exhibits like Face Forward foster Cambodian talent.
"There are a lot of challenges that stand in the way of the contemporary art scene in Cambodia, but one of the biggest is the lack of exposure for local artists," Kang said at the launch, adding that a culture of art appreciation would likely develop naturally with the consistent launch of new localised exhibits.
With such a small market, it is difficult for young Cambodians to pursue a future as an artist, Sothea explained. He is now one of the most successful contemporary artists in Cambodia's nascent industry, but Sothea chose at a young age to go into architecture, a stable career.
"A lot of young Cambodians, they love art, but they usually choose other studies because this is a very difficult market. Just like I did," he said. "For me, art in the beginning was only pleasure – not about money. It can't be about money."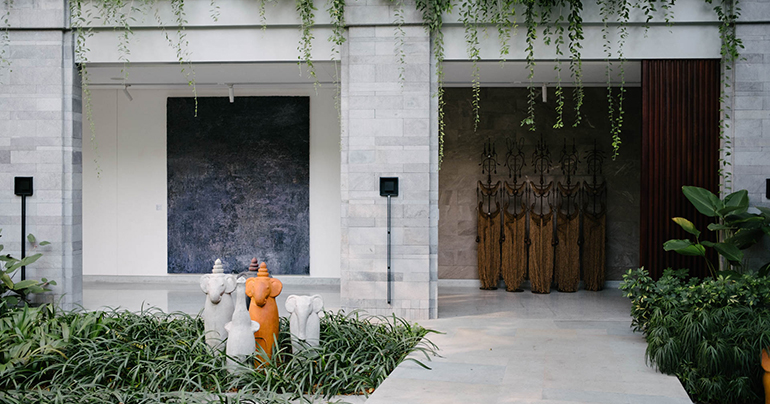 After abandoning his artistic pursuits for several years, Sothea found himself inspired to kickstart his art career after his first visit to a contemporary art museum, which he stumbled upon during a visit to Paris. For him, the main barrier standing in the way of Cambodia's growing contemporary art scene is a lack of education about what art can be in its freest form – a lesson he learned when first exposed to the works of Western artists like Picasso during his hours spent at the Louvre.
"It was like my brain exploded," he said, throwing his hands in the air. "It all connects to education. If you have a gallery or a museum, people will see, they will talk about it. But we don't have a contemporary art museum here [in Cambodia]. I have no idea when we might see one, but I say please, please build one."
Finding government funding for such a project may require patience, as the Kingdom's few museums are dedicated to the history of the country, and the government has set its sights on preserving culture-rich artworks rather than backing up-and-coming artists. Regardless, the contemporary art scene in Cambodia is growing – and few are as excited to see it blossom as the artists whose works are currently on display at the Treeline.
"Compared to other countries, it is true, we are just starting," Cheanick said, his eyes drifting toward the massive sculpture of a seedpod standing in the entryway of the Face Forward exhibit. "But we are growing and everything is changing. I cannot promise that next year will be better, or the next. But it is a good start."