Clear, juniper-based gin has long been a staple of Western drinking culture, becoming one of the world's leading spirits in both production and sales. But while there are currently more than 6,000 gins in production worldwide, Southeast Asia has been slow to jump on the gin train. With only a handful of gin companies based in the region, Southeast Asia Globe sat down with Tania Unsworth, co-founder of of the recently-launched Seekers Spirits in Phnom Penh, to chat about the growing market for gin in the region.
So how did you get your start in this business? Why gin, and why Cambodia?
My husband Marco and I have worked in hospitality all of our lives. We moved to Cambodia when Marco was offered a new job here, and eventually we saw the opportunity to open a couple of restaurants in Phnom Penh. One of them was a Spanish tapas bar – Marco is from Barcelona, so it made sense – and there's a big trend in Spain right now of serving up specialised gin and tonics. So we started up a gin collection that became massive – at the time we probably had the biggest gin collection in Cambodia, barring maybe Raffles' Elephant Bar.
With over 60 gins, we started doing our own infusions because – despite having gins from all over the world – we found there weren't that many that had the local flavours we'd come to love. And we thought, you know, we should actually just go ahead and make a real gin, our own gin, and create a flavour profile unique to this part of the world.
As for why we chose Cambodia for this project, it's a mixture: it was both where we were already living, and it's just a very friendly country for setting up a business, especially in comparison to other countries in the region. Thailand, for example, has very restrictive rules when it comes to alcohol production, so it would have been very challenging to start up there. And in Singapore it is very expensive to set up a business. Having gone through the process of setting up a business here before, we felt quite confident.
Let's talk about the gin itself. What makes it stand out?
We wanted to celebrate the bold, aromatic flavours of this part of the world and put them in a bottle. When we started exploring the actual recipe with our gin maker, who joined us from a reputable gin distillery in London, he arrived with experience in gin-making but not necessarily with experience in the local flavours. In October 2017 when he arrived at our distillery, we had about 50 botanicals that we wanted to experiment with, which we felt were unique to this part of the world.
We had a vision of the style of gin we wanted to create: something full-bodied and smooth. Based on that flavour profile, we narrowed it down and spent about nine months just tweaking the recipe. Juniper is the base of gin, and it doesn't grow here regionally, so we import that from Europe. We're also sourcing our Angelica, which does grow regionally but we haven't found a local supplier for it yet. But then we have 11 other, local botanicals that we are using in the gin, and those are really the ingredients that give the gin its unique flavour.
It was really exciting that the first international competition we sent the gin to – the World Gin Masters Asia competition in Hong Kong – won our gin a gold medal in the "contemporary" category, which really cemented the idea that we were on the right track with this product.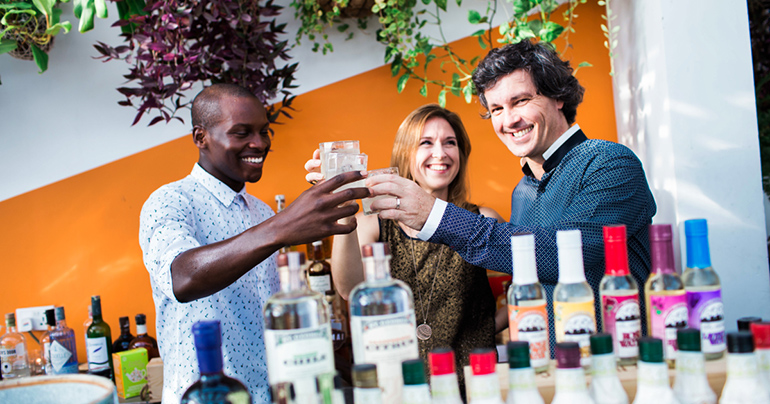 How has the reception of the gin been so far, and who do you consider your main competition in this market?
Well, we started selling gin in June 2018, and sales are definitely exceeding our expectations. We've been lucky to have received such enormous support from the local hotels, restaurants, resorts and bars that are already stocking us. We started in Phnom Penh but are now selling in Siem Reap and also in a few satellite locations in Kampot, Kep, Battambang and several of the islands.
In the region, there are a handful of gins that are positioning themselves as Southeast Asian gins; I know there are new ones launching in Singapore and Hong Kong as well. The question, when we start exporting, will definitely be where we fall in that competitive mix.
What we're seeing is that gin is still relatively in its infancy here, but even in the last few years, the number of gin bars popping up in Southeast Asia has been on the rise. Here in Phnom Penh, the gin bar Juniper opened just last year, and in Siem Reap they've converted the Shinta Mani Bensley Bar into a gin bar. And of course, Raffles' Elephant Bar has an amazing collection of gin. But I do think, still, the spirits business in Cambodia remains fairly limited: other than Samai, which is a well-established rum based in Phnom Penh, there are only a handful of small-scale spirits producers and infusers in the country.
What are your plans for growth, in both the short and long term?
We're actually hoping to start exporting this year, though there are definitely some challenges there. At the moment, we're researching quite a number of different markets, but naturally we're looking at some major regional hubs and key cities, like Bangkok and Singapore.
We're also looking to export to Europe sooner rather than later. We were originally thinking that we'd definitely focus on expanding across the region first, and wait to export to more mature gin markets, but actually we're getting some interesting feedback from places like Australia and the UK. In some ways, we're thinking that we don't want to wait for so long to send our gin to those markets, because they could reach a point of oversaturation – but for now they're still hungry for gin, and have an appetite for something different. So we're definitely advancing conversations with distributors in the UK and other European markets this year, and the same goes for Australia.
What are some of the challenges you're facing as a startup spirits business in Cambodia?
As we grow, I think one of the biggest issues for us will be managing capacity and production, to match expected demand. Within the year, we'll likely have to scale up to a much larger still than we currently have. We actually developed the gin on a very small, 20-litre copper pot still, which was easy to ship and which allowed us to develop the gin fairly easily. After our launch last year, we gauged the market and we could foresee we had enough demand to invest in a 300-litre still a few months ago. Soon we'll have to scale up again.
Really, the biggest issue at this stage for any startup is just the initial upfront costs. Currently, Marco and I are the main investors in the project, as we have been able to cover the costs of the business. We have one other shareholder in the company at this point in time. For us, it's the bottles that are toughest: right now we're investing in these bottles from Italy, but the unit costs on those bottles are much higher than in, say, China. But we weren't able to get the minimum order quantity required by the big factories in China at first, so we had to pay more in the long run because we couldn't front those costs ourselves. Thankfully, we're at a place now where we can start talking to factories in China about bottle production and know that those bottles will sell fairly quickly.
Producing a good, quality spirit and setting up an authentic craft distillery is always hard; it's tough to find the skill-set necessary to make it work. There are a lot of people producing spirits on a smaller scale, so of course we can't say we're the first to start distilling. There are actually several rums being produced in the country, which is interesting. But gin, which is booming in other parts of the world, requires a different set of skills to produce. And then, of course, you have to be crazy enough to do it.