April is hot in Cambodia, with temperatures regularly hitting the mid-30s. And in the tourist town of Siem Reap, performers at New Cambodia Artists (NCA), the country's first contemporary dance company, lay down in their studio as they wait for the midday heat to pass.
The power cut doesn't help. Several industrial fans stand silent and suffering in the oppressive heat. But soon the lights come on, the fans start to whir and rehearsals begin again. The four female dancers glide across the wooden floor, hands and feet disrupting the blazing light pouring through open double doors.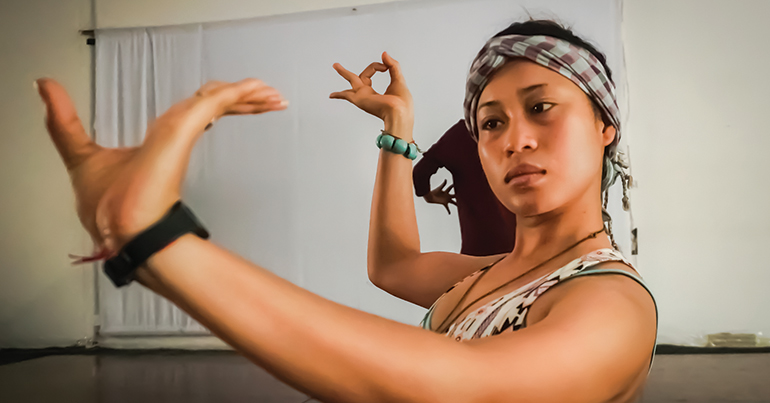 Their improvisation dreams up ancient soldiers and heavenly courtesans like those carved into the stone walls of Angkor Wat's temples. Then it shifts, powering through centuries, as the dancers move as if riding motorbikes through a modernising city.
The team at NCA are on the keen edge of modern dance in Cambodia. They lobbied the Ministry of Arts and Culture for a year to be certified to perform contemporary dance at public venues. Their main challenge was that certification for contemporary dance didn't then exist.
"At first, we were only permitted to perform classical dance at public sites like the [nearby] Angkor Wat temples," says company director Srey Neung. "But now we are the first company to be certified and able to perform contemporary dance in public."
The Angkor Wat temples and surrounding archaeological park attracted 2.5 million visitors in 2017 – which means that performing for tourists there is a good source of revenue for local dance troupes. But despite their certificate, the Apsara Authority, which manages the park, banned them in 2016. ("Apsara" refers to a traditional Khmer dance dating to the 7th century and featuring more than 1,500 hand gestures.)
"Art is supposed to be creative – and if the performers and choreographers are Cambodian, then it's Cambodian enough."

Khun Sreynoch
"We were blacklisted for not being Cambodian enough," says dancer Khun Sreynoch. "And they said our costumes were too sexy. They are supposed to be under the ministry, but the ministry hasn't done anything."
"Their attitude is very frustrating," she adds. "Art is supposed to be creative – and if the performers and choreographers are Cambodian, then it's Cambodian enough."
Apsara Authority spokesman Long Kosal refused to comment directly on the case, saying only: "Any dance company is welcome to submit a request to perform within the park."
But the spokesman did address his agency's concerns over supposed impropriety of troupes' costumes: "The dance troupes who currently perform at venues within the park, like Kravan temple, are a good example of what is an appropriate kind of performance." He said that traditional costumes should cover performers' shoulders and that skirts should hang below the knee.
The delicate romps and highly stylised gestures of Apsara performers at places like Kravan temple could not be more different from NCA's provocative compositions.
If anything, the women at NCA have become even more determined to continue with their fresh style. Sreynoch is currently developing a solo performance using red stilettoes.
"It's my favourite dance," she says. "I use Apsara dance moves to show I'm Cambodian, but the red shoes show that I am an independent woman." In the climax of the dance, she discards the shoes in a whirl of limbs and pirouettes.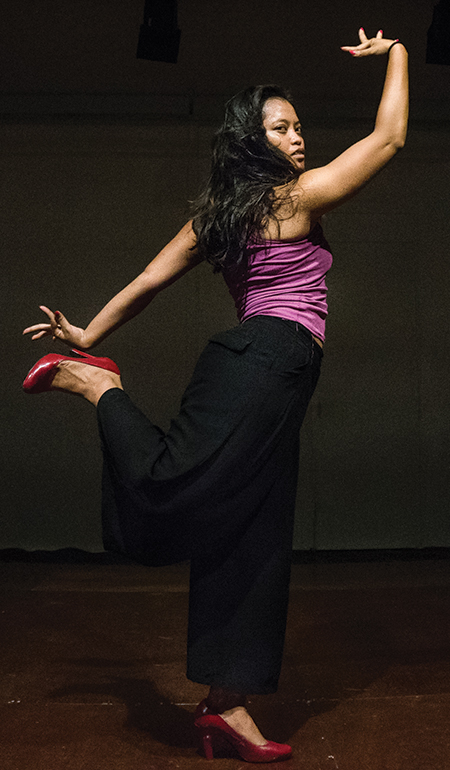 "I throw the shoes away in the end to show I am strong enough as I am; it's about the development of character," she says. "The conservatives say we cannot touch traditional movements and cannot create anything new. If I use high heels to perform classical dance moves, they will say I'm destroying the culture."
This kind of conflict is new in Cambodia, where choreographer Sophiline Cheam Shapiro is informally credited with developing the first contemporary Cambodian dance in 2000 – an interpretation of Shakespeare's Othello that referenced the horrors of the Khmer Rouge.
"When I told my uncle, Chheng Phon – an important guru of Cambodian dance – that I wanted to bring two classical traditions together, he said I was very daring to touch such a precious heritage," Shapiro told Southeast Asia Globe. "I told him I must still try."
Although modern dance has thrived in Cambodia for two decades, she said, "modern artists can still be discouraged or attacked when they debut their performances."
"Most of the time the government has been supportive of me," she added. "When we apply to dance at official venues, they tend to allow us… The arts and culture officials have the responsibility to take care of the art, and I respect that."
Hab Touch, director-general of the Ministry of Culture and Fine Arts, sat at a huge wooden table in front of framed certificates awarding Cambodian Apsara Dance a place on the Representative List of the Unesco Intangible Cultural Heritage of Humanity.
"We want contemporary art, but we want it to be Cambodian contemporary art," he said. "We have to define what is ours, and I worry that some artists take on a Western style without keeping the Cambodian tradition."
"Lack of infrastructure is [another] problem modern artists face," Touch said. "We are concerned that we have little space for artists to show their work, though we try our best."
Bob Ruijzendaal, a Dutch theatre director who founded NCA before passing ownership to Srey Neung and the dancers, threw up his hands in exasperation when asked about the infrastructure problem. "Everywhere you go, there is a concrete floor and there is mostly a red carpet on it and you cannot dance on it. Everybody says, 'Yeah, we have a carpet!' and we [just] cannot dance on that."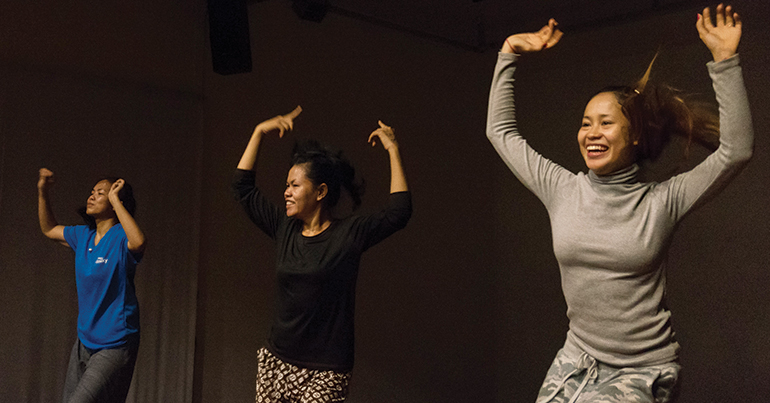 The lack of artistic space, combined with indifference from local people, has left NCA's performers feeling isolated. "As well as managing NCA, I'm studying business administration at university," says Srey Neung. "My classmates think I'm very strange doing this work. They are only interested in following each other, and if we try to encourage them to see our performances, they don't want to come."
"My mum and sister support me a lot," NCA dancer Kong Soengva says. "My father says that I ought to stop and get a real job, but I point out that NCA pays for school, travel – and I earn money from our performances, so I think he is getting more used to the idea."
NCA's main income is from performing at their studio and hotels in Siem Reap, plus the occasional show in Phnom Penh. The dancers earn about $100 a month. The company also pays for their schooling, food and insurance.
"We need some extra funding to support the volunteer choreographers who come from Europe to help [with] training," says Srey Neung. "Right now, we don't have anything for them, and we want to at least cover their expenses while they stay in Cambodia."
As the day finishes, Srey Neung's sister arrives with her baby and the dancers take a break to play with the one-year-old. "We want young Cambodians to recognise what we do," says Srey Neung, bouncing the child on her hip. "Then they can come and see us and support us."