It was the shock heard across the nation. Overnight, in Cambodia's coastal city of Sihanoukville, a Chinese-owned construction site came crashing down around the heads of the workers sleeping in the unfinished building, killing almost 30 people and burying dozens more under rubble. It would be days before the last living worker was pulled out of the wreckage.
Across Cambodia, construction workers, many working in dangerous conditions, are building a Kingdom. Sometimes robed in high-viz vests and crowned with golden hard-hats, they haul bricks, cut steel and scatter showers of brilliant sparks from on high with their welding. Many are far from home, having left their families in the provinces to hitch a ride into the cities in search of steady work. When their labour is done, they will leave shining monuments in their wake, crisp white towers of condominiums ready for wealthy tenants.
But as the tragedy in Sihanoukville shows, it is too often the workers who pay the price.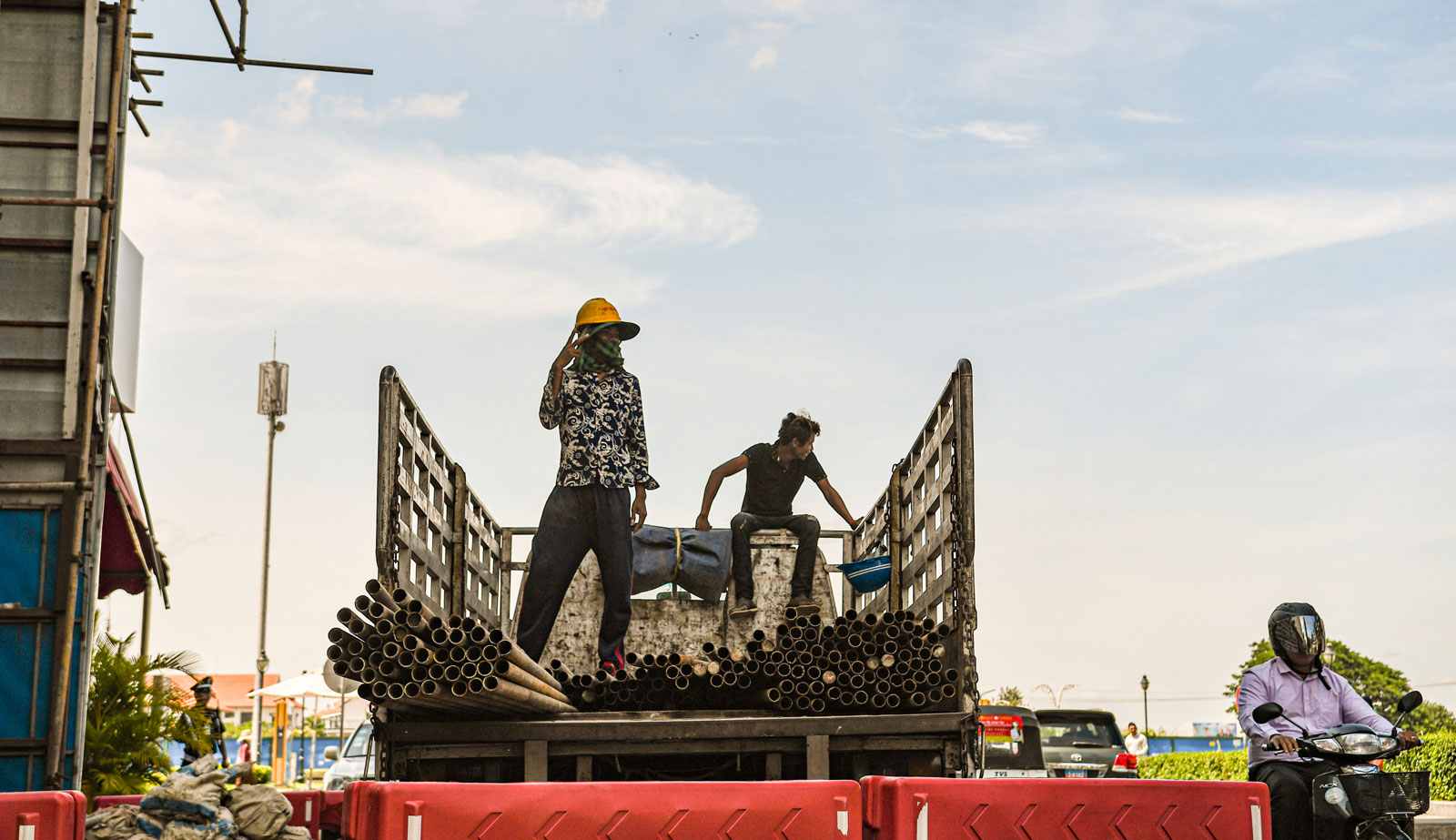 Construction workers unloading steel fixings near one of Phnom Penh's big casino buildings. Photo: Simon Roughneen
Vorng Nimol, Cambodia programme officer for US-based labour rights organisation Solidarity Centre, said that there was mounting pressure on the government to improve working conditions for the men and women building Cambodia.
"The government has had a lot of pressure from the international community, and many people are blaming them about Chinese investment and everything that has been happening in the construction sector," he told Southeast Asia Globe. "We got a lot of building work established, but we don't have enough construction workers. So if we don't provide a better wage or better social protections for workers, it means that the construction workers will go abroad to work in Thailand or other countries."
He believes that if the government sees higher wages and social protections as an investment, it will pay off economically. "If it starts to think about social protections, it will mean that we'll still have construction workers – and the government will gain a lot of benefits from investment too."
"Most companies aren't covered by the National Social Security Fund, so when their workers get injured or have accidents, they have to pay by themselves"

Solidarity Centre Cambodia programme officer Vorng Nimol
Although Cambodia's labour laws are among the best in the world, enforcement of these regulations remains lax – particularly, Nimol said, in such a fragmented and fast-changing industry as the Kingdom's construction sector.
"The owners of these buildings, they're so smart – they won't hire construction workers by themselves, they only try to find subcontractors, and these people don't have laws or rules – they look like an informal group," Nimol said, describing how workers are fobbed off when it comes to seeking redress.
"They just hire the workers, and if they have any problems at their construction sites the owner of the building can say no, it's not related to them – you should ask more from your subcontractors, they're the ones that hired you. So they try to avoid all obligation or responsibility towards construction workers."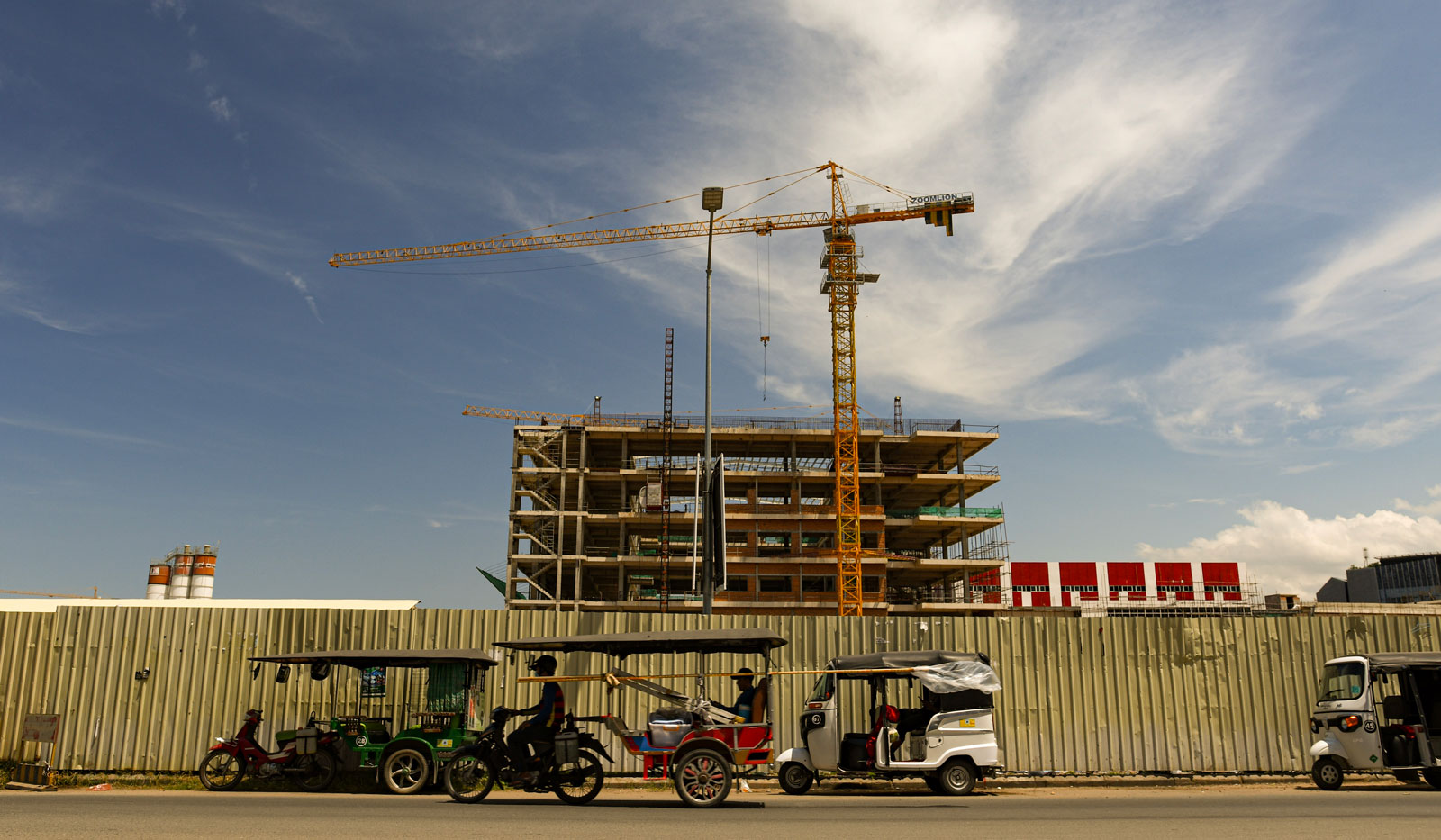 Ath Thorn, president of the Cambodian Labour Confederation, said that construction workers largely operated as a sprawling informal community, brought on to building sites in bulk by third-party organisations responsible for sourcing willing bodies to work on the Kingdom's ubiquitous building sites.
"They are under subcontractors or lack a clear contract with their employers," he said. "Right now, only a few companies are registered – more have subcontracts, and I can imagine that around 70-80% of workers are under precarious work and subcontracts rather than under the responsibility of their employer. So this is the situation of the worker."
While Nimol shared horror stories of workers turning up on payday only to find their subcontractors had upped sticks and taken off with their salaries, this lack of responsibility for companies' workforce has deeper issues. Without registering to Cambodia's private sector National Social Security Fund (NSSF), set up by the government to provide basic health and injury insurance – paid for in part by employers – as well as a pension for workers employed by recognised companies, many of those on the frontline of Cambodia's construction boom will continue to lack protection if they get injured at work.
"For the National Social Security Fund, most of them aren't covered by it because the social safety fund only covers their members, legal companies who have registered and applied," Nimol said. "But I think that most companies aren't covered by the NSSF, so when their workers get injured or have accidents, they have to pay by themselves."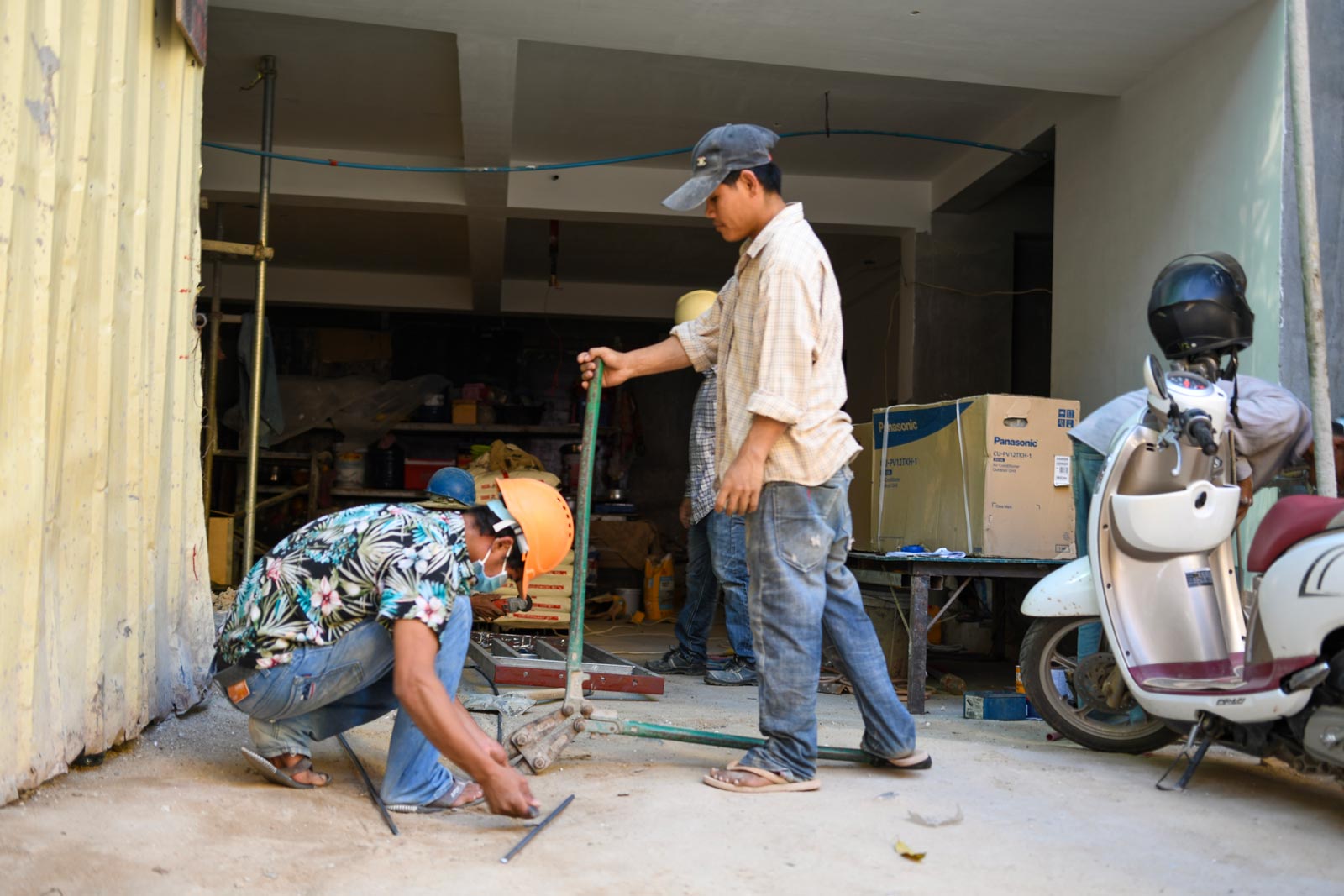 Protective footwear is not ubiquitous on Cambodian building sites. Photo: Simon Roughneen
For many workers, it can be back-breaking work. Although more and more labourers can be seen decked out in high-visibility vests and hard hats, many wear runners or even sandals at work, rather than the steel-toed safety boots that are usually mandatory elsewhere and often provided by employers.
Workplace injuries – and worse – are rife throughout the sector. The ILO estimated that 1500 people were killed working on construction sites in 2009, with the current number of deaths in today's much-larger construction industry remaining unknown.
A 2017 survey of more than 1,000 workers in the capital conducted by the Building and Wood Workers Trade Union Federation found that more than one in ten workers felt that their workplace was unsafe, citing the frequent injuries they saw or encountered on the job. Nor, it seems, are most workers even aware that their employers have a responsibility to provide them with basic social protection through the government's programme – roughly nine out of ten workers surveyed had no knowledge of the NSSF. 
"They don't know how to debate or challenge employers. So when the collapse happened, all the workers cared – they heard, but their ability to change is not really there"

Cambodia Labour Confederation president Ath Thorn
Union leaders have said that of the more than 200,000 construction workers estimated to be working across the Kingdom, just one in ten enjoy social protection from the government. By contrast, for garment workers – the only workers in Cambodia to receive a minimum wage – that number is as high as nine out of ten. Nimol said that without access to basic healthcare, workplace accidents could prove devastating for workers and their families.
"Sometimes the employers or companies share a bit, but often they have to buy medicine or go to hospital by themselves," he said. "If they lose a part of their bodies, maybe they can't work, and they have to go back to their home province."
Tun Sophorn, Cambodia's national coordinator of the International Labour Organisation (ILO), said that the government lacked the resources it needed to ensure occupational health and safety standards – though he stressed that some progress was being made.
"Concerning the lack of social security for construction workers, the ILO conducted a few studies and proposed practical options for the extension of social protection to workers in the informal economy including construction workers in late 2018, and provided policy recommendations on this extension to the government of Cambodia," he said. "As confirmed, the NSSF will extend the coverage of its current schemes to the construction workers in 2020, after the draft law on social security is adopted in the coming months."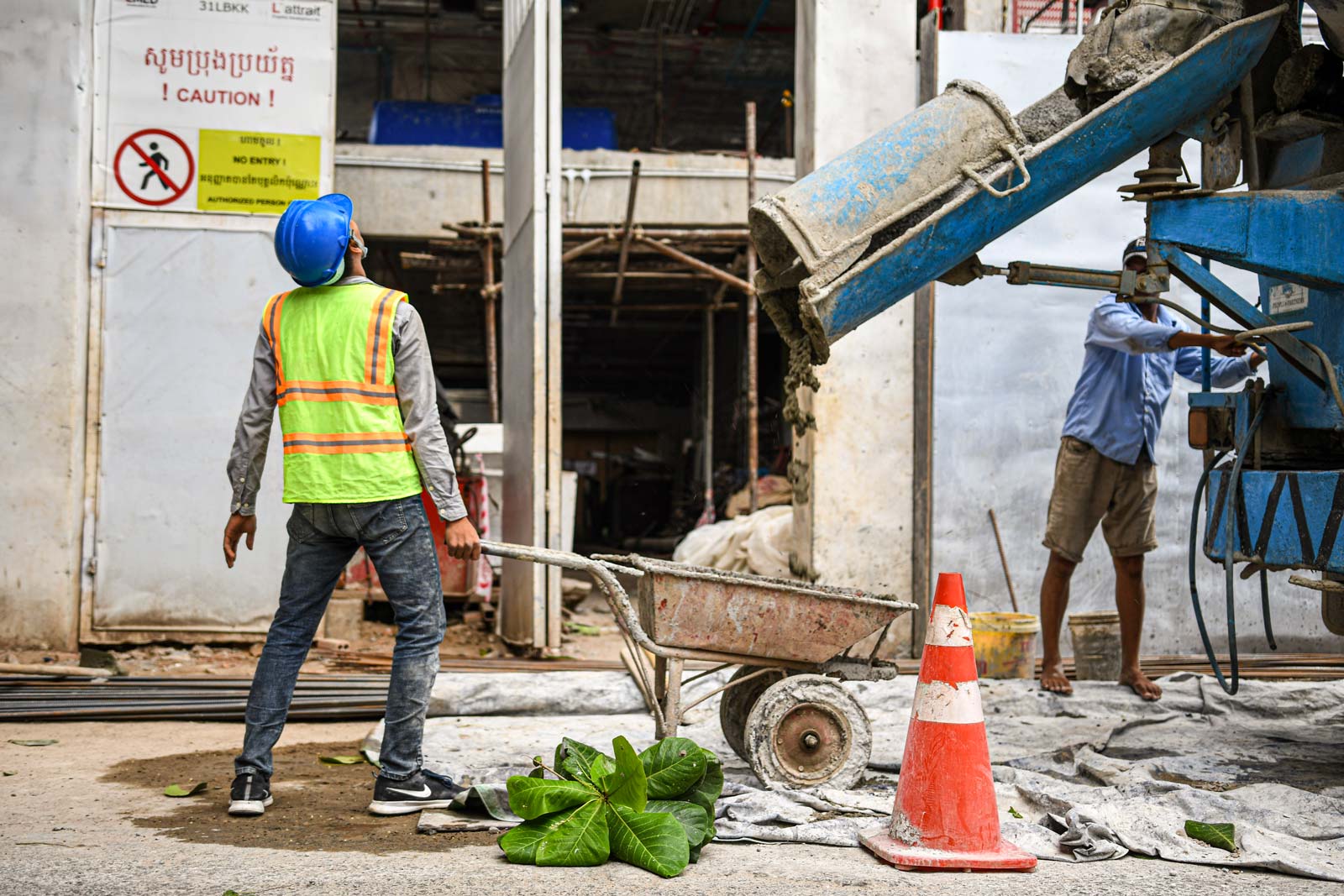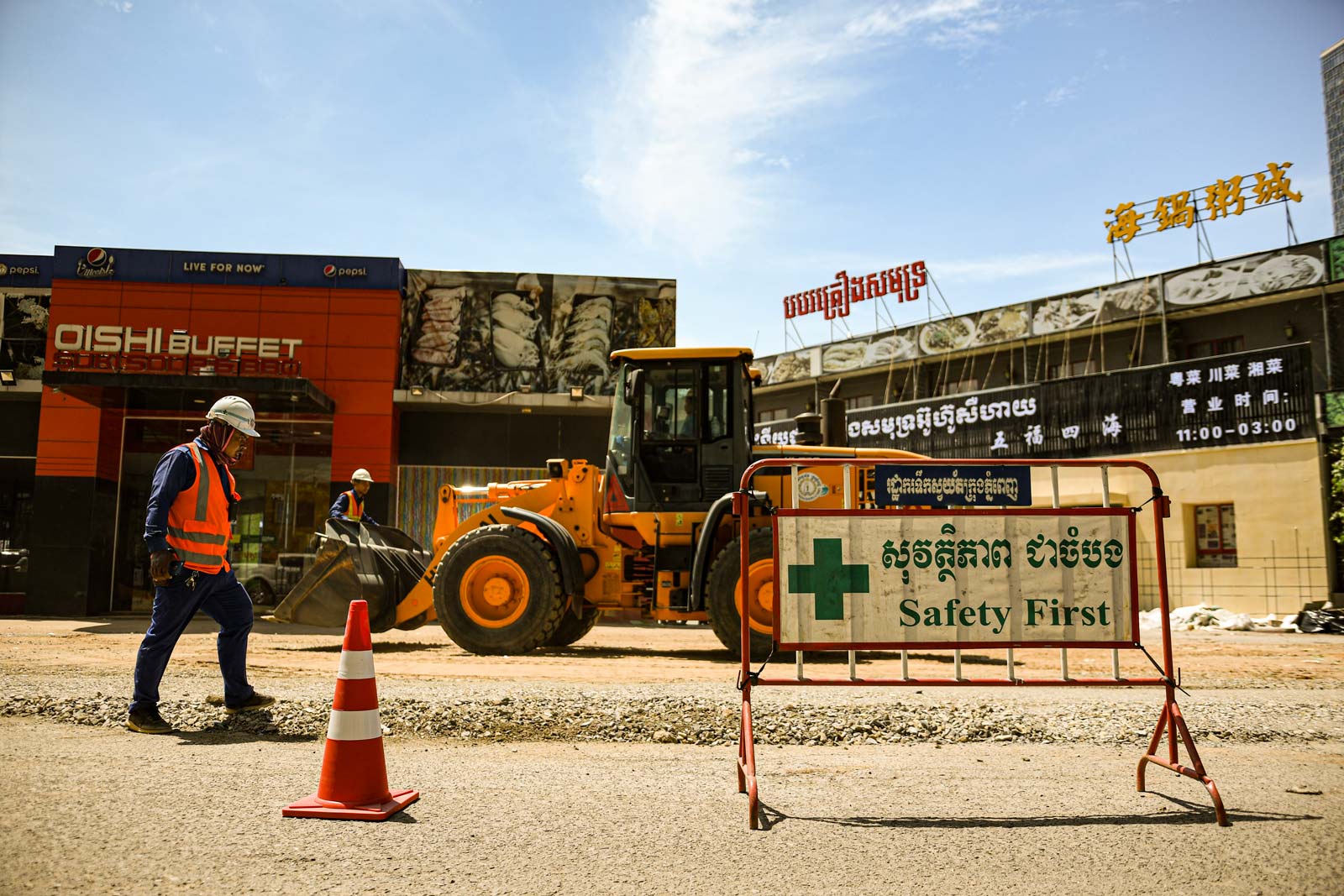 For those who have been fighting for this extension for more than two years now, the future seems less certain.
"For me, I think the reason that it's taking too long is because we only have about four or five trade unions in the construction sector," Nimol said. "In the garment sector, we have a lot of trade unions, and they ask for more intervention, they always pull the government to negotiate – they have power in the garment sectors. Whereas construction unions aren't strong enough."
It's easy to see why. While the crowded garment factories ringing Phnom Penh serve as an ideal platform to organise and mobilise the army of workers trucked in to work side-by-side every day, the Kingdom's construction workers remain scattered throughout the cities, often living and sleeping in the hollowed-out shells of the condominiums and office blocks they're working on and living on as little as $4 for a day's labour. By contrast, the monthly minimum wage for garment workers is $182.
It's because of this, Thorn said, that while the tragedy in Sihanoukville left many construction workers reeling, there were few channels for them to challenge the same working conditions that led to the collapse.
"There's a few unions now in the construction sector, but of the more than half a million workers around 3,000 are organised in the sector," he said. "So even if they are members who have just joined with us, they know, but their work depends on orders from their employer or the management. So what about those other workers who aren't unionised? They don't know how to debate or challenge employers. So when the collapse happened, all the workers cared – they heard, but their ability to change is not really there."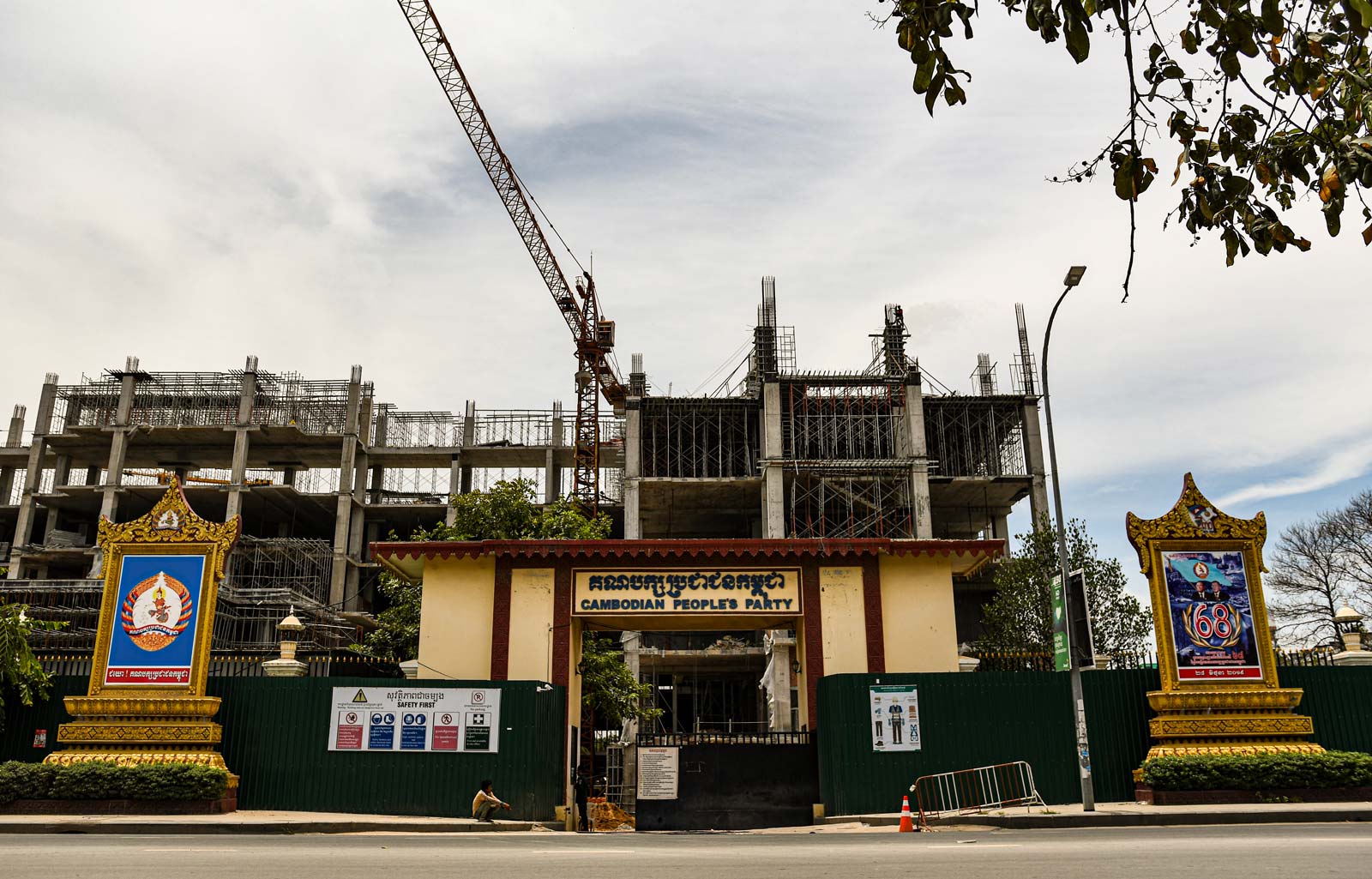 And while workers may one day enjoy better protections under the NSSF, the path towards setting a standard wage across the sector remains less clear. Although the government has reportedly been considering expanding the minimum wage from the garment industry to construction and service sectors, there appears to have been little movement behind the scenes. For workers who rely on their salaries to provide for their families and put a roof over their head rather than living on-site far from their loved ones, Nimol said, a standard wage would leave workers less vulnerable to exploitation by shady subcontractors.
"After the building collapse in Sihanoukville everyone was concerned – so the government was getting that pressure, and having to think more about more security and more law in the construction sector," he said. "But I think the reason that it takes too long, is that if the government organises for a minimum wage, maybe other sectors will want to demand a minimum wage too."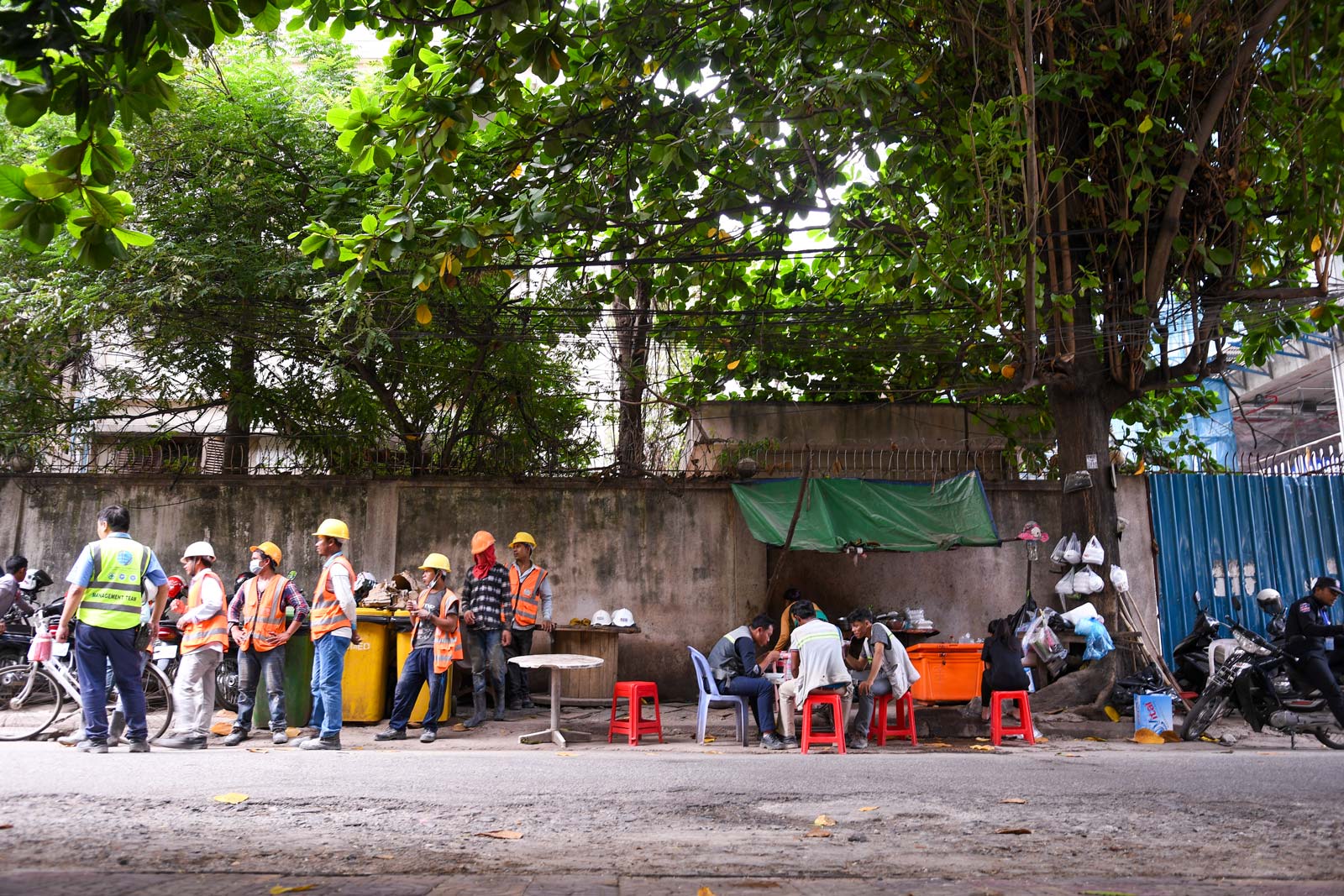 Down the street from a central Phnom Penh building site, workers take a quick break. Photo: Simon Roughneen
The bitter truth is that the Kingdom's scattered construction unions just aren't able to muster enough members to make the government sit up and take notice. With the sector mostly unregulated, there is little to stop employers from threatening their workers with firing if they try to unite and push for better working conditions.
Trucked in from the provinces and closed off from the wider world inside their construction sites, many workers remain isolated from their fellow workers across the city.
"Most of them have low knowledge, or they're afraid of losing their jobs after joining a union," Nimol said. "And there are some areas that have been blocked, where they don't allow outside people to go inside the building to talk with the workers. The challenge now is that the workers cannot get more power, because the employers always try to scare them – they can lose their job."
But with Cambodia's construction industry receiving renewed scrutiny in the wake of the Sihanoukville disaster, building a brighter future for Cambodia's workers may not be the Sisyphean struggle it once appeared. The ILO's Sophorn said that all stakeholders urgently needed to work together to ensure that Cambodia's construction boom didn't leave workers in fear of death or disability.
"In any country, financial and human resources of the government is never limitless," he said.
"What we expect is collaboration between employers and workers for the safety, [and] that means voluntary actions.
"Some employers hesitate to pay additional cost for safety, but many are now becoming aware that the safety and health of workers directly link with the quality of the buildings," he added. "Now, the momentum is rising."
The Ministry of Labour did not respond to requests for comment.