The Cambodian Young Entrepreneur Awards recognised five young movers and shakers who have been particularly impressive in pursuing their personal passions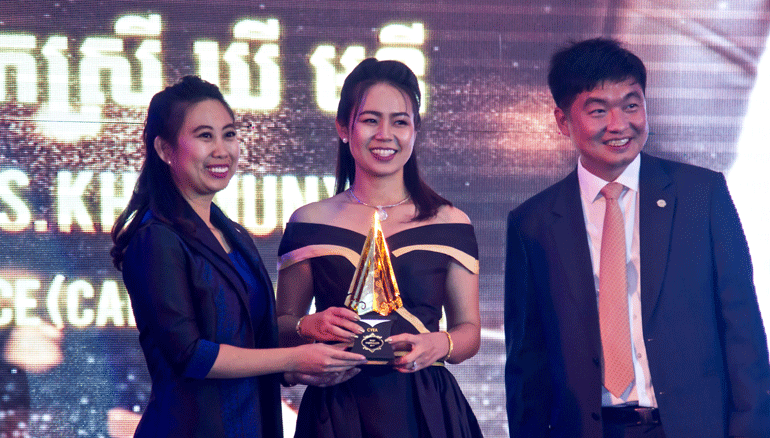 An emerging generation of Cambodians are entering the private sector starting to make their mark on Cambodia, a country that has undergone vast changes in their lifetime. They are not only boosting the quality of the country's workforce, they are starting their own businesses and competing with companies from around the world.
The Cambodian Young Entrepreneur Awards are held by the Junior Chamber International (JCI) and the Young Entrepreneurs Association of Cambodia (YEAC) to acknowledge young Cambodians with skills, passion, commitment and new ideas, giving them a stage to showcase and celebrate their achievements.
This year's awards, held last weekend, recognised five entrepreneurs in industries stretching from banking and technology to dentistry. Here is a list of the winners.
Outstanding entrepreneur award
Roomchang Dental Hospital
Social entrepreneur award
Teuk Saat 1001
Women entrepreneur award
Amru Rice
Information technology entrepreneur award
Moraket Software
Start-up entrepreneur award
DoyDoy Building Game
Speaking at the awards event, Tekreth Kamrang, a secretary of state at the Ministry of Commerce, said entrepreneurs had a major role to play in developing the country, as well as representing Cambodia to the world.
"The success of young entrepreneurs is the success of our country," she said.
Em Chanrithykol, the winner of the startup award for DoyDoy, a building block toy that is said to improve STEM skills, creativity and brain development in children, said the motivation for the company was to offer an affordable building toy and accompanying learning opportunities for all children.   
"I got this idea because I have been volunteering with international and local NGOs by going to different provinces to help vulnerable kids on their education, and I saw that there was no sufficient education material," he said in a video about the project.
Khoun Sophorth, CEO and co-founder of Moraket software company, the winner of the Technology Award, told the Khmer Times how he was motivated by seeing that most of the software being used in Cambodia coming from outside the country.
"In 2015, I noticed that our country was importing a lot of software from abroad. It was expensive, costing millions of dollars, and at that time we lacked that kind of software at my company. I figured that Cambodians can do that kind of thing, and we created our own software," he said.
Bunlene Khim, co-chair of the award ceremony, said the award ceremony was meant to help foster an ecosystem for entrepreneurs that would continue to develop long after the trophies were handed out.
"To me, CYEA is more than just an entrepreneur contest, but a platform connecting Cambodia's brave, remarkable, and inspired entrepreneurs to empower the entrepreneurial spirit and community in Cambodia," he said.