Cambodian maids will be returning to Malaysia after a six-year hiatus with new protections in place to prevent employers from abusing migrant workers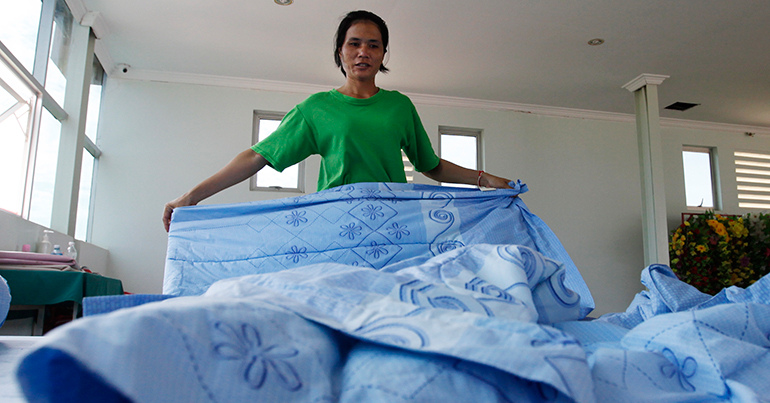 Cambodia has signed a Memorandum of Agreement and assigned the Malaysian Association of Foreign Maid Agencies (PAPA) as its representative to oversee the protection and wellbeing of 20,000 Cambodian citizens who are anticipated to go work as domestic employees in Malaysia next year.
Speaking at the signing in Kuala Lumpur on Wednesday, PAPA president Jeffrey Foo announced an array of initiatives that will be employed by March of next year as part of their agreement between Cambodia's Ministry of Labour and Vocational Training, all of which will seek to ensure the safeguarding of domestic workers prosperity.
As part of the initiatives, each worker will be supplied with a smartphone containing security applications by the private employment agencies, a bank account, a monthly tracking statement on income payment by the employers and legal advice.
"We at PAPA will provide them with mobile phones with the contact numbers of the embassy, maid agency and other emergency numbers. In case of emergency or if they face problems at their employer's home, they will have someone to turn to for help," Foo told reporters at the signing.
The agreement further demands for prospective maids to sign a pre-hiring contract that would detail the size of household and types of chores they would be hired to complete.
"We want to be strict this time. When we do this, the maids will know beforehand what kind of tasks await them and they are not exploited to work in other sectors," Foo said. "The employers will then be liable and can be brought to book should the Cambodian worker be exploited or abused."
Director general of Cambodia's labour ministry Seng Sakda announced at the signing ceremony that further more commendable developments would be integrated, including relevant services like vocational training and Malaysian communication skills before Cambodian's begin work as maids.
"After two to three months, the girls can come over and work," he declared.
The agreement comes more than six years after the Cambodian government imposed a moratorium on its citizens working as domestic helpers in Malaysia amid reports of unpaid salaries, overtime work and abuse by both Cambodian recruitment agencies and Malaysian employers.
Despite the ban being officially lifted in May after Malaysia's minister for human resources, Richard Riot Jaem, and Cambodia's labour minister, Ith Samheng, reached an agreement on the final details of a deal initially signed in 2015, this will be the first robust protection system employed to ensure that workers are protected from being taken advantage of.