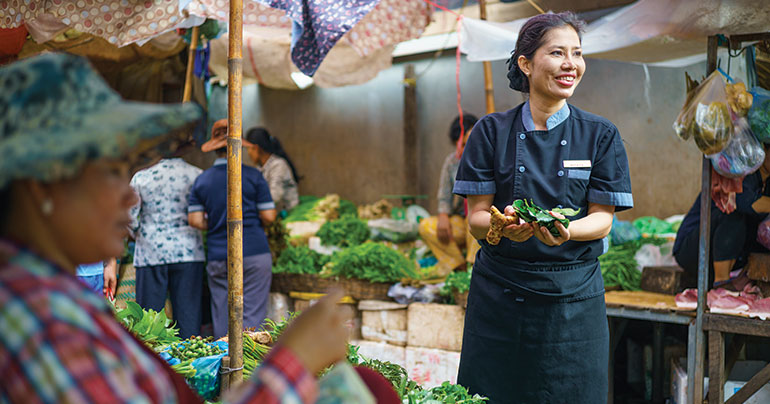 The woman is shaving the pig's heads with a razor. Slowly, she glides the blade across the pink flesh, removing tufts of wiry whiskers in order to render the display more attractive to potential buyers. Even after living in Cambodia for years it is a sight that leaves our photographer and I open-mouthed and fumbling for cameras, but chef Rithya, our guide on this visit to Psar Leu market in Siem Reap, barely notices.
This charming and multitalented chef – she is also a trained masseur and beauty therapist – is too busy explaining the cornucopia of produce laid out before us. She encourages us to try a leaf known as chiy, with its potent, peppery flavour. Next up is smach leaf, small with a red tinge and so bitter it dries our mouths instantly.
After picking through vibrant red chillies, rustling around in baskets filled with hundreds of peeled garlic cloves and recoiling slightly at large metal bowls filled with pig's lungs, it is back to Belmond La Résidence d'Angkor, where our cooking class begins.
After striding through the polished sheen of the hotel's entrance and lobby, crafted almost exclusively from a local wood known as duongchem, we arrive at the outdoor cooking area, which is surrounded by towering bamboo and other assorted greenery. It is a most pleasant spot in which to learn the intricacies of Cambodian cooking. Chef Sophy, the hotel's no-nonsense sous chef, leads the class and is always on hand to offer advice or, sometimes, an impromptu history lesson.
We begin with the cooking-class staple of fresh spring rolls, in which we julienne cucumbers, carrots and green beans before combining them with mint, lettuce and beansprouts inside exceedingly sticky and difficult-to-control rice paper that has been soaked in water. Show me a person who has never failed with these translucent wrappers, and I'll see a person who has never attempted to make fresh spring rolls, as the famous quote doesn't quite go.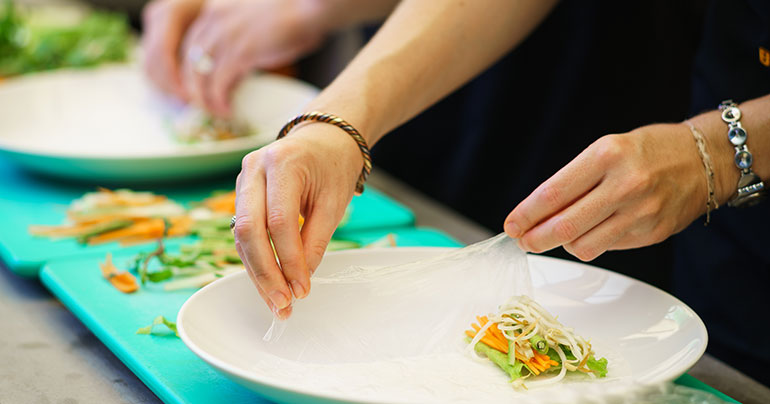 Next comes prawn sour soup, crafted at a different cooking station where a mighty spread of ingredients is ready, chopped and waiting. Chef Sophy is keen to point out the need to make the stock used in this recipe from scratch. "Don't use Knorr," are his exact instructions. To the stock we add galangal, lemongrass, shallots, fish sauce, a little sugar, a squeeze of lime, chillies to taste – in our case a lot – and, finally, straw mushrooms and fresh prawns. As it bubbles away, we dip teaspoons for tasting and, after adding a little more chilli, decide it's good to go.
The final course of the morning is a classic beef loc lac, a dish that has truly been embraced by Cambodians. Given that we're cooking in a five-star hotel, the usual Cambodian beef is replaced by Australian rib-eye, which we cube and set to one side. It is soon joined by shallots, pepper, garlic, lime, beef jus, soya sauce and tomato paste, with everything mixed together by hand and left to marinate for about 30 minutes. After an enjoyable and somewhat intense discussion of the origins of various Cambodian dishes with chef Sophy, the marinated beef is pan fried until medium-rare, as per our preference, and then heaped onto a salad of tomato, onion and watercress.
With our table beautifully set and ready for us to sample the fruits of our labour, it immediately becomes clear that there is far too much food here for our small group of three to manage. Invitations for staff to join us are politely declined, buckles are loosened and we set about our Cambodian feast.
Doubtless thanks to the keen eye of chef Sophy, everything is rather good. The morning has made for a wonderful introduction to the complexities of a nation's cuisine and, thankfully, there's not a shaved pig's head in sight.