Sim Sokeara is the senior lead web developer at Codingate, a Phnom Penh-based coding services company that won Startup of the Year at the Asean Rice Bowl Startup Awards 2017. He was part of the team of eager students who helped found the company back in 2013 and spoke to Southeast Asia Globe about the challenges of the fast-moving tech industry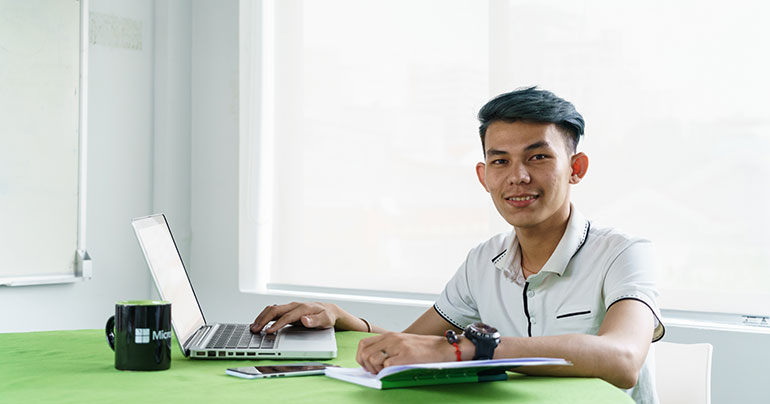 How did you get into the profession?
Actually, I never thought I would study IT. After I graduated with my bachelor's degree, I saw the scholarship announcement at the IT school, Passerelles Numériques Cambodia [PNC]… I wanted to try [it]. After I graduated from PNC I met my first client, [and] we tried to build a virtual company… After we finished one project [with] him, he recommended to start up with Sok Sopheakmonkol – he's the CEO of Codingate. It was only a small startup company. We had 13 members and we tried to work, [but] we had no big budget… so we [did an] exchange with the client [in which Codingate initially completed work for clients in return for laptops, which were given to staff ].
Tell me about your work at Codingate…
I work on website development. We work using WordPress – a technology that helps build websites. We can build normal websites, complicated websites – it's flexible and it's easy. I can see that people can use the website without IT skills.
[manual_related_posts]
Tell me about a key project you have worked on…
[One project was] a website for job announcements. It was very challenging – the first time I worked on user interface only. [For] this project we tried to build a website with a job filter. Like if the user wants to filter by category, by salary, by skill… It's interesting and I'm very happy that I [was able] to complete it. For some websites that we build, maybe we need the backend team to help us, but we try to build as a team.
What is the future for this field in Cambodia?
I think in the future it [will be] more challenging [for] the coder because we need to update from one day to [the next], because tech is always new. If we work only on our skills, we cannot challenge or compete with other companies, because they try to follow the technology… We [should] also do research [to see if a] technology [is something] that many people use and if it's easy to manage or easy to learn. Because sometimes we're not sure – [the] technology can be new, but it's not good.
This article was published in the May edition of Southeast Asia Globe magazine. For full access, subscribe here.