Violent clashes between security forces and protesters broke out in Phnom Penh this morning as uniformed officers shut down a peaceful demonstration against a controversial trade union law expected to be passed through the National Assembly today.
A small crowd of union workers chanting slogans outside the parliamentary building were driven back by a phalanx of guards in a fierce confrontation that saw union members shoved to the ground and left at least two protesters with head wounds.
Nay Vanda, deputy head of human rights monitoring at local NGO Adhoc, condemned the use of force against what he described as a nonviolent protest.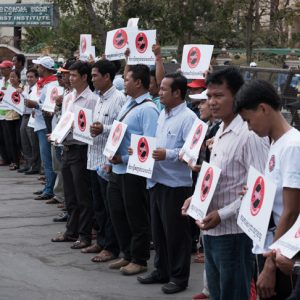 "They were chasing protestors away like dogs, beating them in the face, pushing people to the ground," he said. "We just want the government to make a statement – is this a dictatorship government now? Is this a military government now?"
A man identified by witnesses as Collective Union of Movement of Workers member Sot Chet was chased by security forces and pushed to the concrete before being taken away by union workers with blood streaming down his face.
Cambodian Alliance of Trade Union president Yang Sophorn was among the protesters pushed to the ground and was visibly limping as she was led away by supporters.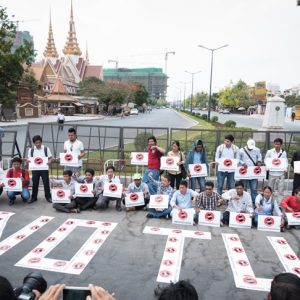 Speaking before the clash, Sophorn expressed her frustration at the obstacles preventing more workers from joining the protest.
"It's not easy for workers to ask permission from their employers," she said. "If they join the protest, there are problems for them in the workplace. They lose their job."
Vanda echoed her statement, saying that small numbers allowed the government to break up protests without fear of reprisal.
"There is strength in numbers," he said. "If there are 5,000, 10,000 protesters the police are afraid to crack down – they just sit under a tree and watch. A hundred protestors? Easy."
The proposed trade union law, scheduled to be voted on in the National Assembly later today, have been widely denounced for a raft of measures critics say will make it more difficult to form trade unions and for unions to protest on behalf of their workers.
Proposed clauses are said to include more strenuous age and literacy requirements for prospective union leaders and a new majority voting requirement for strike action – both condemned by the International Labour Organisation in a letter leaked to the Phnom Penh Post.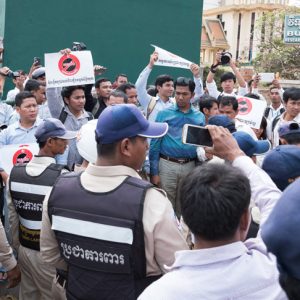 William Conklin, director of the advocacy NGO Solidarity Centre in Cambodia, said that a lack of transparency and the abstract nature of the proposed regulations made it difficult to galvanise support among workers.
"Explaining about this law is a long-term process," he said. "You have to be aware the government did not have any consultations – nobody knew what was in the law until it actually went into the National Assembly, until a copy was obtained that way.
"For two years there was literally only one consultation and one presentation of what might be in the law. So it's very hard to mobilise against something that you don't know."
Still shaken from the violence, Cambodian Food and Service Workers' Federation vice president Ou Theppalin said the unions would continue to oppose the changes.
"They want to break down the whole movement," she said. "They don't allow people to protest or give them freedom of assembly."
"Human rights are moving back here, but the people aren't quiet."