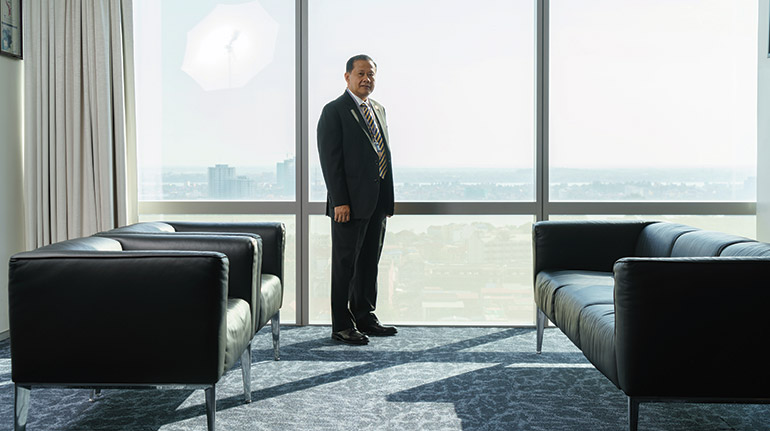 In Channy
President and CEO, Acleda Bank
"The zero-to-hero banker"
It's fair to say that the story behind ACLEDA Bank is one of the more heart-warming big business stories one might come across. Cambodia's largest commercial bank is headed by the softly spoken yet steely In Channy, and the bank's home-grown tale follows a similar path to the rise of Channy himself, from a young boy of the killing fields to CEO and President of Cambodia's largest bank.
Back in 1975, Channy was just a 14-year-old Phnom Penh city kid when he was evacuated at gunpoint by the Khmer Rouge to countryside labour camps, where he herded cows during the regime's reign.
Following the liberation of the country, in 1981 he fled to a refugee camp in Thailand, where he studied teaching and then won a scholarship to study business in the US. A decade later he returned to his home country, co-founding ACLEDA with 28 other partners in 1993 as an ILO- and UNDP-funded microfinance project. It quickly became a national NGO specialising in small enterprise development and $10 credit loans to demobilised soldiers. ACLEDA became fully self-financed in 1998 and began the transformation from an NGO to a licenced microfinance institution. It was granted a specialised banking licence in 2000 with paid-up capital of $4 million, and in 2003 became a commercial bank.
Today, ACLEDA is a public limited company, with 259 offices covering all of Cambodia's provinces, as well as 41 in Laos and six in Myanmar, and more than $4.6 billion in total assets as of 31 December 2016. The company employs more than 12,000 people in Cambodia, 1,100 in Laos and more than 160 in Myanmar, with close to 40% of the overall workforce being female.
In line with its ambitious plans, the bank began construction of its own training centre and school in January, soon offering associate, bachelor and master's degrees in banking and finance to almost 3,000 students.
Even with such impressive expansion, however, Channy's ethos remains fixed on being a service, first and foremost, for Cambodians – particularly the poor and middle classes. To that end, 51% of the bank's shares are owned by Cambodian interests, including the ACLEDA NGO arm of the business, while the bank's staff, via the ACLEDA Staff Association (ASA) holds 6.1%. Japan's Sumitomo-Mitsui bank is today a main shareholder with 18.25%, while the remaining shares are held by other international funds.
"In terms of active customers, around 90% of loan customers in Cambodia are serviced by ACLEDA Bank. But in terms of dollars it's only 21% because we serve micro, small and medium enterprise loans with an average loan outstanding of $4,952," Channy told the Bangkok Post.
His advice to financial institutions wanting to avoid the risks created by rapid lending is to focus on practical, short-term loans. With the export market on the rise, he said, returns could be achieved quickly since transactions are completed on time.
"Trade cash turnovers are high with export loans while the loan period is short. That is compared to risky housing credits with loan periods between 10 and 15 years and payments made only once a year," Channy said, adding that the trade sector makes up 40% of his bank's portfolio, followed by the service and agriculture sectors at 21% and 18% respecitvely.
"Most of our loans go toward business productivity and development whereas, in many other countries, loans go towards consumer goods that don't generate revenue. So it is good for Cambodia," Channy said.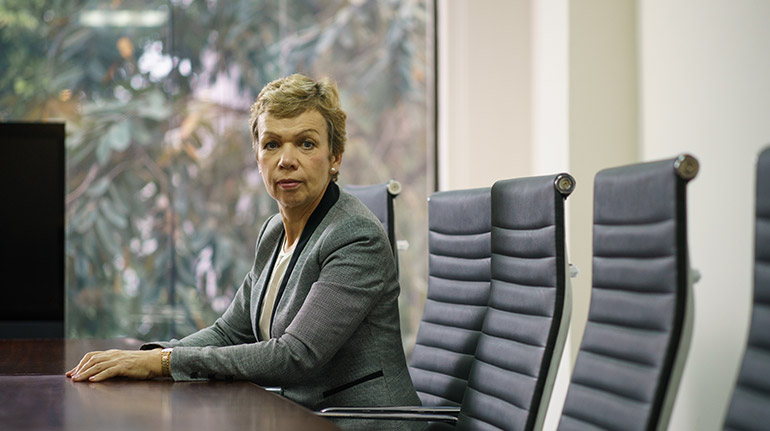 Leonie Lethbridge
CEO, ANZ Royal Bank
"The outsider's perspective"
Having been responsible for a plethora of ANZ's Asian markets in an illustrious career with Australia's fourth-largest bank, ANZ Royal CEO Leonie Lethbridge arrived in Cambodia early last year after serving as COO in Shanghai and, before that, Indonesia. After joining ANZ in 2002, she steadily climbed the banking ladder, working in senior roles across risk, operations, business development and strategy. Before joining ANZ, Lethbridge was a management consultant, advising clients in the financial services, manufacturing and telecommunications sectors. Working in Cambodia, she now leads ANZ Royal – a joint venture with Kith Meng's Royal Group of Companies – across Cambodia.
ANZ is a big player in Cambodia's business landscape. It first entered the Cambodian market in 2005, and in its first year of operations had attracted 27,000 customers. Over the past decade, ANZ Royal has increased its asset base to more than $1 billion – ranking it fifth among Cambodian commercial banks. Lethbridge's depth of experience and strong connection to the rest of Asia – she still works with the Australian Chamber of Commerce in Shanghai and the Australia-Indonesia Centre – positions her as an insightful observer of Cambodia's investment opportunities.
"With a sustained GDP growth of approximately 7%, Cambodia is one of the world's fastest-growing economies. [I've witnessed] wage inflation in China and a desire for geographic diversification drive investment into Cambodia," she said.
Positioned in the six-country Mekong region, China and Thailand are at a more advanced stage of development than their four neighbours: Cambodia, Vietnam, Laos and Myanmar. However, with all six connected by three economic corridors – north south, east-west and southern – Lethbridge believes the links between these countries provide real opportunity for macroeconomic growth.
"Cambodia is evolving quickly, with strong domestic demand. More than 90% of exports are based on manufactured goods. The export-fed GDP growth of last year helped Cambodia's population of almost 16 million climb to lower middle-income status last year. It is increasingly moving into light assembly, for example in electronics, and integrating more deeply into regional value chains," she added.
Still, there were inherent challenges in such a rapidly growing and transforming economy, particularly for financial institutions.
"Banks will need to shift the focus from growth to operational efficiency, improving client propositions, and to seek ways to use connectivity or technology to create new business with customers. This is particularly important as minimum capital requirements are being raised for financial institutions as a means of underpinning stability – capital that will, however, seek a return. Those entities trying to build a presence in Cambodia must understand regulatory reforms to ensure sustainability," she said.
Lethbridge also believes that regulatory reforms are a challenge that need to be navigated carefully. "For instance, liquidity coverage ratio [LCR] was introduced last September to measure financial institutions' ability to absorb shocks in the future. This is an important action to secure system stability. However, it can present more challenges for smaller institutions that need to build capability in liquidity risk management. This also requires a focus on raising deposits, rather than on loan growth, as a basis of their ability to absorb a possible shock. The National Bank of Cambodia's (NBC) phased approach to introducing the requirements is important in giving time for financial institutions to adjust," she said.
Nonetheless, Lethbridge is enthusiastic about the future of banking in Cambodia. "It is on the right track. The government is undertaking a range of institutional reform measures which, together with actions by the NBC, will support sustainable economic growth."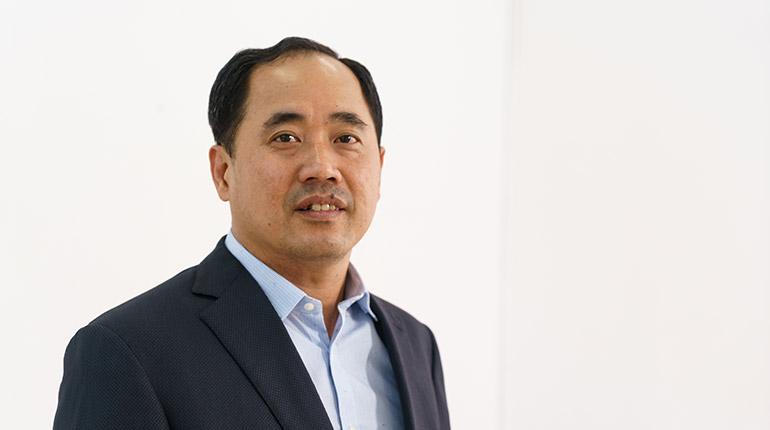 Rithy Sear
Chairman, Worldbridge International Group
"The path-making developer"
As the chairman of major property development company Worldbridge Land, Rithy Sear has been on the frontline of business innovation in Cambodia in recent years. Born in Phnom Penh in 1970, Sear has said he fled the country as an 18-year-old on a boat bound for Australia, but after it sank off the coast of Sumatra he was sent to an Indonesian refugee camp. In 1992, a job with the UN Transitional Authority in Cambodia brought him back to his homeland, working in the logistics arm of the operation.
When the UN pulled out of the country the following year, Sear established Worldbridge International, a successful logistics solutions company specialising in freight-fowarding, but Sear has since expanded into a range of other sectors, as well as into the property and e-commerce industries. He's the smart, ambitious, self-described "corporate man" behind the Bridge, a luxury, twin-towered mixed-use development in the Tonle Bassac district of the capital with 700 apartments and SoHo-style warehouse studios – a project he is overseeing via a joint venture with Singapore's Oxley Holdings. The two firms will also cooperate on the Peak, a mixed-use project, which will host the country's first Shangri-La luxury hotel.
Sear believes the market is ripe and ready for luxury condominiums. "SoHo is a new concept for Cambodian people, but in Hong Kong and Singapore they have been built for decades," he says. Yet Sear's ambitions don't stop at condo towers. In 2016 he established WorldBridgE Commerce, in a bid to make a mark in the online marketplace.
"My core business is logistics, and e-commerce is related to logistics – with a nationwide logistics service you can create a proper e-commerce business," Sear said. "There are online shops here, but they're focused on small things. They use Facebook or websites. But they don't have their own, nationwide platforms."
WorldBridgE Commerce took the step of producing an online marketplace platform, My All In One Mall (MAIO Mall), which allows users to shop, book tickets and hotels, and conduct banking and other financial transactions from mobile devices.
Looking ahead, Sear's key advice for prospective entrepreneurs and investors in Cambodia is to take risks, simply due to the fact that it is a young and uncrowded market – for now.
"If you don't make the first step, you won't get to the end. If you don't make a start, you will never move," he said.
However, even for this budding property mogul, one of Sear's most inspiring ventures is something that's – at least visually – much more modest than his soaring complexes: an affordable housing project. After seven years of talks and planning, Sear recently unveiled the plans for the Kingdom's first affordable housing initiative in the wake of government approval. "I'm very, very happy that my dream for this project has come true," he said.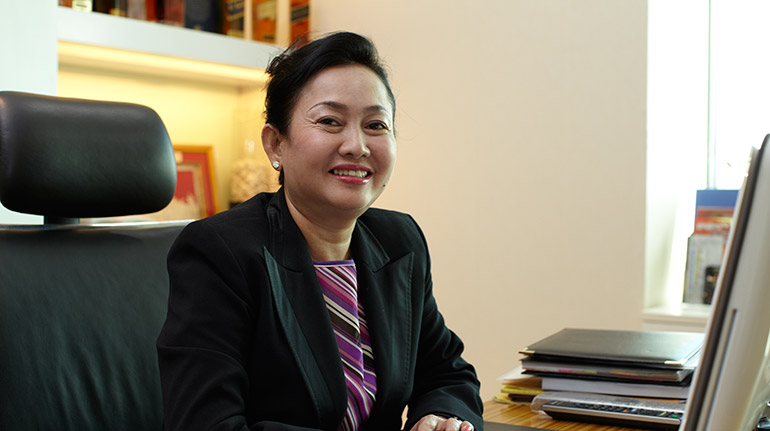 Lim Chhiv Ho
Chairwoman, LCH Investment Group
"The respected all-rounder"
Described by many as one of Cambodia's most reputable business figures, 56-year-old Lim Chhiv Ho has had the will and foresight to turn her vision into reality in a business career that has spanned more than 30 years. The founder of one of the Kingdom's largest conglomerates, LCH Investment Group, her life and her successes were shaped by Cambodia's turbulent past. Ho was a teenager when the Khmer Rouge regime took over the country; she was soon torn away from her family and imprisoned in a work camp. She later recalled that only five of the 265 girls who were imprisoned together with her survived, and more than half of her family had died.
Fast-forward to today, and Lim Chhiv Ho plays a pivotal role in the development of the country's business community – she is the vice-president of both the Phnom Penh Chamber of Commerce and Cambodia Chamber of Commerce.
In the early 1980s, she started her entrepreneurial journey cultivating and selling rice and rice wine to Vietnamese soldiers and trading livestock for gold. She later moved to an island off Sihanoukville, starting a trading and transportation business bringing electronics, cigarettes and alcohol offloaded from larger merchant ships into Cambodia. This was the seed for Attwood Import & Export – of which Lim is still managing director – which was founded in 1994 and, these days, has exclusive rights in Cambodia for Hennessy, Johnnie Walker, Chang Beer, Corona and others brands. She then set up a range of regional distributing centres throughout Cambodia. "I learned how to grow my business there," she said.
Since then, her portfolio has diversified into property and infrastructure development, technology, hotel and catering, leisure, shopping, entertainment and hospitality, and even the Phnom Penh Special Economic Zone, which she chairs and which she successfully brought to the Cambodian stock exchange as the first privately owned Cambodian enterprise in 2016.
"Cambodia is a very good investment because the market is very open," Lim told the Phnom Penh Post, also stating that she'd enjoyed working with investors from Japan. "They do thorough surveys, they know how to take care of their business partners and they care about integrity," she said.
On how to succeed, she said: "You must find the right partners and stick together if you want to get there. Not only in Cambodia, but also overseas."
On her greatest challenges when running a business in Cambodia, Lim cited the difficulty of learning how to separate family and business. "Business is unpredictable, you may earn or lose any time – the two need to be separated but also receive the same levels of attention," she said, adding that she felt being a businesswoman in Cambodia gave her an edge. "Women try to build, to keep things together, they are prepared to move forward step by step. Men want to realise big ideas, [but] they still need women."