Kem Sokha, acting president of the Cambodia National Rescue Party (CNRP), was sentenced in absentia to five months in prison and the equivalent of $200 for failing to appear in a controversial prostitution case. Rights groups and political analysts have widely condemned the case as an effort by Prime Minister Hun Sen and the ruling Cambodian People's Party (CPP) to hamstring political rivals ahead of the country's 2018 general elections.
Several days after the ruling, Sokha addressed supporters outside of CNRP headquarters, where he has taken refuge since he missed a summons to appear in court on the morning of 26 May.
"We will consider using our right to hold mass demonstrations throughout the country and in Phnom Penh," Sokha told the crowd on Sunday. "We cannot lie down, let them tie our hands and legs, close our nose and mouth till we die."
On August 31, the military deployed helicopters, boats and troops in close proximity to CNRP headquarters – manoeuvres that have been described as ostentatious shows of force.
The previous day, Kun Kim, deputy commander-in-chief of the Royal Cambodian Armed Forces, had left little doubt as to whether the military would carry out orders to storm CNRP headquarters and arrest Sokha. "I am a law enforcer, and the armed forces defend the government," he said in a post uploaded to social media. "Provided that there are orders, I must enforce, I must defend the government."
Following Friday's sentencing, Billy Tai, a human rights consultant based in Phnom Penh, said that the CPP and CNRP had reached a tense impasse and are now "squaring off along the tightrope".
"[Both parties] are egging each other to take the next move so they can claim the moral upper hand," said Tai. "I think the CPP would genuinely be worried that if they storm the headquarters and arrest Kem Sokha, they're going to have a full-scale riot on their hands."
Tai added that the CNRP's popularity within Phnom Penh has likely kept the CPP from arresting Sokha.
"[I] think the big unknown factor is just how many people will the [CNRP] be able to mobilise," he said. "They would say, obviously, hundreds of thousands, if not millions. And I think, in some respect, the CPP must be worried. If they didn't think [the CNRP could] command those numbers, I think they would've moved in already and done something."
Cambodian political analyst Ou Virak said that the CPP would be "quite nervous" if opposition supporters began to mobilise in mass protests. The government, he added, would also be hesitant to rile an urban population increasingly wary of its authoritarian tactics including a protest crackdown following 2013's elections that left one dead and several injured.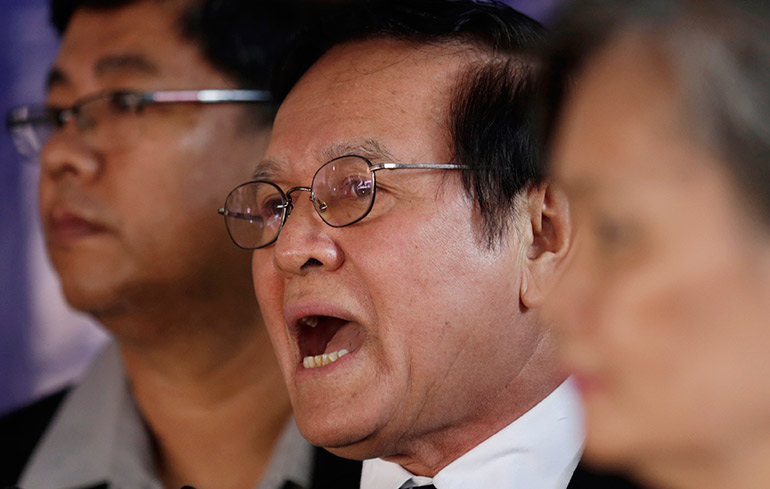 "I think they will try to do everything they can to prevent the protests, but I think they will be limited in their ability to stop it completely," said Virak. "Because they are also afraid that anything that would anger the population even more might destabilise their situation quite a bit."
Virak added that even if the ruling party were to carry out intimidating 'show-of-force' operations, CNRP supporters would likely not be deterred from gathering in public spaces.
"If the opposition is willing to protest," Virak said, "then I think they will have their protests."