This year's World Health Day marks the 70th anniversary of the foundation of the World Health Organisation (WHO). Kumanan Rasanathan, coordinator of health systems at WHO Cambodia, talks about the importance of the day and how Cambodia is addressing universal health coverage, this year's theme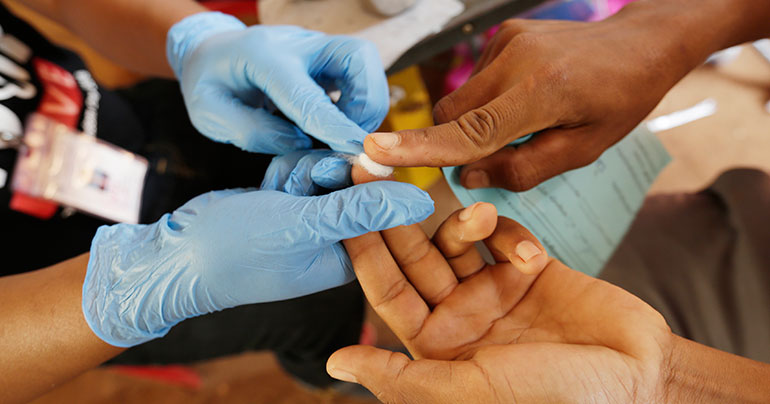 What is World Health Day all about and how is it relevant in Cambodia?
World Health Day has the theme universal health coverage this year. All the countries in the world adopted the Sustainable Development Goals (in 2015), and universal health coverage is one of the targets specified. So all the countries in the world are accelerating their efforts to achieve universal health coverage.
[Universal health coverage] basically means that everyone is able to receive the health care they need, of good quality, when they need it and at an affordable cost. It's a simple idea but it's difficult in practice.
Here in Cambodia many initiatives are underway. There are initiatives to expand the range of services that are available including tackling non-communicable diseases like cardiovascular diseases and diabetes, there are initiatives to improve the quality of health care services and there are a number of initiatives to expand coverage so that people find health care affordable.
So World Health Day is a wonderful day to reflect on what Cambodia has achieved, – which is significant – to think about what Cambodia is doing now and to think about the future path so that Cambodia can achieve universal health coverage by the year 2030.
What challenges does Cambodia face in relation to health?
Cambodia is in what is called an epidemiological and demographic transition which equates to fertility rates reducing and many more children surviving to adulthood in a healthier way. So, as with many other societies, Cambodia's population has aged. It still has a relatively young population compared to other countries but we know that will change over time.
Alongside that, Cambodia has seen a reduction in infectious diseases, like diseases of early childhood, neonatal infections, pneumonia, diarrhoea, HIV and tuberculosis. But what Cambodia is also seeing is an increase of non-communicable diseases such as cardiovascular disease, diabetes, strokes, cancer.
[Cambodia] now needs to increasingly deliver services for non-communicable diseases, so that is the challenge.
While Cambodia has had a lot of economic growth it is still not a rich country… the amount of money available for health care is not so large and so the challenge for Cambodia is how can it address all the services that people need and also make sure that people can afford health care with the resources that are available.


Is Cambodia on track to achieve the goals set out in the Sustainable Development Goals?
Cambodia was one of the few countries in the world to meet almost all of the health Millennium Development Goals (from 2000), and that was a tremendous achievement.
We know that of course there are still people in Cambodia who aren't necessarily getting the health care that they need.
The Government of Cambodia is very aware of that and is connected to a vision that Cambodia achieves universal health coverage and that everyone in Cambodia gets the health coverage that they need.
if you think about what Cambodia has achieved in the last 30 years, it is extremely impressive, and one of the most impressive improvements in health care in the world.
How can Cambodians get involved in World Health Day?
World Health Day always tries to draw attention to priority public health issues. So this year's theme is universal health coverage, for everyone, everywhere, which reflects the fact universal health coverage means that everyone, everywhere has access to the health services they need.
But it also require everyone, everywhere to get involved. To become a part of the movement to help.
Many Cambodians work in the health sector and they are the ones that work so hard for the progress that we see, and they are the ones who are going to work even harder to deliver universal health coverage for Cambodians.
But it is not just the health sector. To have universal health coverage, you need roads so that people can get to health facilities, you need power so that health facilities have energy and lights, you need water and sanitation because it is crucial that health facilities have access to clean water and have sanitary facilities.
We know that education is a core part of enabling people to live healthier lives and to live productive lives. We know that by Cambodians working hard and continuing the economic growth that we've seen, it will allow Cambodia to afford the health services that it needs. So really universal health coverage is for everyone, everywhere, but it needs everyone, everywhere to play their part.
Related reading: